Have you ever visited Sea Life Aquarium at Grapevine Mills Mall or another location? Not only is it a great place for kids to learn about the different animals that live in our oceans, but it is also a great place to cool off this summer. The Sea Life Aquarium houses thousands of different creatures and 280 different species. Let's take a look at some of the sea life that you can find during your visit.
Sea Turtles
Did you know that Sea Life has a turtle rehab center? SEA LIFE Grapevine is the first SEA LIFE in the U.S. with a sea turtle hospital. They help injured sea turtles heal and return them to the wild. Fun Fact: An adult sea turtle can weigh between 240 to 420 pounds.
Sharks
Watching the sharks swim in the 360-degree tunnel was one of my favorite displays. The aquarium has over 7 different species of sharks. If you take the behind-the-scenes tour, you can even see baby sharks in their nursery. Fun Fact: The sharks help keep the small fish populations under control if not the entire marine ecosystem would collapse.
Stingrays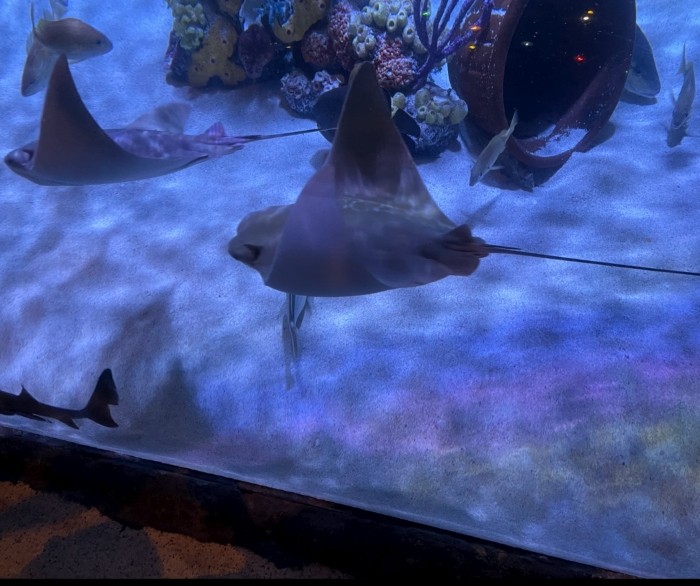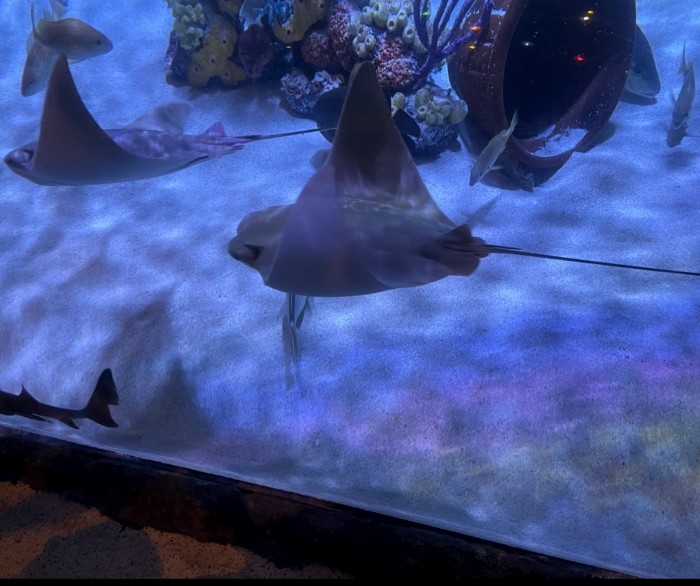 The stingrays are always a favorite of mine. I just love the way they glide along as they swim throughout the tank. There are over 500 different species but Sea Life Grapevine house 4 different species of stingrays. If you look closely at the tail of the stingray you will see a spiny, venomous barb. This barb is used to help defend itself from predators. Fun Fact: If you look at the cownose stingrays it always looks like they are smiling at you.
Jellyfish
The jellyfish seem to float weightlessly around their enclosure. Their display changes colors to give you a mesmerizing view. This is another one of my favorite displays. If you take the behind-the-scenes tour, Sea Life breeds moon jellies. And they will show you the 6 different phases of a jellyfish's life too. Fun Fact: The Jellyfish is one of the deadliest creatures in the ocean.
Seahorses
Check out the enclosure with the seahorses. They can be kinda hard to see at times as they try to blend in with any foliage in their tank. A seahorse will wrap its tail around a plant to keep it stationary. Fun Fact: Male seahorses give birth to the young.
Guitar Fish
I had to ask one of the wonderful guides what the animal was that looked like a cross between a sting ray and a shark. He told me they are called guitar fish but that they aren't sharks at all. Fun Fact: They actually belong to the sting ray family.
Countless Other Fish Displays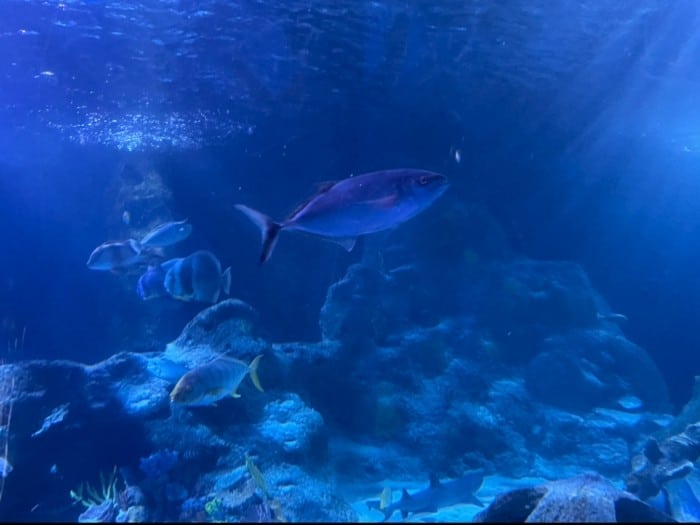 Sealife houses several different types of fish that live in the sea. You can see them in several different tanks and there are signs that help you identify the different types of fish in each tank. Fun Fact: See if you can spot the popular fish seen in Disney's hit movie Finding Nemo.
Get your Tickets
You can either purchase individual tickets or combo tickets to see LegoLand and Peppa Pig. The ticket prices are:
Single Ticket Admission starts at $19.99 per person. You can also add a virtual reality experience and VIP Photopass starting at $38.99 per person.
SeaLife and Legoland Admission starts at $37.99
Sea Life, Legoland, and Peppa Pig Admission $47.99 for kids ages 3 to 8.
Facts About Our Oceans
The Sea Life Aquarium at Grapevine Mills Mall is a great way to teach your kids about marine life in the ocean. The aquarium is a manmade ocean exhibit so that you can teach your kids about the ocean as well. The ocean is very important to our ecosystem.
Here are some facts about our oceans too:
The oceans are vital oceans because they produce a majority of the oxygen for our planet.
The ocean is responsible for bringing us rainwater so that farmers can grow crops, trees in the forests, and helps maintain our drinking water supply.
Oceans cover over 70% of the Earth's surface, therefore it is responsible for absorbing a majority of the sun's heat.
Oceans are also responsible for producing biomedical organisms which help scientists research and develop new advancements in medical fighting technology including medications.
Check out our Sea Creatures printable worksheets.
Have you ever been to Sea Life Aquarium Grapevine or other locations?