Do your kids enjoy reading for pleasure? How do you make reading for pleasure fun for your child? Most kids generally have to be coaxed to read books outside of the classroom. But few kids are excited to pick up a book to read when they get home from school. Learning how to enjoy reading can be an obstacle for kids who don't like to read. However, getting your child to read for pleasure is different compared to most of the reading that they do in the classroom.
When they are reading for pleasure, your child typically finds a book that they are interested in and find a comfortable spot to chill while reading. Reading for pleasure goes far beyond the classroom and benefits them for the rest of their lives. With constant pressure from teachers, parents, and possibly their grandparents, children feel like they are being forced to read. We all know that when we are forced to do something it takes all the pleasure and joy out of it.
How to Make Reading for Pleasure Fun for Your Child
Let's take a look at some fun ways to make reading for pleasure fun for your child
Find a Reading Buddy
Reading books is always fun when you involve a friend or even someone who is a bit older. Allow your friend to pick out a book and read the book out loud together. You can even take turns reading a paragraph or two. Reading aloud with your buddy without your parents around can help ease your nervousness and help improve your confidence. Improving your confidence in reading aloud can make it easier when it comes time to read in front of the entire classroom too.
Don't be afraid to ask your reading buddy questions if there is something that you don't understand. Chances are your friend will be able to explain it to you differently than your parents or another adult.
Build a Secret Hideout or Fort
Does your child enjoy building a secret hideout or fort? Grab the blankets and get your child to build their secret hideout or fort. Make sure that their that they build one large enough for your to sit in there with them. Before heading to the fort, grab a book and get your child to grab their own too. Enjoy spending 20 to 30 minutes together reading silently or you can even read a book together.
Word Popcorn
This is a great way to help encourage your child to read a book that is above their current reading level. The goal is to get them reading as much as they can. As they read the book aloud to you, if they come to a word that they are unable to sound out or understand, have them say "popcorn". Then whenever they said the word "popcorn", you switch readers until you get to a good stopping point.
Your child will take over reading out loud again whenever you say "popcorn". Keep this game up until you make it to the end of your allotted reading time or through a chapter or two each night. This is a great way to help them improve sounding out unfamiliar words and allow them to hear you say it so hopefully the next time they see the word they will know how to pronounce it.
Let Your Child Play Picture Detective
Have your child pick out a picture book and let them go through the book. Your child will need to look carefully at the pictures and try to determine what is going on in the story. Then have your child tell you the story based upon their detective work while looking at the pictures. Next, read the book aloud to your child. At the end of the story, compare their story to the actual story that took place. Did you child guess correctly or were they way off?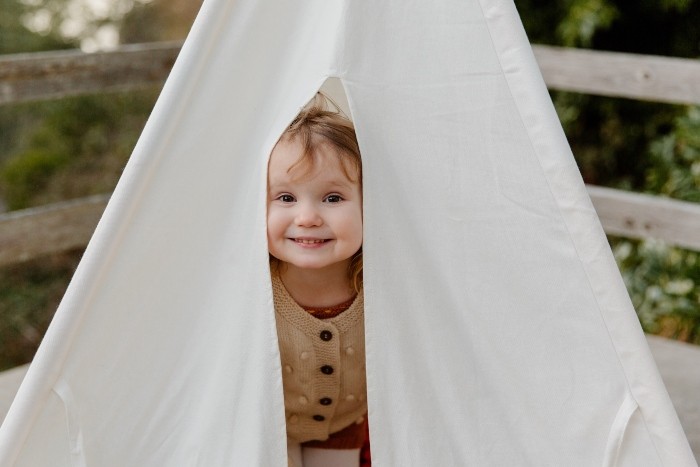 Let Your Child Be a Star in the Story
Personalized books are a fun way to let your child be the star in their very own story. When you order from Wonderbly (aff link), you can pick a personalized book with your child's name published in the story. We received one of their books when my son was younger and it was super cute. Since we received that book, they have published more personalize books that focus on the different age groups.
When you receive your child's personalized book in the mail, let your child have fun opening their surprise. Then read the book together before bedtime. Watch your child's face light up when they discover that they are the main character in the story.
Create a Reading Library
Build a reading library in your child's room. Make the design appealing to your child and find cheap or free children's books to fill the shelves. Also, give them a fun space to read their book, whether it is a bean bag in the corner or a reading tent.
Flashlight Reading
Before bedtime, have your child grab their favorite book and a flashlight. Then tuck your child into bed and turn off the lights. Turn on the flashlight and read the book together using the flashlight. Little boys typically love this idea and are up for reading a book for pleasure.
Read to Your Child
Giving your child a break from reading at the end of the day can help inspire the start reading books for pleasure. Pick a book from your child's library and read it aloud to your child. They will enjoy the special one on one time with you while enjoying story time.
Attend Story Time
The local library often offers story time for the kids during the summer months. Attending story time at the library can encourage them to check out books. Checking out books at the library is a great way to find new and exciting books for your child to enjoy.
Subscribe to Bookroo Subscription Box
Bookroo subscription box is a great way to introduce new books to your child. Plus, with a monthly subscription, they will be anticipating when their next book will show up. Try giving them an incentive to read the books before the next box arrives. Plus, it is a great way to add to your home library. With Bookroo, you don't have to worry about receiving books that you may already own.
They typically send "hidden gems" based upon your child's reading level. I love that my son was open to reading new books that he has never heard of before in his subscription box (we did receive a free box and you can read about it here). Order Bookroo Subscription box now!
Reading at home for pleasure is usually the last thing that your child wants to do at the end of the day. Kids are forced to read at school and aren't interested in reading for pleasure. As you put more pressure on your child to read for pleasure, you may be spoiling the fun and excitement for them. Why not give these tips a try and make reading for pleasure fun for your child.
How do you make reading for pleasure fun for your child?