Do your children need new clothes for school? Saving money on children's clothing can help stretch your budget. We all know that back-to-school season can be very expensive. Many families tend to spend a good chunk of money on making sure that their kids are ready for their first day of school. Here are some ways to save money on children's clothing.
The average cost of getting your children ready for school is around $600 or more depending on how many school-aged children you have in your family. If you are like me, you probably don't have an extra $600 dollars laying around so saving money on children's clothing and school supplies is a must.
Over the years, we have found that kids grow very quickly and that they tend to grow out of their clothes very fast too. Even though we have always been frugal when it comes to clothing my children, we wanted to share with you the ways that we save money on children's clothing.
How to Save Money on Children's Clothing
Shop Tax-Free Weekend
Take advantage of shopping on tax-free weekend. During tax-free weekend, you can typically save money on select items for your children. Saving the tax on most items may not amount to a ton of money. But if you can pair it with clothing and shoes that are on sale, then you can maximize your savings. No sense in paying tax if you don't have too. We need all the help that we can get to save money on children's clothing.
Coupons
Coupons are one of my favorite ways to save money. Typically, when we are out shopping, you may notice that we may be using our phones to find coupons. Any coupons that we can find help me save money on children's clothing and other items.
There is no sense in leaving extra money on the table. Use your phone to search for store coupons or sign up for your favorite store emails before tax-free weekend. Coupons can help stretch your budget, and most of the time they are easy to find.
Shop The Ads
During back-to-school season, pick up the Sunday newspaper and determine if stores have children's clothing on sale. Scoping out the ads before heading out to the mall. It is best to buy items that are included in a  sale ad. No sense in paying full price for clothing. If you start at the end of the previous school year and slowly buy clothing, you can use the ads to save money on children's clothing.
Clearance
Don't forget to check the clearance section. We usually always check the clearance section first when looking for clothes for me or the kids. I've rarely paid full price for items. Instead, we would rather buy as much as we can off the clearance rack.
Also, if possible, check the clearance rack throughout the year and pick up clothing as you go. Remember you don't have to buy everything in August.
Add Clothes to Your Child's Birthday and Christmas List
We always add clothing to my child's birthday and Christmas list. It helps me save money on their clothing, and it gives other people things to buy for my kids that they need.
Look for Yard Sales
Don't be afraid to shop for children's clothing from yard sales. Yard sales are an excellent way to save money on children's clothing. Most of the time, you can find quality clothing for a fraction of the cost. Sometimes, if you are lucky, you can even find clothing that still has tags on them too.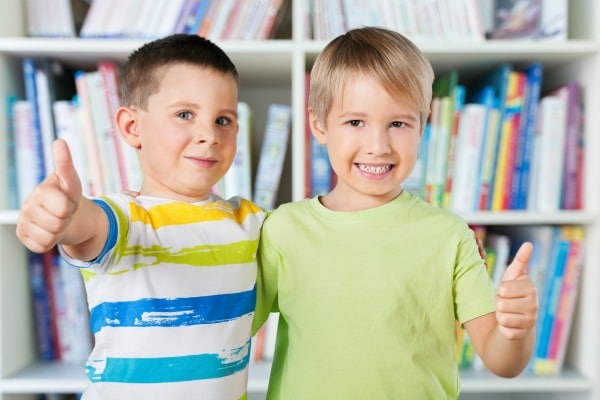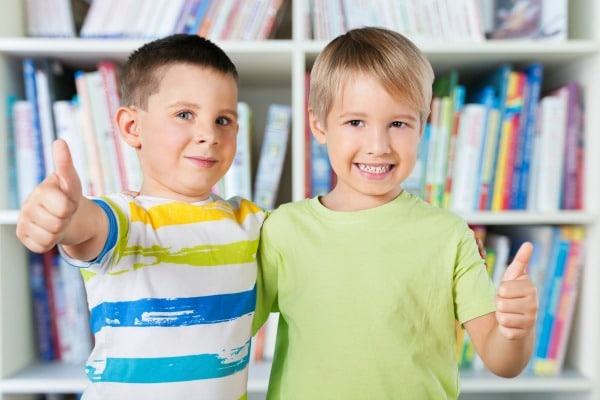 Ask Friends if They Have Any Hand Me Downs
Hand-me-downs are one of the best ways to get quality children's clothing for free. Don't be afraid to ask your friends if they have anything that doesn't fit their child anymore that you can have or watch for these finds on Facebook. There is nothing wrong with hand-me-downs and it is one of the best ways to save money on children's clothing.
Just Between Friends
We love Just Between Friends. It is a great way to help fill your child's closet at a fraction of the cost. Sometimes, we have noticed that they typically have more clothing for girls and less for boys. In my experience as a mom, boys tend to be a bit harder on clothing.
Consignment Shops
We have also bought clothing for my kids at a consignment shop. Sometimes, you can find name-brand clothing at a fraction of the price too.
Watch for clearance sales too. Some stores can take your child's old clothing and give you cash for their gently used items. Then you can use the money to buy new clothes for your kids. We have shopped Kid to Kid or Once Upon a Child for my kids and even for maternity clothing.
Thrift Stores
When my kids need clothes, we often check with our local thrift stores to see what they have. They don't always have a ton of clothing for the younger kids, but you can often find a ton of choices for teenagers.
Also, check with your local Goodwill. They often run mid-week specials, and you can save even more money on your haul.
Discount Retailers
Do check discount retailers such as Marshalls, TJMaxx, Ross, ect for children's clothing. They often are significantly cheaper. However, with back-to-school sales, make sure that you use your phone to check the prices at other retailers before making your purchase. You want to ensure that you are getting a good deal.
E-bay
Try searching on E-bay for your kid's clothing needs. They even let people list used clothing too. Do pay attention to the star rating and use caution when placing an order.
Thread Up
Thread Up is a large online consignment shop. You can save up to 90% off retail on your favorite brands. We did read a few reviews who complained about the sizing of some of the items that they received. Just make sure that you read the seller's remarks on sizing.
Facebook Groups
Join several Facebook groups in your area. Often times people post items that they no longer want or even post information about yard sales. If you do decide to purchase or get free items from other's on Facebook, do make sure that you meet the other party in a secure location.
Craigslist
Search Craigslist to find kids clothing that people want to get rid of for a fraction of the price of new clothing. Again, before you meet someone off Craiglist, make sure that you meet them in a secure location. It is best to meet them in a public spot such as a parking lot with cameras or even at the police station.
Back to school can easily derail your budget especially if you have more than one child to buy clothes and school supplies so that they are ready for their first day of school. We hope that you can use these tips to save money on children's clothing and stretch your budget further.
What is your favorite way to save money on children's clothing?