Penn Station is right in the heart of Midtown Manhattan, so no matter which way you turn when you exit the building, there'll be something exciting to see. You won't need to walk far either, as Penn Station is within easy strolling distance of some of New York's most iconic buildings and some of the city's world-renowned streets.
Set out to take a walk near Penn Station, and you could find yourself staring up at the Empire State Building or trying to resist heading into Macy's and having an impromptu shopping spree. You may also find yourself arriving in a unique part of New York known as Koreatown or even strolling through the woods in Central Park.
Whichever walk you choose to do from the station, the best thing to do is drop your unneeded bags off at a Penn Station luggage storage first. That way, you can enjoy everything about a leisurely wander through NYC and enjoy these walks near Penn Station.
Where To Go For Walks Near Penn Station
7th Avenue
7th Avenue is a street that really delivers on sights, sounds, and sensations. The five-mile-long street intersects the Garment District and is often referred to as Fashion Avenue. Join it from outside Penn Station, and you'll be two-thirds of the way along its length and a ten-minute walk from Times Square.
Once you've had your fill of the crowds clogging Times Square, keep walking along 7th Avenue until you reach 45th Street. Make a loop tour of 45th and 46th Street, and you'll be oohing and ahhing over the star-studded billboards outside the Broadway theaters. If you have more time and you're not flagging with exhaustion, take in the theaters on 47th to 59th Street, where you'll find Carnegie Hall.
The walk along 7th Avenue to 59th Street will take you around 30 minutes, but that's not counting stopping time for selfies. If your train is due to depart in the next hour, it's best to cross over to 8th Avenue and head back to Penn Station that way.
If you're outside Carnegie Hall, have got a few hours to spare, and some comfortable shoes on, why not continue your walk in New York's famous park?
Central Park
When you've walked as far along 7th Avenue that you've reached 59th Street, you'll be in exactly the right spot to go straight into Central Park. It's a great part of the park to be in, too, as all of the following are located there:
The Maine Monument – A stunning plinth-type sculpture dedicated to the crew of the USS Maine topped with bronze seahorses and surrounded by intricate figures.
The Pinebank Arch – A beautiful decorative cast iron bridge surrounded by mature trees that will make you forget you're in New York completely.
Umpire Rock – A rocky outcrop and one of the best spots to get photos of the Manhattan skyline.
Cop Cot – This rustic tree-lined shelter is the ideal place to sit and take a rest before strolling to the waterfall viewing point.
Hallett Nature Sanctuary – An area of woodlands where you can enjoy some peace and quiet and maybe spot a squirrel or two.
Gapstow Bridge – A brick bridge over The Pond and a super scenic spot for souvenir photos.
Even if you have time to go around all of the above, you won't have seen even a quarter of the park. If your legs need a rest, you can always jump aboard a horse and carriage ride and let four legs instead of two do some of the work for you.
West 34th Street
If you like to browse store windows while sauntering, then West 34th Street is the best walk near Penn Station for you. It will lead you straight to Herald Square, where you'll find the famous Macy's department store on the corner and plenty more stores besides that one.
If sightseeing is more your thing than window shopping, keep going, and after around ten minutes of leaving Penn Station behind, you'll be standing in front of the Empire State Building. That's a building that needs no description, so once you've got your photo, head for 32nd Street, which is right nearby, and you can explore Koreatown.
Koreatown has an atmosphere all of its own, and when you stroll down 32nd Street between 5th and 6th Avenue, you may well feel as if you've been transported out of New York. It's a good place to pick up some Korean street food, too, so make the most of it while you're there.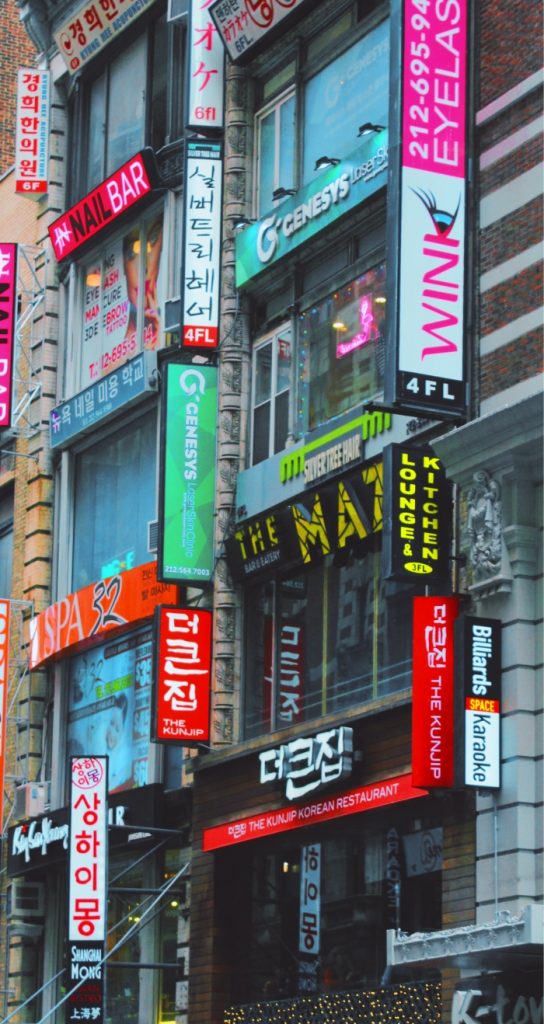 5th Avenue
If Koreatown doesn't catch your interest, then instead of going there from the Empire State Building, head for 5th Avenue in the direction of Madison Square Park. 5th Avenue is around seven miles long, but you'll only see a section of it on this route, and you'll avoid the majority of the high-end stores that clog it further on.
Madison Square Park is two acres of tranquil greenery surrounded by the skyscrapers of Manhattan that, while it's not Central Park, is a pleasant place to wander around and gives you a break from the mayhem of the area. If you want to take in another iconic New York sight, the Flatiron Building is just a few steps further along 5th Avenue than the park.
If you want to see all the high-end stores on 5th Avenue, then go in the opposite direction along the street to Madison Square Garden and back towards Central Park. A 15-minute walk will see you staring in the windows of stores like Saks, Cartier, Bvlgari, and Rolex or snapping a photo of the Trump Tower.
Conclusion
When you're planning on a walk near Penn Station, make sure you put on some comfortable shoes before you set out. The New York City sidewalks can be hard on your feet, and having sore soles or blistered toes can spoil your enjoyment of the experience. Taking a walk near Penn Station is sadly one of those occasions when you need to forego fashion in favor of comfort, but what you'll see will more than makeup for the style deprivation.  
Citations
https://en.wikipedia.org/wiki/Pennsylvania_Station_(New_York_City)
https://www.centralparknyc.org/locations/pinebank-arch
https://www.centralparknyc.org/search?q=Umpire%20Rock
https://www.nycgo.com/itineraries/guide-to-koreatown/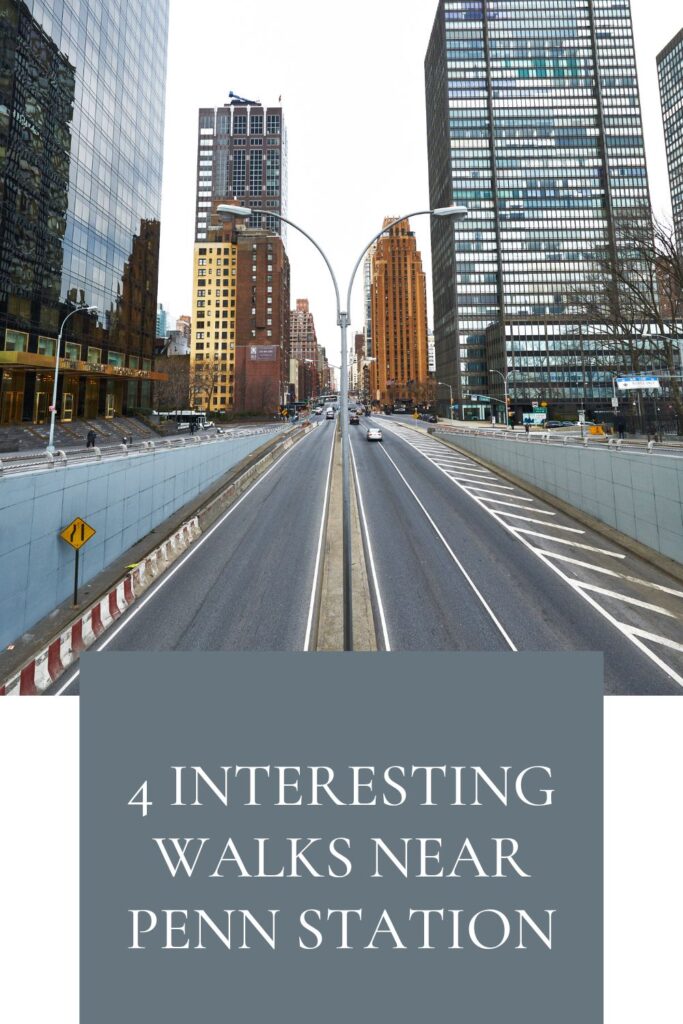 Have you ever been on any walks near Penn Station?