Step into the kitchen with me and make these Paws in the Sand Cupcakes inspired by Paw Patrol Aqua Pups. These cupcakes are the perfect way to kick off the release of Paw Patrol Aqua Pups DVD. The DVD is being released on March 28, 2023.
Ingredients and Supplies Need for Cupcakes
You will need the following ingredients and supplies to make these cute cupcakes.
Yellow Cake Mix 15.2 Oz
1 cup of whole milk
1/2 cup of oil
4 eggs
2 cups of frosting tinted blue
1 cup of crushed graham crackers
3/4 cup of white candy melts
3/4 cup of yellow candy melts
small blue pearl sprinkles
blue pearl sprinkles
white pearl sprinkles
cupcake liners
muffin tins
mini paw print silicone mold
small shell silicone mold
Directions
Heat oven to 350 degrees.
In a medium mixing bowl, combine yellow cake mix, milk, oil, and eggs to batter.
Fill lined muffin tins with batter.
Bake for 19 – 23 minutes. Cupcakes are done when you can insert a toothpick and it comes out clean.
While cupcakes are baking, melt Candy melts and fill molds with melted candy.
Place in the freezer for 5 minutes to solidify. You will need 24 paws and 12 shells.
Let cupcakes cool and then frost them.
Dip the bottom half of the cupcakes into the graham cracker crumbs.
Decorate with one candy shell and two paw prints by adding a dab of frosting and pressing them into the cupcake.
Follow with a variety of sprinkles.
Enjoy!
More About Paw Patrol Aqua Pups
JOIN PAW PATROL AND THE MERPUPS IN THE ENCHANTING UNDERWATER WORLD OF PUPLANTIS
PAW PATROL: AQUA PUPS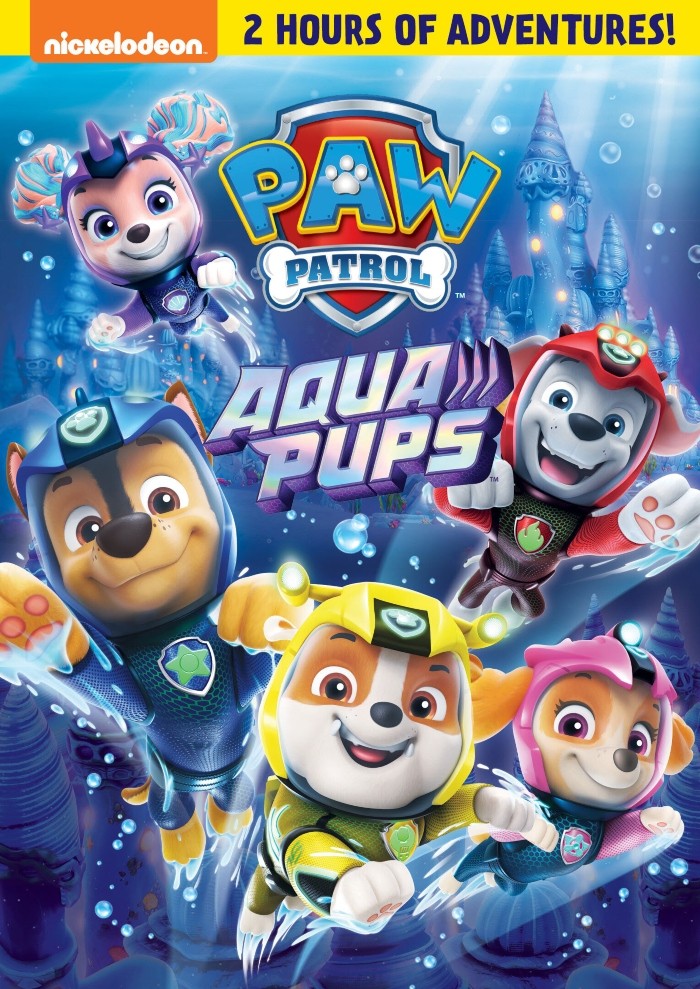 The heroic PAW Patrol pups join forces with the Merpups in exciting underwater adventures in the brand-new PAW Patrol DVD, PAW Patrol Aqua Pups! The PAW Patrol and the Merpups take part in a big mer-race, keep Puplantis safe, defeat the troublemaking Merpup, Moby, and so much more in this paw-tastic DVD!
PAW Patrol Aqua Pups will be available on DVD from Paramount Home Entertainment now on Amazon.

PAW Patrol Aqua Pups episodes:
AQUA PUPS: Pups Save a Floating Castle (double-length episode)
AQUA PUPS: Pups Save a Mer-Race (double-length episode)
AQUA PUPS: Pups Save a Merdinger
AQUA PUPS: Pups Save the Whale Patroller
AQUA PUPS: Pups Save the Reef
AQUA PUPS: Pups Stop a Giant Squid
Pups Save a Humdinger Doll
Pups Save a Sand Sculpture Contest
PAW Patrol Aqua Pups synopsis:
The PAW Patrol returns to the undersea world of Puplantis! Enter Moby, a baddie who wants to clear all the Merpups out of Puplantis and make the castle his own. Fortunately, the PAW Patrol is there to stop his soggy schemes – helped by a new member of the team, a Cockapoo Merpup named Coral (Skye's long-lost cousin). With this underwater challenge, Ryder outfits the pups in new Aqua Pups wetsuits and aquatic animal-inspired vehicles that will launch from the new whale patroller. This is Aqua Pups!
Will you make these Paws in the Sand Cupcakes while you watch Paw Patrol Aqua Pups?