With all of the fun, excitement, stress, and sugary goodness that the holiday season brings, it's important to stay on top of your health. It's easy to get caught up in the excitement of the season (and all around us throughout the year), and sometimes that means we put our health second to the fun. But without your health, you couldn't do all of these things that you enjoy. So this year, Rindfleisch Family Practice, a family doctor that specializes in Coolsculpting, put together a list of ways to stay on top of your health this holiday season – and all year long!
5 Health Tips for the Holidays
Prevent Heartburn
With all of the delicious (but not so great for you) foods that we consume during the holidays, heartburn can really start to take its toll on some of us. The best way to limit or avoid heartburn is to limit or avoid the foods that cause you heartburn. Know your triggers, but still enjoy your favorite holiday treats in moderation. Eat slow and take small bites, and don't overstuff yourself.
When you feel that turkey coma start to take over, don't give in. Get up and move around for a few minutes to help your food settle and digest.
De-Stress
We all know that the holidays are a stressful time. So do your due diligence to your mind and body by taking a few minutes each day to de-stress. Do some meditation or yoga for a couple of minutes each morning and evening. Have your partner give you a neck and shoulder massage, or take an hour or two before all of the craziness begins to go get a massage. Your body will thank you later.
You know the things that help you stay calm and relaxed, so try to make time during the holidays to get a little relaxation time in, even if it's just a few minutes. And remember to have fun!
Take Vitamins
It's easy to let good habits fall by the wayside during busy times like Christmas and New Year's. If you take a daily vitamin, or even if you don't do so already, make sure you continue to take them each day. Our bodies do weird things when they are under stress – whether good or bad – so it's important to keep doing the normal routine things that we need to stay healthy.
Taking a multivitamin when you're eating a hearty meal during the holidays will help you absorb the nutrients better too.
Drink Water
Does your family like to load up on soda, eggnog, or liquor during the holiday season? Consume each of these in moderation, and make sure you are still getting plenty of water. If you're traveling, keep a water bottle on you to refill on the go. Water is a life source, and during stressful times when our immune systems get down, water can help keep everything regulated.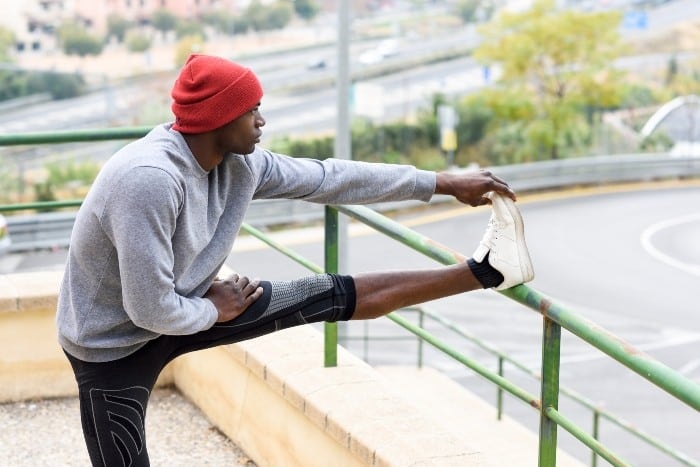 Plan Winter Workouts
It's hard to work out during all the hustle and bustle of the season, but even 15 minutes when you wake up in the morning is helpful. While all the family is together, suggest going up on a winter walk. Get everyone bundled up, and take a walk through your neighborhood to see the Christmas lights. You could even turn a spare room into a workout room (with weights, a yoga mat, and water bottles) and invite your guests to work out with you in the mornings.
With New Year's nearly upon us, now is also a great time to plan some new workout goals for the new year with your family. Re-evaluate what you're doing now, decide what has worked for you and what hasn't, and make some new workout plans.
Do you remain focused on your health during the holidays? How do you stay healthy during the holidays? Which of these 5 Health Tips for the Holidays do you need to focus on?