Is it necessary to do a bathroom remodel for mobility issues? Homes are often built with young and healthy adults in mind. Builders often fail to keep in mind that one day these young and healthy adults will eventually have mobility issues. Elderly adults often downsize too and the number of homes on the market that are already equipped with handicap accessible bathrooms is few and far between.
Individuals who are faced with mobility issues often have to do a bathroom remodel whether they are staying in their homes or purchasing another one. Elderly or disabled individuals often are on a limited budget so a bathroom remodel for mobility issues is a major expense; instead of, an investment. They aren't remodeling the bathroom to gain value or improve aesthetics. It is being done for their safety and to help them maintain their independence. Always gets quotes from several contractors to find the most affordable bathroom remodel option available for your home. You don't have to choose dull and boring designs either. Create your dream affordable luxury bathroom remodel to meet your ADA needs.
As I was searching for a place to live a little over a year ago, I had to keep in mind that with my mobility issues, that I find a home that meets my current needs. But I have planned on doing a bathroom remodel in the next several years. My master bath is a fairly good size but after having surgery on my hip in May, I discovered that my bathroom already has a few flaws that make it difficult to use.
Is It Necessary to do a Bathroom Remodel for Mobility Issues?
In my head, I've already made a list of things that I would change immediately if I had the opportunity to do a handicap access bathroom remodel for mobility issues in my master bathroom. If you or a loved one has mobility issues, you should begin making arrangements to have a bathroom remodel for mobility issues addressed before an accident happens.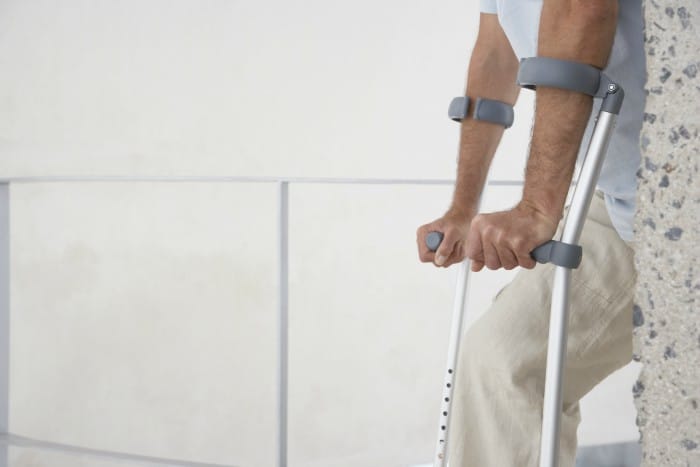 Widen Doorways
Newer homes typically already have widened doorways. However, if you own an older home or have doors that are less than 32″ across, you will need to widen the doorways to meet this requirement. Having wider doorways will allow you or a loved one to have access to a handicap accessible bathroom. Don't forget to update the front, back, closet, laundry room, or other rooms that are frequently needed by someone with mobility issues.
Add Wall Mobility Handles
Adding wall mobility handles is an upgrade that you can do yourself or with the help of a handyman. After having back and hip surgery, this is one feature that would have made getting off the toilet easier. Instead, I had to rely on my crutches or a walker. But in a bathroom, where there is tile or slippery flooring, this can create a fall risk for someone who has mobility issues and poor muscle tone.
Build a Walk-In Handicap Accessible Shower
Having a shower that is handicap accessible can make a huge difference for someone that has mobility issues. For me, my shower has a bit of a step-up and the drain dips down creating a fall hazard. Even though my shower has benches, they were still very difficult to use due to shape and location. Work with a reputable contractor to build a shower that has a bench or has plenty of room to add a handicap shower chair.
Whenever I do a bathroom remodel for mobility issues, I plan on ripping out my current shower and having a new tile shower installed. I'm also considering a Kohler LuxStone Shower to give my bathroom a luxury feel even if I need an ADA approved bathroom. It is so hard to decide but no matter what I decide. I want the tiles to be level with the other flooring to remove a potential tripping hazard. Again, to avoid a tripping hazard I would make sure that the contractor knows that the shower drain shouldn't have a large dip.
Also, after the tile work is done don't forget to install wall handles and a removable shower head. The removable shower head made showering easier after I had my back surgery. This time around, I wasn't able to install a removable shower head before I had surgery.
Install a Raised Toilet Seat
Installing a raised toilet seat can make it easier for someone with mobility issues to get on and off the toilet. A raised toilet seat may seem unnecessary but for someone with limited mobility, the extra few inches can make it easier to get on and off the toilet.
For me, it would have been a nice addition to have after my hip surgery due to weak psoas muscle. This muscle is responsible for raising your leg up towards your chest.
Lower the Counter Tops
Could you reach the sink to wash your hands or brush your teeth if you were bound to a wheelchair? If your answer is no, then you should consider replacing the counters that are lower to the ground. Lower countertops will allow someone with limited mobility the ability to care for themselves as much as possible. You can also find bathroom countertops that have empty space so that a wheelchair can be able to access the counter for other grooming needs. Opt for storage solutions that allow for easy access to items stored under the sink too.
Lighting
Going to the bathroom during the middle of the night with a mobility issue can be a huge inconvenience for some. Installing motion activated LED lights or lowering the current light switches would make it easier to get to the bathroom safely. Without ample lighting, going to the bathroom could be difficult to manage alone.
Homebuilders build homes for healthy and young adults and don't take into consideration building homes with handicap accessible bathrooms. Instead, elderly or disabled people have to take on the burden of doing a full bathroom remodel for mobility issues. Elderly or disabled people aren't doing a remodel in order to add value or change the aesthetics of the area. But they have to remodel in order to maintain their own independence.
Have you ever had to make the decision to do a bathroom remodel for mobility issues or to make a bathroom handicap accessible in your home?