Do you want to make a dinosaur sensory bottle? Sensory bottles showed up in my Pinterest feed several years ago. Many parents started using them as a way to calm down their child whenever they were in the middle of a meltdown. Sensory bottles usually contain glitter, fun items like the dinosaurs in this one, and other objects that are fun to watch move around freely in the bottle. Depending on the ingredients you use to make your bottle, the combination of glue or hair gel plus warm water mix, and create an environment that allows the items to move slowly inside the bottle. You can add more for slower movements or less if you want things to move a bit quicker.
Items Needed
For the dinosaur sensory bottle, you will need the following items.
12 oz sensory bottle (aff link) – I use the glass Voss bottles but they do come in plastic as well.
2 to 3 oz of hair gel
Package of plastic dinosaur toys
Confetti or glitter
Hot tap water
Directions
Gather your supplies needed to make this fun dinosaur sensory bottle for boys.
Push the dinosaurs into the sensory bottle. Some of the dinosaurs that I had wouldn't fit. I added the dinosaurs that I could easily push into the bottle.
Add two to three ounces of hair gel or you can use a 5 oz bottle of clear glue.
Add your hot tap water and fill to the top of the bottle. You need space to be able to mix the ingredients.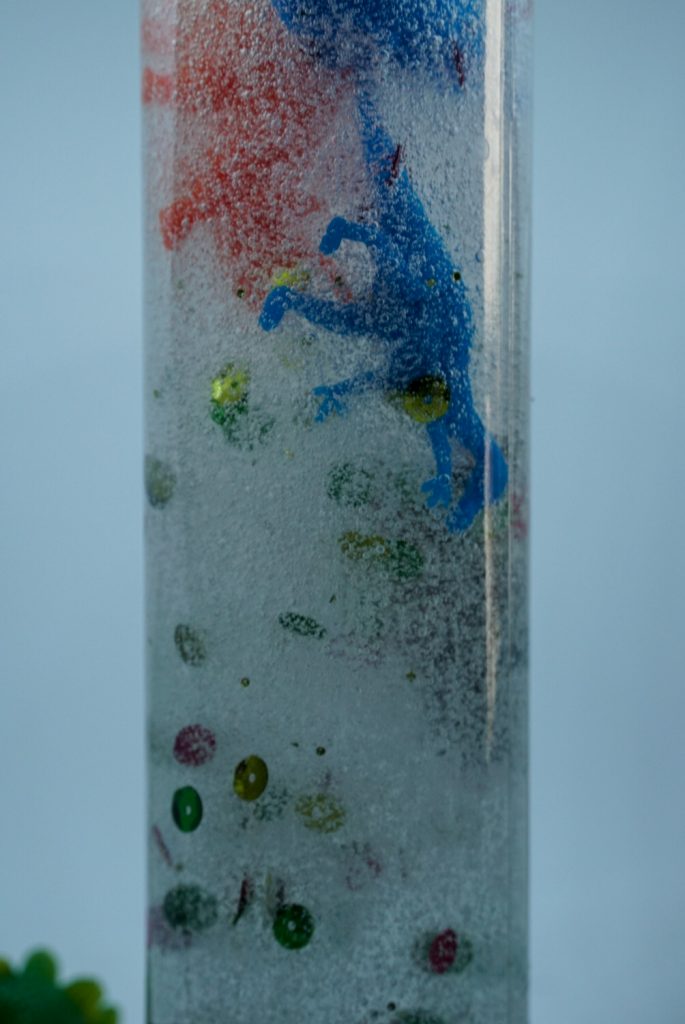 Shake until the hair gel and water are mixed well. Fill the remainder of the bottle to the top and superglue the cap on if you are happy with the consistency.
This dinosaur sensory bottle is perfect tool to help your little one calm down. Fill your dinosaur sensory bottle with your choice of items and let your child be mesmerized by watching the dinosaurs float around.
Do you think the dinosaurs will float or sink to the bottom of this dinosaur sensory bottle?