What are the benefits of pretend play? Pretend play, also known as imaginative or symbolic play, involves children using their creativity and imagination to create scenarios, characters, and situations. This type of play has numerous benefits for child development and learning. Here are some of the key benefits of pretend play:
It stimulates a child's cognitive abilities. It encourages them to think abstractly, plan, problem-solve, and make decisions. Children engage in complex thinking as they create and navigate scenarios, which helps develop their mental flexibility and creativity.
Language Development
Again, pretend play involves communication, negotiation, and storytelling. Children use language to express ideas, roles, and dialogue within their play scenarios. This helps them expand their vocabulary, improve sentence structure, and enhance their communication skills.
Social Skills
Engaging in pretend play requires children to take on different roles and interact with others. This helps them learn about social interactions, cooperation, sharing, and turn-taking. They also develop empathy as they put themselves in the shoes of different characters.
Emotional Development
This type of play allows children to express and explore various emotions in a safe and controlled environment. They can act out different scenarios and experiment with different emotional responses, helping them understand and manage their feelings.
Imagination and Creativity
Engaging in pretend play nurtures a child's imagination and creativity. It encourages them to come up with new ideas, innovate, and envision worlds beyond the immediate reality. This imaginative thinking can later translate into innovative problem-solving skills.
Self-Regulation
Pretend play requires children to manage their own behavior, follow rules they establish within the play scenario, and take turns. This helps them develop self-regulation and impulse control, which are crucial life skills.
Self-Expression
Through pretend play, children can freely express their thoughts, ideas, and desires. They can experiment with different personalities and roles, helping them develop a sense of identity and self-awareness.
Fine and Gross Motor Skills
Many forms of pretend play involve physical movement and manipulation of objects. This contributes to the development of both fine motor skills (e.g., using small props) and gross motor skills (e.g., running, jumping) as children act out their play scenarios.
Cultural Understanding
Pretend play often involves acting out different roles and scenarios. This can expose children to various cultures, traditions, and ways of life, promoting an understanding and appreciation of diversity.
Pretend play frequently involves overcoming obstacles and challenges within the imaginary scenarios. Children learn to devise solutions, adapt to changing situations, and think critically about how to achieve their play goals.
Empathy and Perspective-Taking
As children take on different roles in pretend play, they gain insights into different perspectives and develop empathy by understanding how others might think and feel.
Confidence and Self-Esteem
As children engage in pretend play, they take on different roles and experiment with different personas. This can boost their confidence, self-esteem, and a sense of identity as they explore different aspects of themselves.
Preparation for Real-Life Situations
It often mirrors real-life situations and allows children to practice and make sense of the world around them. They can work through their understanding of everyday activities, social interactions, and roles they observe in the real world.
Academic Readiness
Again, it lays the foundation for various academic skills. For example, when children engage in pretend reading or writing, they develop pre-literacy skills. Similarly, counting and measuring in play scenarios contribute to early math concepts.
Overall, pretend play is a valuable and essential part of childhood development, offering a wide range of cognitive, social, emotional, and physical benefits that contribute to a child's holistic growth.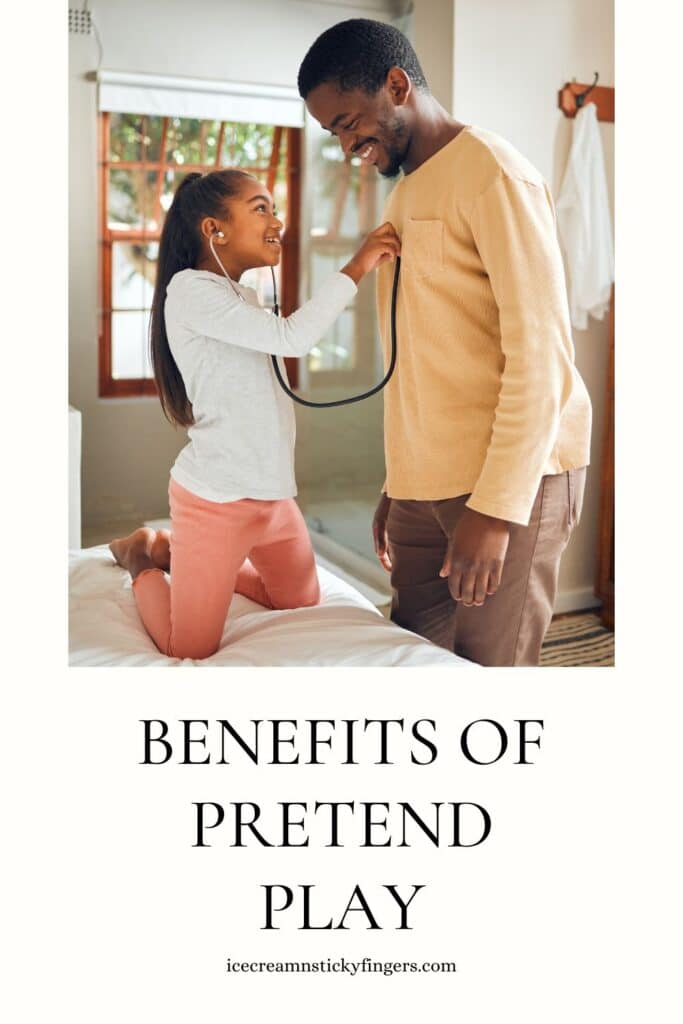 What are the benefits of pretend play?