Are you looking for the best reading apps for kids available on IOS and Android? Technology has made it easier for kids to have the opportunity to read a wide variety of books on a daily basis. Reading books is crucial for your child's education and an important skill needed beyond high school or college. Your child should be reading for pleasure on their own for at least 30 minutes a day. Not only are books great at developing lifelong skills, but books also help enhance your child's creativity and keep them immersed in learning new material. Yes, paper and hard-backed books will always have a sense of nostalgia but having reading material at the tip of your fingers makes reading easier.
Best Reading Apps For Kids Available on IOS and Android
Let's take a look at our favorite best reading apps for kids available on IOS and Android. Download a few of these apps and give your child the freedom to find books to read that they are interested in.
EPIC
Epic is a huge digital library that is focused on kids ages 12 and under. It is a safe place for kids to be able to pick out books that they want to read without you having to worry about them getting their hands on something inappropriate. Check with your child's teacher to see if your child has access to Epic. If they use EPIC in the classroom, your child may already have an account set up to use for free during the school year.
Try Epic for 7 days for free and start your child's monthly subscription for $7.99 a month. The cost of the monthly subscription is equivalent to purchasing your child 1-2 books a month. However, with your Epic subscription, your child also has access to books, kid-friendly videos, quizzes, Spanish, and more. Also, there aren't any annoying ads or in-app purchases to worry about. Get started today (aff link)! Download Epic on IOS here and Google Play here.
Reading IQ
Reading IQ has over 7,000 books in their digital library for kids ages 2 to 12. Again it is a safe place for kids to find books without you worrying about them getting their hands on inappropriate topics. Your child can find books in the following categories:
Picture Books
Graphic Novels
Chapter Books
Wordless Stories
Informational Books Earth & Space Science
Biology
Engineering & Technology
Math Concepts
Mythology How-To Books
Biographies
Historical Fiction
Jokes & Riddles
Rhymes & Songs
Reading IQ offers a free 30-day trial. Once the free trial is over, you can continue your child's subscription for $7.99 a month until canceled or $39.99 a year until canceled. Your paid membership gives you access to the Reading IQ library for up to 3 children. You can even track your child's progress and you can even preview the content your child is exploring. Download Reading IQ on IOS here and Android here.
Amazon Kids+
Amazon Kids+, formally known as Unlimited Freetime, gives your child unlimited access to kid-friendly books, movies, TV shows, educational apps, games, and premium kids skills. Your child can access this all in one subscription using a compatible Fire tablet, Fire TV, Android, IOS, and some Kindle devices. Parents this subscription plan can be customized so that you can set up the amount of time your child is allowed to spend on the app. Parental controls also give you complete control between educational and entertainment options available. Also, you can set the type of content that your child can view by age group, manage access to web browsing, and content usage.
Subscription prices start at $2.99 a month as a Prime member and $4.99 a month as a Non-Prime member. Click here to get started now. Download Amazon Kids+ on IOS here and Android here.
Teachers recommend that kids read at least 30 minutes a day outside of the classroom. However, as a parent, you should encourage your child to read for pleasure too. We love these reading apps for IOS and Android because they give kids a safe place to pick out books to read. Giving your child access to adult reading apps such as Kindle or the Nook app, could potentially expose your child to reading content that is inappropriate.
We love these reading apps for IOS and Android because they can be access from a cell phone, tablet or even a desktop computer. But before handing your smartphone over to your child make sure that you have it in a phone case in case they drop it.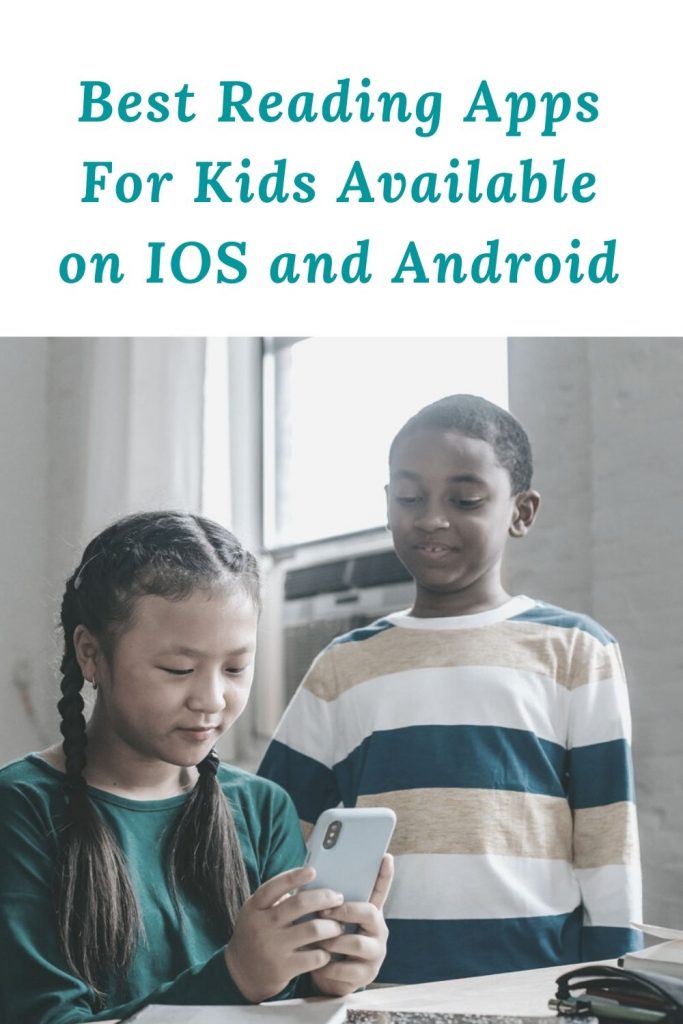 Which of these best reading apps for kids available on IOS and Android will you try out first?