What are Beyblades? Beyblades are the latest craze among boys aged 7 and up and my son has been hooked on them since Christmas 2018. Since Christmas, my son's collection has grown and it is one of his favorite toys to play with, especially when he invites his friends over to play.
What are Beyblades?
In Japan, Beyblades were first released by Takara Tomy in July 1999. My son often refers to his Beylades as "Beys" and little does he know that Beyblades are a spin-off of the Battling Tops game dating back to 1968. Takara Tomy took the Battling Tops a set further and came up with a spinning top that has interchangeable parts. Beyblades weren't released to the United States until 2002, when Hasbro started selling them internationally under the license from and produced by, Takara Tomy.
About the Different Beyblade Series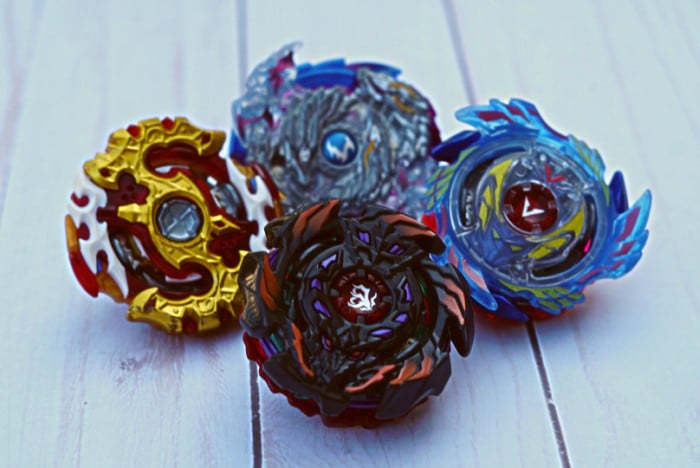 Today, there are two types of Beyblades available and if your son is anything like mine, he knows the ins and outs of each type of Beyblade. Beyblade: Metal Fusion was the first series was launched in August of 2008 and took the market by storm for three and a half years. The second series, called Beyblade Burst, was launched in July 2015 and is still going strong in 2019.
What is the Difference Between Each Beyblade?
There are four different types of Beys and has similar rules to the game rock, paper, and scissors. Each of the different types of Beyblades has certain effectiveness and it all depends on the way that the Bey is set up. While the rules aren't set in stone, due to the customizable and interchangeable parts, the idea is that an attack-type is weak to a defensive type, defensive to stamina, and stamina to attack. But then you throw in the balance type of Bey and you have a 50/50 shot at being strong or weak depending on the parts used.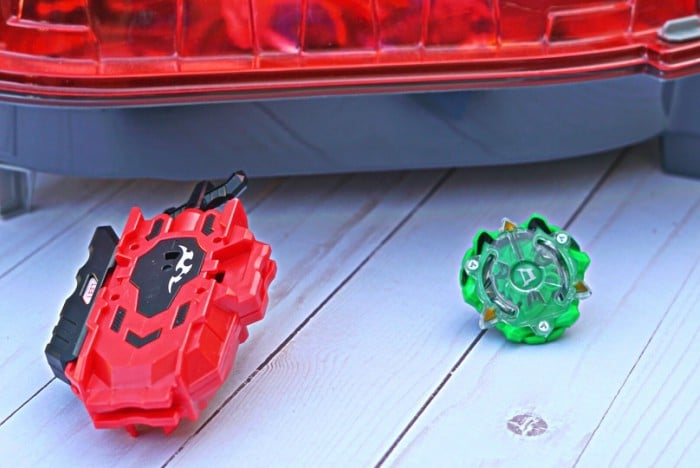 Attack or Striker Beyblade
An attack or striker type specializes in attacking the opposing Bey. They are known to knock out their opponent quickly. Once launched into the stadium, these Beys are sturdy and have the ability to move around the stadium aggressively. Attackers can typically outlast a stamina-type Beyblade because they are lacking defensive properties.
Top 5 Attack Beyblades
Valkyrie
Xcalibur
Longinus
Dragoon
Minoboros
Defense or Defender Beyblade
A defensive type Bey tends to travel slowly and are made of heavier materials. The heavy materials help deflect the opponent but they are lacking in stamina. A heavier Bey will launch slower compared to the other types and makes them lose stamina quicker. However, they are good at wearing down an attack-type and can easily outlast a stamina type Bey.
Top 5 Defense Beyblades
Balkesh
Kerbeus
Doomscizor
Anubion
Septumb
Stamina or Endurance Beyblade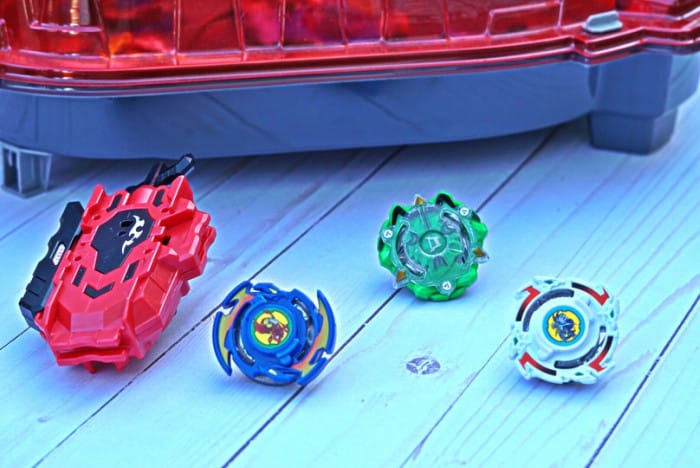 The stamina Beys are designed to out-spin their opponent and win battles. They don't have a ton of power but their spinning ability against other Beys make them have the upper hand over a defensive type bey.
Top 5 Stamina Beyblades
Hercules
Ragnaruk
Fafnir
Caynox
Zillion Zues
Balance or Combination Beyblade
The balance beys are a combination of parts used from an attack, defense, or stamina type. Mix and match for a fun experiment to see who would win.
Beyblades are the rage if you have a little boy who is 7 or older. Kids today don't realize that Beys have been around for several generations, even though they weren't called Beyblades. After Takama Tony, allowed Hasbro the rights to sell these popular toys internationally, it took the original Battling Tops game to a whole new level.
My son loves to play with his Beyblades and now has a huge collection. He can tell you which one is the best and who should win if you were to duel them in a Beyblade tournament. Gather up some of your son's friends and host your own Beyblade tournament at home. Let It Rip!
Did you know what Beyblades were before now? Does your child have any Beys?