Are you looking for a fun fall recipe to make for family and friends? These Reese's Cookie Sandwiches are the perfect match. It dawned on me a few days ago that these cookies contain the perfect candy for fall. Who doesn't like Reese's Pieces and Reese's Miniature Peanut Butter Cups. Grab the ingredients below and surprise your family and friends with these cookie sandwiches.
Reese's Cookie Sandwiches
Ingredients for Reese's Cookie Sandwiches
Reese's Pieces (aff link)
Reese's Miniatures
1/2 Cup Butter
1 Teaspoon Salt
1 Egg
1 1/3 Cup Flour
1 Tablespoon Vanilla
1 Teaspoon Baking Soda
1/3 Cup Peanut Butter
1 Cup Brown Sugar
1/4 Cup Sugar
1/2 Cup Cocoa Powder
1 Tablespoon Milk
Frosting
Directions to Make Reese's Cookie Sandwiches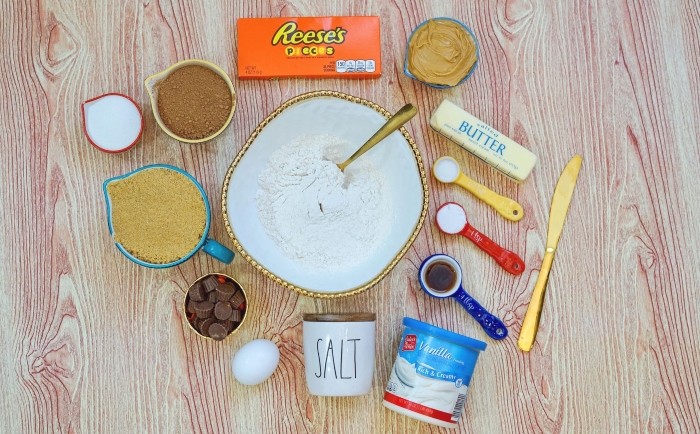 Pre-Heat oven time 350 degrees.
Pour flour, salt, cocoa & baking soda into a mixing bowl.
Mix well & set aside.
In large mixing bowl, add brown sugar, sugar, butter, milk, vanilla, peanut butter & egg.
Mix well.
Slowly add the dry ingredients into the wet ingredients bowl while mixing.
Mix in the Reese's Pieces. Make sure to save a few for later!
On a non-stick or parchment paper-lined pan, place tablespoon-sized balls of dough evenly spaced.
Slightly flatten each ball with a spoon.
Bake for 12-15 minutes.
Remove from oven and transfer to a cooling rack.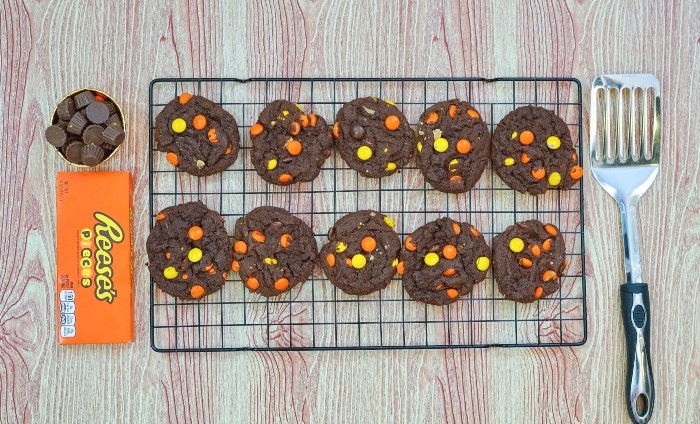 Once cookies have cooled, add frosting. If you would rather make homemade buttercream using orange icing you can find my recipe here. You could also opt to use vanilla ice cream instead of frosting too.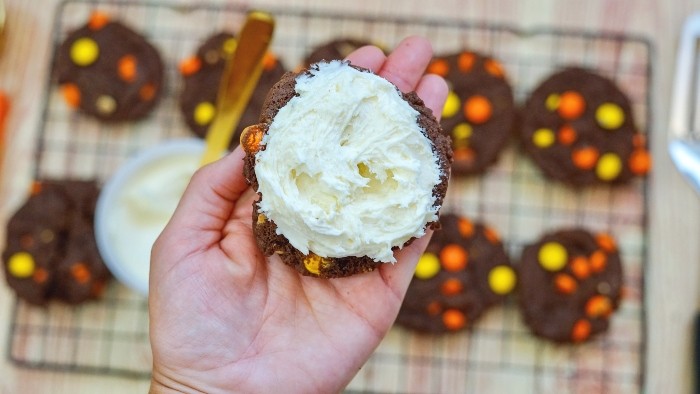 Place a cookie on top to make a cookie sandwich.
Stick Reese's Pieces and miniatures into the frosting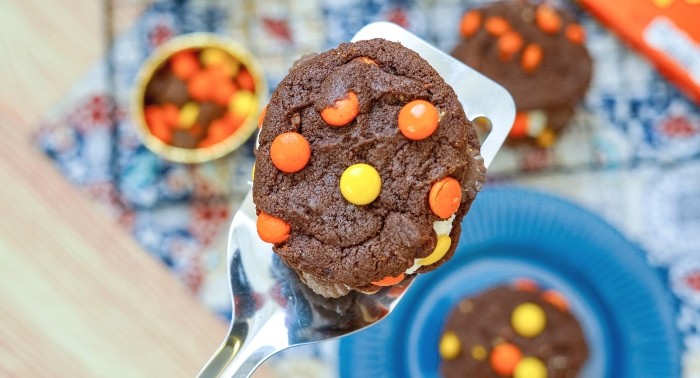 Serve & enjoy!
The Chocolate Reese's Cookie Sandwiches are perfect to serve to your family and friends this fall. Reese's Pieces and chocolate cookies are a perfect combination and who doesn't love chocolate and peanut butter combo. Like I mentioned earlier, you can make your own homemade orange buttercream icing or use vanilla ice cream instead of frosting. We hope that you enjoy this fun and festive fall recipe.
Have you ever made your own Chocolate Reese's Cookie Sandwiches? If not, do you plan on giving them a try.