Have you ever made DIY Candy Apples? Are you planning on going apple picking this fall? Apple picking is a great family activity that everyone can enjoy. Most orchards also have other activities for kids too. Unfortunately, it is too hot in the Dallas/Fort Worth area for apple orchards. But we have a few pumpkin farms nearby and I'm hoping we can make it out to one this year. I've never been with COVID, finding outdoor activities helps with the social distancing.
Anyways, back to those apples that I was talking about. There are so many things that you can make with apples from these Halloween Caramel Apples, Mini Apple Pies, and more. The cute DIY Candy Apples are super fun to make just before watching Nick Jr Fantastic Fall DVD. This DVD is now available for purchase (see below).
How to Make the DIY Candy Apples
Grab a few apples and have fun making these DIY Candy Apples. Young children will likely need a bit more help. But let the kids dig in and fun.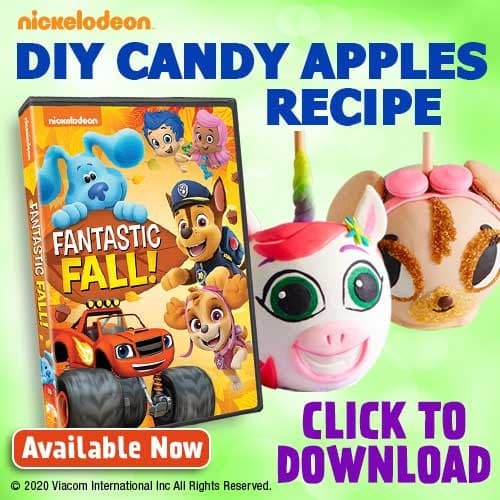 Click here to download the tutorial for these DIY Candy Apples
Introducing Nick Jr. Fantastic Fall DVD
JOIN NICKELODEON'S PRESCHOOL PALS FOR AUTUMN ADVENTURES,
INCLUDING TWO EXCLUSIVE EPISODES!
The season filled with tricks, treats and thanks, is upon us! Help Josh and Blue figure out what Magenta wants to be for Halloween. Blaze and AJ are excited to "truck or treat," but Crusher tries to steal their candy! Then, it's time to give thanks as Josh plays Blue's Clues to discover what Blue is thankful for. The PAW Patrol pups rescue Mayor Humdinger and his kittens from a bouncy Thanksgiving turkey. And The Bean Team shows Ms. Marmalady what Thanksgiving is all about. All of these adventures and more add up to one fantastic fall!
Celebrate fun-filled fall moments in the brand-new DVD Nick Jr.: Fantastic Fall! Featuring episodes from Nickelodeon's hit series PAW Patrol (produced by Spin Master Entertainment), Blaze and the Monster Machines, Bubble Guppies, Butterbean's Café, and even two never-before-seen episodes of Blue's Clues & You!, the DVD release lets fans join their favorite preschool pals on awesome autumn adventures. The Nick Jr.: Fantastic Fall! DVD will be available from Paramount Home Entertainment and Nickelodeon Home Entertainment on September 22, 2020. Buy it here (aff link).
Nick Jr.: Fantastic Fall! episodes:
PAW Patrol: Pups Save Thanksgiving
Blue's Clues & You!: Spooky Costume Party with Blue
Blue's Clues & You!: Thankful with Blue
Blaze and the Monster Machines: Truck or Treat!
Bubble Guppies: Trick-or-Treat, Mr. Grumpfish!
Butterbean's Café: Fairy Happy Thanksgiving!
Have you watched Nick Jr Fantastic Fall DVD yet? Do you plan on making the DIY Candy apples with your kids too?