Christmas is here! The temperature is dropping, the snow is falling, and the presents are being bought. The Christmas season is a wonderful time of laughter, joy, happiness, and immaculately decorated homes.
10 Simple, Yet Elegant Christmas Decorations
These are 10 Christmas decorations you can use to bring simple elegance to your home this holiday.
Ornament Christmas Wreath
Photo Credit: Hoppidihop
The Christmas wreath is a holiday staple that will never go out of style. However, you can take your classic wreath to the next level by buying or making a wreath of ornaments instead of the traditional pine tree material. The ornament wreath gives a shiny and simplistic look to any front door.
Decorative Words on the Stair Banister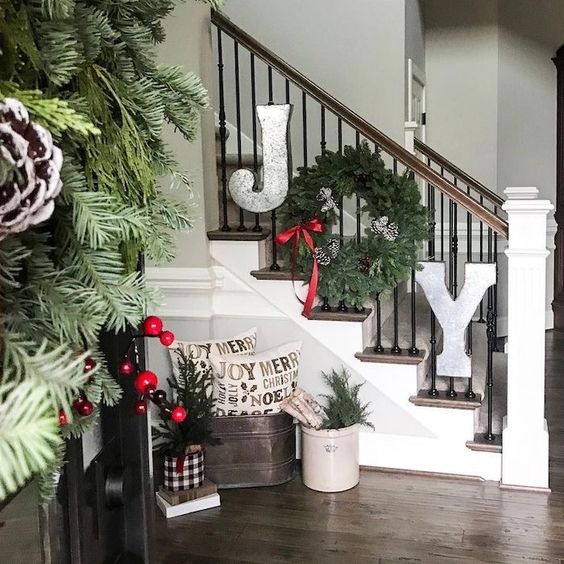 The stair banister is a great place to display Christmas decorations. One option is to get oversized letters to spell out a word like "JOY" or "CHEER" and hang them along the banister. It's a fun way to utilize the staircase decorating space. There is no tutorial for this idea but we would like to give the creator credit for their work here.
Christmas Wood Letters
Wooden letters are a cute way to add a little decoration to any room. You can place them on the fireplace, on a shelf, or on the counter. Get festive snowflakes, a cute snowman, or some decorative blocks that say "O Holy Night" to add an easy and cute decoration to your home. To purchase Christmas wood letters such as the one above, please visit Thoughts in Vinyl.
Garland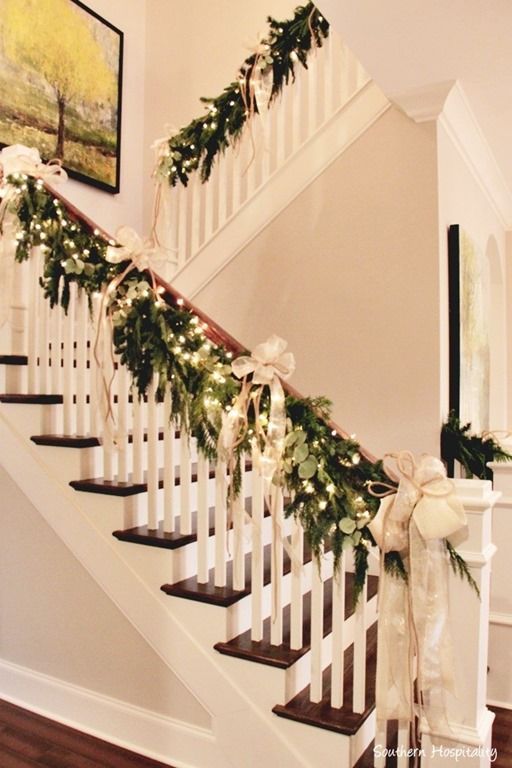 A festive garland wrapped around the banister or draped across the fireplace is my favorite type of Christmas decor. You can get colorful garlands or thick pine tree garlands–there really is no wrong type of garland. This piece of decor is elegant, simple, and screams Christmas. Please visit the Holiday Parade of Homes Tour 2014 – Nashville here.
Decorative Candle
A decorative candle is a simple decoration that also provides a delicious fragrance (if you choose to light it). Taking a free-standing candle and placing it in an oversized candle holder and then putting pine cones, ornaments, or other small Christmas decor can create a cute centerpiece for your dining room table. House of Cones doesn't include a tutorial for this idea but wanted to give their credit for their creative work here.

Christmas Wall Tree
One of the latest Christmas trends is to hang up a wall tree. These flat trees vary in style, size, and colors, but they are beautiful. This can help add some fun decoration to a boring wall in your home, or if you are pressed for space it could even serve as your main Christmas tree. Rudsmyhome didn't include a tutorial for this beautiful Christmas wall tree but I wanted to give them credit for their creative idea here. Plus have a ton of other awesome ideas too.
Christmas Countdown Calendars
A decorative Christmas countdown is a great way to build excitement for Christmas. Plus it adds a cute decoration to any wall or shelf. This is also a decoration that kids love to be a part of as they move the countdown every day and watch as Christmas gets closer. You can purchase the Christmas countdown calendar here (aff link).
Christmas Pillows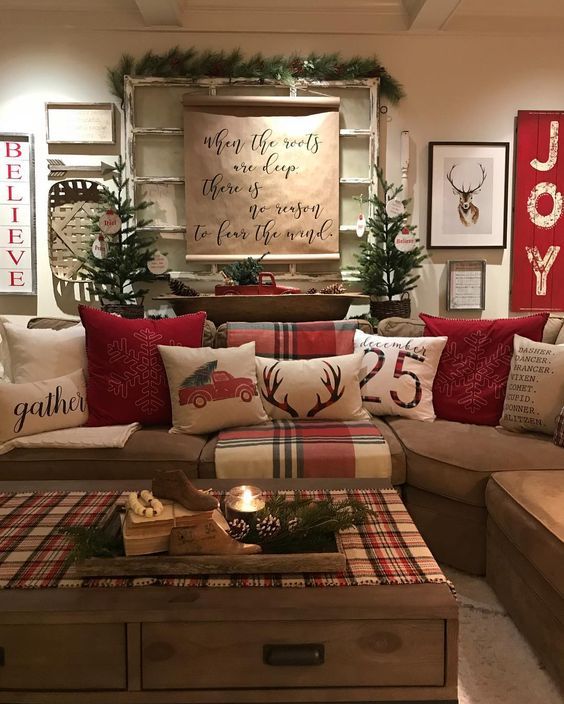 Christmas pillows can bring some fun decor even to the couch. You can get pillows with Christmas trees, reindeer, snowflakes, or decorative words like "cheer" or "let it snow." Christmas pillows are a fun touch to any couch or chair. Please check out HikenDip for over 100+ Warm and Festive Red/White Christmas decor ideas including throw pillows here.

Decorative Holiday Lanterns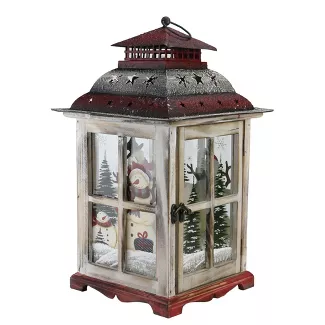 One way to bring some festive decor to the porch is to use decorative lanterns. Fill some oversized lanterns with a few candles and Christmas bobbles, decorate the lantern with a ribbon, and you've created a classy and simplistic porch decoration. You can purchase the lantern above here (aff link).

Christmas Stockings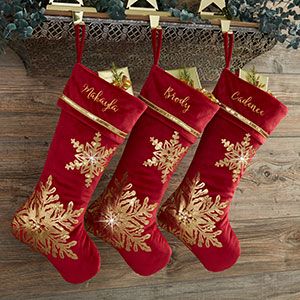 The Christmas tree and stockings are the most traditional Christmas decorations, and they add Christmas spirit to every home. Getting decorative stockings can make your fireplace have an extra pop of color. You could even choose to get your stocking personalized by writing each person's name at the top of their stocking. Please visit Personalization Mall for photo credit and additional stocking ideas here.
It is crazy that Christmas just around the corner. Every year, just after Thanksgiving we always take the time out to decorate the Christmas tree and enjoy our favorite Christmas traditions. I love Christmas time and we hope you enjoy these simple, yet elegant Christmas decorations ideas.
Do you love to use simple, yet elegant Christmas decorations in your home?