Let's make some Dragon Cheesecake Dessert Dip that is inspired by the release of My Father's Dragon. It is now streaming on Netflix for your viewing pleasure. But for now, let's make a snack that the kids will enjoy.
Ingredients Needed
You will need the following ingredients and supplies needed to make the Dragon Cheesecake Dessert Dip
8 Ounce Block of Cream Cheese
1 Stick of Unsalted Butter
Powdered Sugar
Graham Crackers
Vanilla Extract
Blue Gel Food Coloring
Watermelon
Airheads Taffy with Mystery Flavor and Blue Raspberry
Variety of Crackers and Pretzels for Dipping
Black Icing
Blue Icing
Round White Sprinkles
Non-Stick Cooking Spray
Kitchen Shears
Instructions
Combine softened cream cheese, vanilla extract, and butter using a high-powered mixer. Slowly add in powdered sugar and graham crackers. Beat until blended. Add blue gel food coloring until the desired color is achieved. Cover the mixture with plastic wrap and refrigerate for 2 hours.
Placed mixture onto a serving board and shape it into an oval. Make it smooth using non-stick cooking spray on your fingers or knife so that it doesn't stick to the dip.
Cut a few small triangles out of the watermelon for the horns and place them at the top of the head. Use kitchen shears to cut ovals out of the taffy candy mystery flavor for the eyes and teeth. Use the black icing to draw on the eyebrows, and mouth, and to finish the eyes. Next, use the blue icing to draw on his nose. Add white sprinkles for the freckles, and place them above the nose. Use the blue taffy candy to make the ears and press them into the side of the dip mix. Serve with a variety of your favorite cookies and pretzels.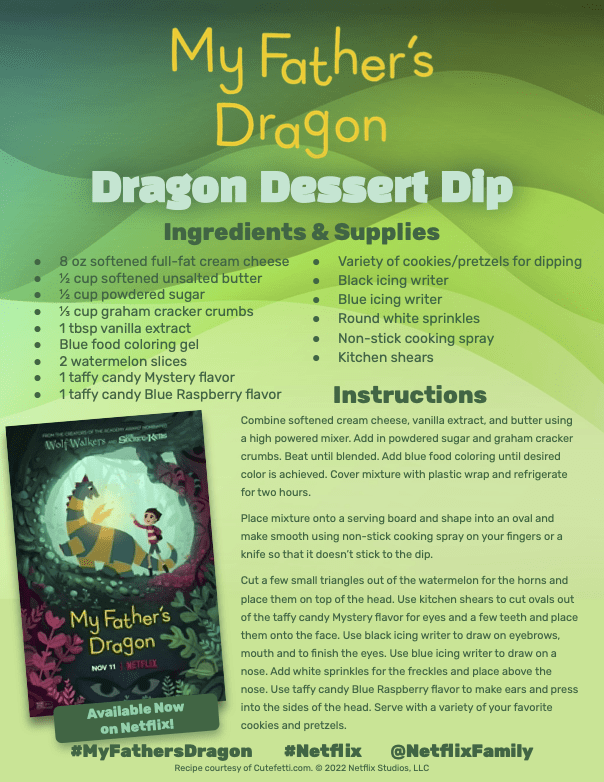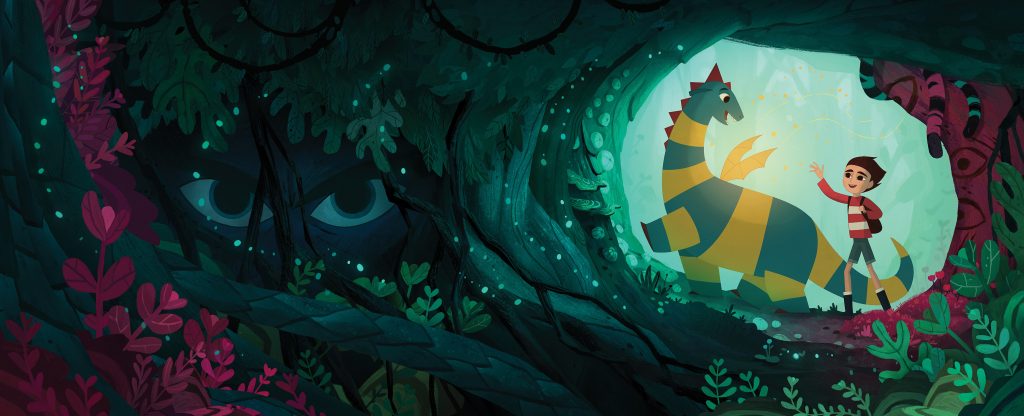 RELEASE DATE: On Netflix in November 11
BASED ON THE BOOK: My Father's Dragon by Ruth Stiles Gannett
DIRECTOR: Nora Twomey
WRITER: Meg LeFauve
PRODUCERS: Bonnie Curtis, Julie Lynn, Paul Young
EXECUTIVE PRODUCERS: Meg LeFauve, John Morgan, Tomm Moore, Gerry Shirren, Ruth Coady, Alan Moloney
CAST: Jacob Tremblay, Gaten Matarazzo, Golshifteh Farahani, Dianne Wiest, Rita Moreno, Chris O'Dowd, Judy Greer, Alan Cumming, Yara Shahidi, Jackie Earle Haley, Mary Kay Place, Leighton Meester, Spence Moore II, Adam Brody, Charlyne Yi, Maggie Lincoln, Jack Smith, Whoopi Goldberg, Ian McShane
SYNOPSIS: From five-time Academy Award®-nominated animation studio Cartoon Saloon (The Secret of Kells, Song of the Sea, Wolfwalkers) and Academy Award®-nominated director Nora Twomey (The Breadwinner),  comes an exquisite film inspired by the Newbery-honored children's book from author Ruth Stiles Gannett. Struggling to cope after a move to the city with his mother, Elmer runs away in search of Wild Island and a young dragon who waits to be rescued. Elmer's adventures introduce him to ferocious beasts, a mysterious island and the friendship of a lifetime.