Do you buy a new tube of lipstick for every season? When you no longer wear a shade, do you toss it in your make-up bin and save it for later? For those who only wear a shade of lipstick for a month, I can totally understand why you would be reluctant to toss it out. Keep in mind that a tube of lipstick isn't made to last forever. Unless you wear the same shade of lipstick on a daily basis, chances of you actually using up an entire tube.
Disclosure: I received Lipsense lip color and gloss in order to facilitate this post. All thoughts and opinions on the lip color are 100% my own.
According to a study done by BirchBox, the average tube of lipstick can be swiped 293 times across your lips and could last up to three months. You would have to apply the same tube of lipstick on a daily basis and reapply a minimum of three times a day. But how many of you actually use an entire tube? *crickets chirping*
Stop here and take a moment to dig through your make up to see how many open tubes of lipstick that you find in your stash. One, two, three, or way too many to admit too? I'm guilty of hoarding make-up underneath my bathroom sink. When I moved in June, I remember tossing make-up that I have had for over 5 years, possibly even 10. *Gulp*. I hate to know what was growing in my make-up collection.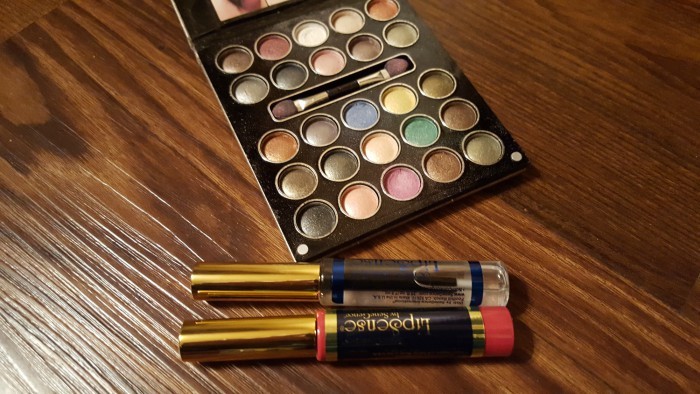 I've never been a huge girly-girl and don't usually wear a ton of make-up. I prefer the natural look but occasionally, I'll put on minimal make-up and lipstick. If you were to test the make-up or lipstick that I have under my bathroom sink, I could only expect the samples to show a strong presence of bacteria. *cringes* Lipstick and make-up tends to have a long shelf life; however, once you open the packaging the life-span is significantly reduced.
After a package is opened it is exposed to air. The air causes specific ingredients to start oxidizing and begin to degrade. Plus, anytime you open a tube of lipstick it is exposed to germs and other debris such as oil and dirt on your lips.
Recommended Reasons to Throw a Tub of Lipstick Away
A tube of lipstick isn't made to last forever and like I mentioned you don't want to keep a tube of lipstick that is too old. Always toss it when in doubt. Here is a list of reasons why you should toss it and replace it.
melted at the bottom of your purse it is best to toss the lipstick
obvious change in color or pigment
ingredients that appear to be separating
toss lipstick if you have a cold sore or contagious infection such as strep or staph
you notice that it smells like old, stale oil
breakouts after wearing it
toss it if you let a friend borrow it
never use lipstick that has been opened for 2 years (I highly recommend that you write the date on the tube so that you can easily determine how long it has been in your make-up collection)
lipsticks that contain a higher concentration of water need to be tossed out more often
when in doubt toss lipstick out
Have you Tried Lipsense Yet?
My sister raved about how wonderful that Lipsense was and I was a wee bit skeptical at first. But is it was really worth the hype. Since I'm not a girly girl, I don't wear lipstick or lip color because it has to be reapplied frequently. I was given an opportunity to give Lipsense a try and I wanted to see if the ads about all-day kissable lips were true. There are so many colors to choose from so it took me roughly 30 minutes to figure out which color I wanted to try.
I ended up choosing Strawberry Shortcake and while bright colors aren't my first choice, I did enjoy wearing this color. However, if I had to choose all over again, I would have tried something a bit more natural. The first time that I applied Lipsense, it only lasted about 4 hours. I wasn't disappointed because my sister said that if you have dry lips that you must condition them so that the Lipsense lasts longer. The best way to condition your lips is to reapply the gloss frequently. Also, the documentation that was sent with my Lipsense sample warned me that it is possible the first few times that you do wear it that it won't last the full 18 hours.
But don't give up. Apply your Lipsense and reapply gloss frequently. The gloss helps your lips go through the exfoliation process. The exfoliation process helps remove dead skin and any residue from wax-based lipstick or lip gloss. It can take 7 to 10 days for the Lipsense to exfoliate your lips. Don't forget to use the gloss often as this helps speed up the process.
How to Apply Lipsense
Lipsense isn't like traditional wax-based lipstick so before you apply it to your lips, you should clean and dry your lips prior to application. Then apply a thin layer in a swiping motion with your mouth open. It is very tempting to put your lips together and shimmy your lips together. But don't touch your lips together.
Wait 10 seconds after you apply the first layer and then repeat the process three times. It is normal if to feel a slight tingle on your lips after you apply Lipsense. Lipsense contains cosmetic grade denatured alcohol which creates a bacteria-free environment. This means that you won't have to replace your favorite Lipsense colors until they run out. You can't do that with a traditional tube of lipstick. After you have applied three coats of Lipsense, wait for 10 to 15 seconds for it to fully dry and then apply glossy gloss. Remember to apply glossy gloss often to keep your lips soft and protect the color.
Hints and Tips to How to Use Lipsense
Lipsense isn't like a traditional tube of lipstick. It is designed to stay on your lips for up to 18 hours. Try these hints and tips to help make your experience with Lipsense successful.
Apply glossy gloss often.
Remove any mistakes using ops remover.
Invest in ops remover to remove accidents on the go.
Mix and match your favorite shades to create new ones.
Avoid using wax-based chapstick or lipsticks.
Use an oil-based make-up remover such as Neutrogena unscented bar soap or Castille soap to remove Lipsense at the end of the day.
Store Lipsense at room temperature and avoid leaving it in the car or around high temperatures.
Using waxed-based products instead of Lipsense glosses, you will notice that your color will break down quickly.
After trying Lipsense, I will never purchase a regular tube of lipstick again. I love that it is kiss-proof, no more leaving lipstick kiss marks on your child's cheek. This lip color is smudge-proof, waterproof, and you won't find any on your cup or napkin. Lipsense is designed to last longer than traditional lipstick or lip color due to the cosmetic grade denatured alcohol added to each tube.
Lipsense seems more expensive up front, especially if you are purchasing, Lip Color, Gloss, and Ops remover but keep in mind that you don't have to toss your lipstick every few months. This means you can continue to safely use it until the tube is empty.
You can purchase Lipsense here (aff link).
What is the longest that you have ever held onto a tube of lipstick? Have you tried Lipsense yet?