Do you love eating cold pizza for breakfast? There is nothing better than eating leftover cold pizza the next morning but what if you could make a healthy flatbread pizza for breakfast every morning. I whipped up this quick and easy flatbread breakfast pizza in less than 15 minutes. It is a breakfast that you can easily customize too.
I get it that your mornings can be quite hectic, especially if you have kids that you are trying to get out the door too. But the great thing about this healthy flatbread breakfast pizza is super easy to make. To speed up the process you could also prep your vegetables the night before or even on Sunday evening if you can store in an airtight container.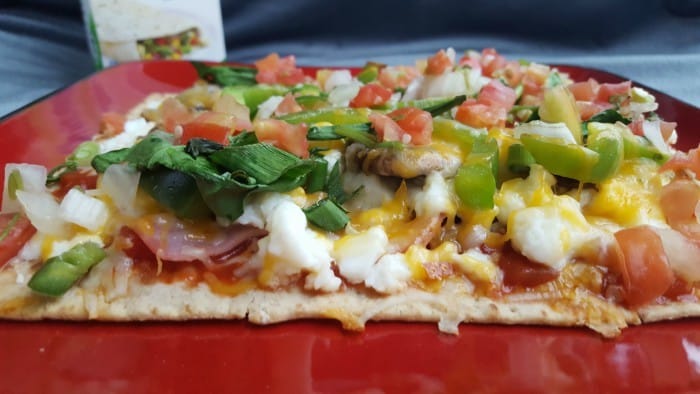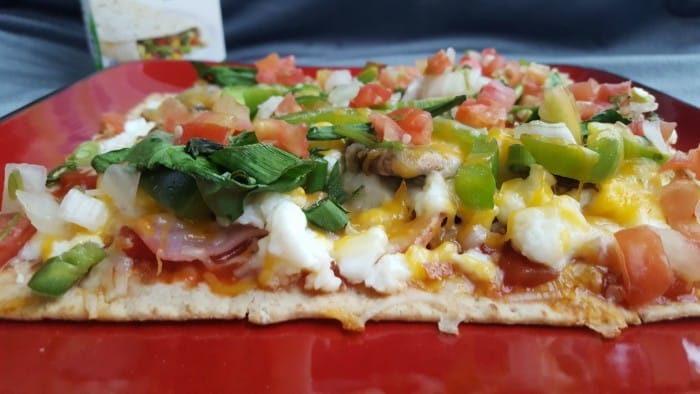 Have you ever eaten flatbread pizza for breakfast? I'm not talking about eating leftover flatbread pizza either. This flatbread breakfast pizza is made with AllWhites® Liquid Egg Whites, whole wheat flatbread, plenty of veggies, and topped with cheese. You can easily swap ingredients and customize your pizza easily too.
Eggs are a great source of protein to get you through the day. Protein takes longer to digest and help keep you full longer. Let's gather up your ingredients needed to make this healthy flatbread breakfast pizza.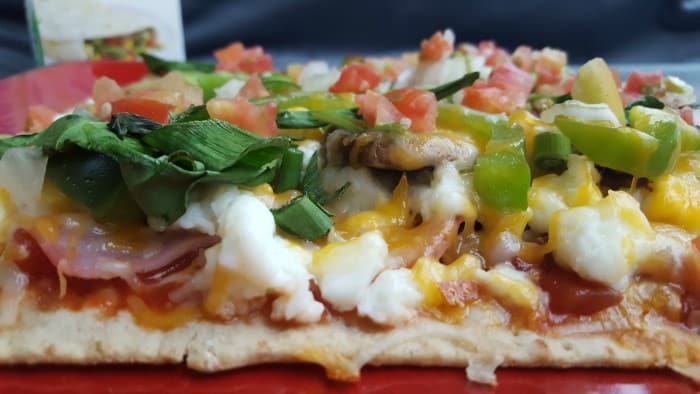 Shopping List for Making a Healthy Flatbread Breakfast Pizza
Eggs or Egg Whites
Whole Wheat Flatbread
Colby and Monterey Jack Cheese
Turkey Sausage but you can substitute this for regular sausage
Canadian Bacon
Bell Pepper
Spinach
Fresh Mushrooms
Green Onion
Pico de Galo
Favorite Brand of Salsa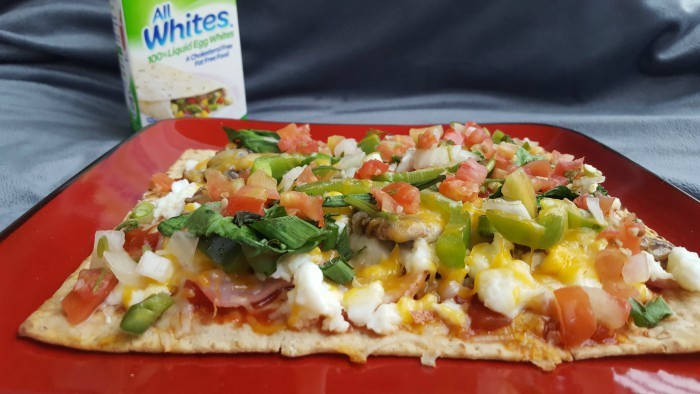 Directions to Make a Healthy Breakfast Flatbread Pizza
Preheat oven 350º degrees.
Line cookie sheet with foil.
Chop bell pepper, green onion, and mushrooms.
In a small frying pan, heat your turkey sausage until it is thoroughly warmed. Don't let it brown.
Crack 2 eggs per serving or use half a pint-sized container of egg whites.
Scramble the eggs. Make sure that you don't overcook the eggs because they will have to go into the oven for a few minutes.
Set the eggs or egg whites and sausage aside.
Cook mushrooms and bell pepper in the same frying pan that you used to cook the sausage. Add a small amount of butter.
Place several slices of Canadian bacon in the pan that you cooked the eggs or egg whites for a minute on each side.
Put two pieces of flatbread on your lined cookie sheets and place in the oven for 5 minutes.
Remove flatbread from the oven.
Add 2 to 3 tablespoons of salsa and spread on the flatbread.
Sprinkle your eggs or egg whites and sausage on the flatbread.
Then add bell pepper, mushrooms, Canadian bacon (cut into smaller pieces)and cheese.
Top with green onion and a few pieces of spinach.
Put in the oven for 5 to 6 minutes or until cheese is fully melted.
Remove from the oven and garnish with pico de Gallo.
Enjoy!
This healthy breakfast flatbread pizza is perfect for breakfast, dinner, or even brunch. Don't worry you can even customize the pizza so that your kids will eat it, even if its just flatbread covered in cheese and eggs.
Do you love eating pizza for breakfast? What are your favorite toppings?