Are you wondering who you will financially recover after COVID-19? Have you been financially impacted by COVID-19? Most families often live paycheck to paycheck and have little to no savings at all. Then when faced with a layoff, reduced work hours, forced to quit due to child care problems, or your own business no longer has a stream of income coming in. Even if you were one of the lucky ones and have not been affected by COVID-19, you should still take a financial check-up to ensure that you are staying on budget and continuing to tuck away emergency money. It is possible to financially recover after COVID-19 and create a savings account.
Create a Liveable Budget
Download the last two months worth of bank statements so that you can create a liveable budget. Don't forget to include eating out, trips to Starbucks, entertainment, and charges that come out of your account automatically. You must do this step and not cheat or deviate from the budget in order to financailly recover from COVID-19.
Find Ways to Cut Costs
Listing out your bills and expenses during the month can make easier to see where you can cut costs and reduce your spending. While you can't eliminate your cell phone bill, mortgage, car insurance, electric bill, you can do things to possibly save money.
Trim Your Cell Phone
Don't be afraid to call your cell phone company to determine if you are on the best plan for your budget. My cell phone company raised my rates in August without warning. Last month, I was able to pick up a new promotion that ended up saving me money. Ask what your remaining balance is on your cell phone payment. If your device is almost paid off, it is oftentimes cheaper to go ahead and pay it off rather than be charged a monthly fee. If you are no longer in a contract, shop around and see if there is another company who can beat your current rates including monthly payments for your phone.
Determine if Refinancing Your Mortgage is Worth It
Interest rates are at an all-time low. Consider refinancing your home in order to reduce your payment. Pigly is a free service that can help you determine if it is worth refinancing your house. They have mortgage calculators as well as other financial calculators to help you with your other financial needs.
Do keep in mind that if you do refinance your house that you will need to make sure that you can come up with closing costs or find a lender who doesn't charge you. But you will be expected to fund the new escrow account but you will receive the current escrow account back once your existing loan is paid in full.
Shop Around for Car Insurance
I've always been a firm believer in customer loyalty and stayed with my car insurance provider for years. But one day on a whim, I decided to call around and get new quotes. I knew my rates were going to be expensive because I had a new driver on my policy. But I was shocked when I found out that I had been overpaying my car insurance for years. It is worth checking into and most of the time you don't even have to switch to a no-name insurance carrier. I didn't.
Electric Bill
Electricity is expensive but are you getting the best rate available in your area. Now is a good time to take a look at your options and see if you can reduce your rate. Also, your electric company can also come out to your home and figure out what is causing spikes in usage.
Meal Plan Around Grocery Sale Ads
The cost of groceries has increased as the manufacturers have experienced supply chain issues shortly after the pandemic started. There are some tips on how to stretch your grocery budget on the blog but the best way to keep your grocery budget in check is to meal plan around sale ads or coupons.
How to Get Back on Track Financially
Sticking with you current liveable budget and working on paying down your debt is the first steps to getting back on track so you can finanially recover after COVID-19. Hopefully, if you are not working, you have been able to find a workable solution with the help of unemployment. But even though the job market is grim, there are still companies hiring workers if you can find reliable child care for your kids. The cost of child care is steadily rising and with strict restrictions due to COVID-19, daycares are being strict about sending your child home if they are sick, even if the cause is teething or allergies, until they are seen by the doctor.
Start a Side Hustle
If you have found yourself caught in a lay-off because of COVID-19, now is the time to find a side hustle. There are countless things that you can sell, provide services, start a freelance business, or start a business. A side hustle is a great way to find work especially if you are unable to pay for daycare or have the need to be at home with young children. Plus, if you are able to find a new job, keep your side hustle and start paying off debt. This is another great way to financially recover from COVID-19.
Start a Saving Account
As a single mom for several years, I had to find ways to save money for those unexpected expenses that crop up. Personally, I found that putting my entire tax refund into a savings account was a lifesaver for years. I too lived paycheck to paycheck, just barely squeaking by. But if you are able to work into your budget a small amount to set aside in addition to your tax refund, next time you are faced with a financial crisis, you will be somewhat prepared.
COVID-19 has caused many families to run into financial problems due to quarantine, shut down, and layoffs. Families today typically live paycheck to paycheck and don't have any money stashed away for emergencies like COVID-19. It is totally possible to financially recover from COVID-19 and build a savings account for future disasters.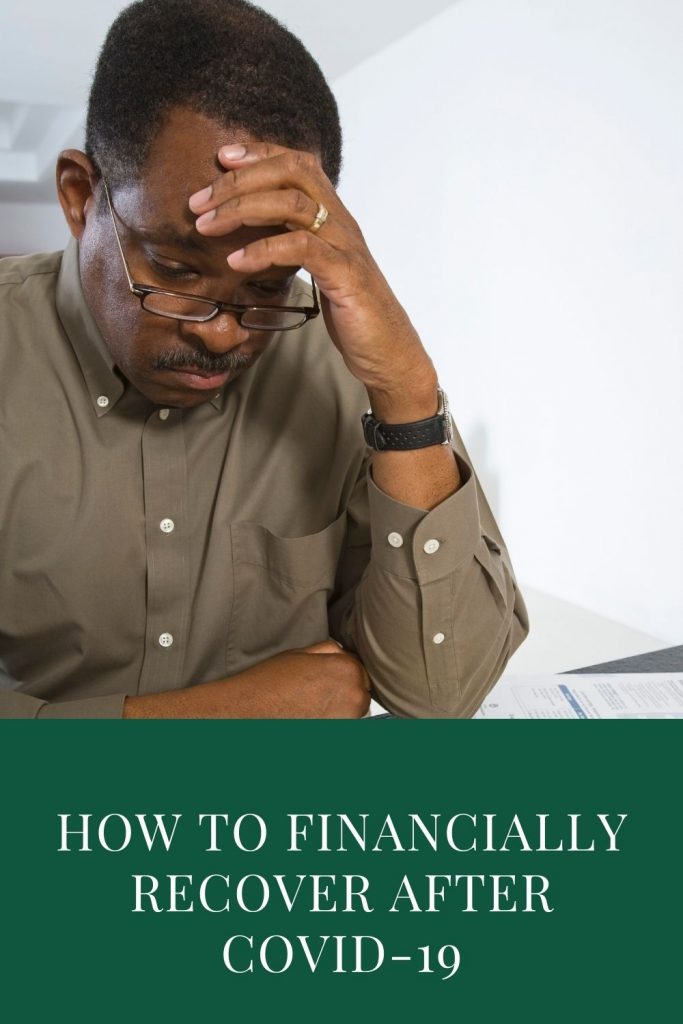 Were you affected financially from COVID-19? Have you been able to financially recover from COVID-19 yet or are you still struggling?