This post is sponsored by Red Baron but the content and opinions expressed here are my own.
The kids head back to school this week and soon the shelves will transition from school supplies to Halloween decor, costumes, and candy. Back to school means that fall is around the corner and Halloween will be here before we know it. I'm a planner so I like to have a planner so I have already begun thinking about Halloween. How do you plan a stress-free Halloween, especially on a school night?
My son loves Halloween and can't wait to dress up. It's crazy that my kids were just talking about what they wanted to dress up as this year. Since we moved to a new house recently, I now have a porch to decorate and start stocking up on candy to pass out to the neighborhood kids. When Halloween falls on a weeknight, once the kids are home from school, mom has a ton of things to get done before Halloween activities start.
Finding a quick and healthy meal that I know my kids will eat without hesitation is a must. That's why I have already taken the time to plan Halloween dinner. That is one way that I have a stress-free Halloween.
Normally, I am secretly stressing out the details of Halloween night but I don't let my kids know that mom is stressed. If you are secretly stressing about Halloween, we came up with a few tips on how to have a stress-free Halloween.
Kid-Approved Halloween Dinner
The moment my kids walk through the door after school, all they talk about is going Trick or Treating. By the time the boys get home from school, I'm lucky if I have an hour or two to throw together a quick and healthy meal before we head out the door.
In that hour and a half, the kids need to eat dinner so that they aren't begging sneaking candy while out and about, quickly get their homework done, and get their costume on. This year I have dinner planned so that I have one less thing to worry about.
The weekend before Halloween, we will head to the grocery store (usually Walmart) and get groceries for the week which always. My list always includes Red Baron pizza (aff link) because this is one meal that they never turn down. Pair their favorite pizza with a salad and a fun festive drink.
For the drink, I found a fun Halloween cup at Dollar Tree and I filled it with "blood". I picked up Big Red since it was red but you can use any red drink of your choice. Getting soda is a rare treat for my kids and I figured they would enjoy the fun drink with their meal. But you can use kool-aid, flavored water or sparkling water, or something with less sugar.
In the past, we haven't had time to eat dinner before heading out on Halloween night and that is a huge mistake on my part. It never fails, they always start complaining that they are hungry while we are out having fun. A hungry child can go from happy to having a meltdown in 5 seconds. Those meltdowns cause me to scramble and find my child something to eat at moments notice.
Take the guesswork out of scrambling to find a quick dinner that your child will eat before Halloween festivities start. Mine loves pizza and I can't go wrong with Red Barron. I don't have to worry about begging my child to hurry up and eat dinner when I already have Red Baron pizza and a salad.
Decorations Don't Have to Cost a Fortune
My kids are always eager to help me put up the Halloween decorations or even pick out a few new ones to add to our collection. Dollar tree makes decorating for Halloween a penny pincher like me happy. I enjoy decorating the house but I'm not up for spending a ton of money them.
My kids loved the decorations that we got and it didn't bust my budget. If you are going to shop at Dollar Tree, I suggest that you go soon now for the best selection. I let my son pick out a few decorations and I grabbed paper plates, a fun Halloween glass, and some jewels to sprinkle on the table for added fun to our Halloween meal.
Plan Your Child's Costume
Halloween costumes are expensive considering that kids typically only wear it for a few hours on Halloween night. Buying costumes (aff link) for multiple children can easily set you back $100 or more. I'm frugal and often seek out costumes on clearance, something that they can wear again, or fit into more than one year.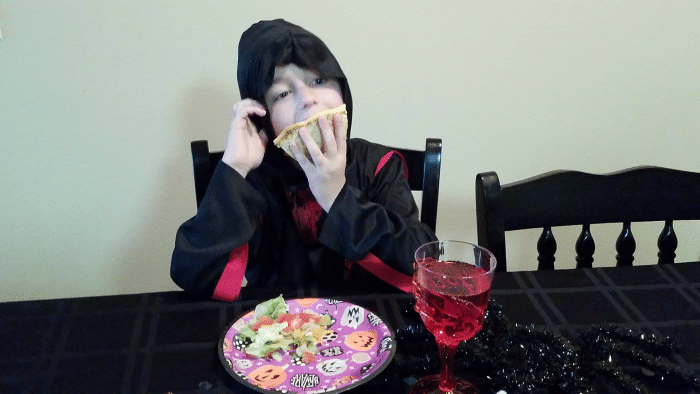 For toddlers, they often have Halloween themed PJs that I would buy. This year I was lucky and we found my son's ninja costume for $6.99. It was too good of a deal to pass up since he didn't have anything to wear last year. But it may end up his costume again this year if it still fits.
Pass Out Alternative Halloween Treats
Are you planning on passing out treats for Halloween? Halloween candy can be a huge budget killer and if you aren't able to get rid of it then you are stuck with a bowl of unhealthy treats. In the past, we skipped buying chocolate and bought alternative Halloween treats to pass out. Here is a sample list of alternative goodies that we have passed out for Halloween:
box of raisins
glow sticks
stickers
temporary tattoos
popcorn
bubbles
pencils
stamps
chewing gum (preferably sugar-free)
pretzels
carabeaner
Halloween rings
bouncy balls
glow-in-the-dark Halloween bracelets
Use These Safety Tips
On Halloween night we often let our guard down without even thinking twice about it. We tell our kids not to go to random strangers houses and on Halloween we allow our kids to do just that. While most of the people passing out candy, are harmless just keep in mind that there are a few bad apples that ruin it.
Always go out with your kids even if they are old enough to venture around the neighborhood without you. Halloween night often brings random people into the neighborhood to take their kids trick or treating. But that one bad apple could be lurking out there waiting for the right opportunity to strike. It only takes a minute for someone to grab your child and drive off. Sorry parents, I don't want to scare you but it is a reality.
Even though we live in a generally safe area, we rarely take our kid's door to door. Instead, we opt for alternative Halloween options like Trunk or Treats or fall festivals. This minimizes the risk of something happening.
I also recommend that you check out the Sex Offender Registry to determine if there are any sexual predators in your area. Sex offenders are not allowed to pass out candy or even have their porch light on. So if you happen to come across it, please report it to local authorities immediately.
Limit the Halloween Treats
My kids love candy and would eat as much as they can in the week following Halloween. I always make them keep the Halloween candy where they can't get to it without asking (at least when they were younger). This allows me to control how much candy they can have in one day. Limiting their junk food intake will help teach them healthy habits so that they carry it into their adult life.
Once school starts my son will keep asking if it is almost fall. Unfortunately, in Texas, we have another 6 weeks of warm temperatures before it starts to cool off. Fall is always filled with fun festivals and Halloween activities.
As I mentioned earlier, I'm a planner and if I know what we are doing Halloween night I know I can have a stress-free Halloween. Last year, I even tried to get him to get a ninja turtle costume but he said "no". As the shock wore off, I was a bit bummed out since ninja turtles favorite meal is dun dun dun: Pizza. hahaha
Red Baron pizza has been a family favorite for two decades in our house. I always pick up a few pizzas to keep in the freezer. With chronic health problems, I have to plan for days when cooking a meal is too much or need a quick meal. Keeping several pizzas in the freezer keeps me prepared even if it isn't Halloween. Plus, my kids love the Red Baron classic crust and I love that comes in 11 flavors so kids can choose their favorite toppings.
We hope that you have a stress-free Halloween so that you can enjoy the evening out with your kids.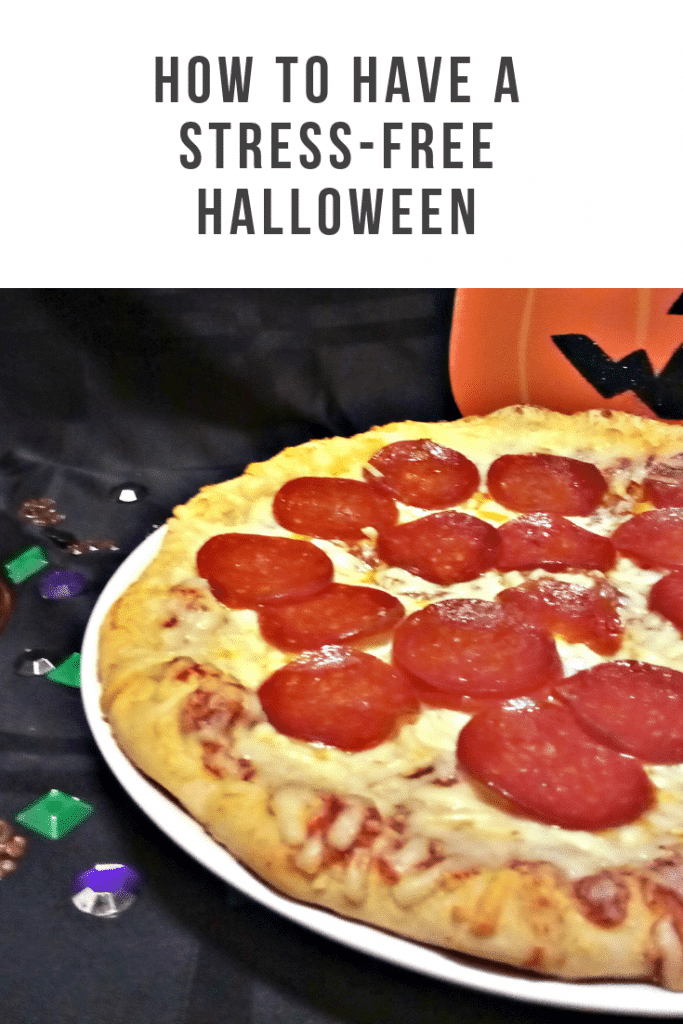 Do you have any Halloween "war stories" to share? How do you plan on having a stress-free Halloween?