Halloween is a fun and exciting holiday for kids, filled with spooky and festive activities. Here are some top Halloween activities for kids:
Pumpkin Carving
Let kids pick out their own pumpkins and carve or decorate them with age-appropriate tools. Younger kids can use markers, while older ones can try carving with supervision.
Pumpkin Painting
If carving is too advanced, let kids paint pumpkins with various Halloween designs.
Costume Parade
Organize a costume parade with friends or in your neighborhood. Kids can show off their creative costumes and even have a mini fashion show.
Trick-or-Treating
This classic Halloween activity is always a hit. Kids can go door-to-door collecting candy, and parents should accompany them to ensure safety.
Haunted House or Trail
Create a spooky but age-appropriate haunted house or trail in your backyard or home. Use decorations, spooky sounds, and dim lighting to set the mood.
Halloween Crafts
Set up a craft station with supplies for making Halloween-themed crafts. Ideas include making paper ghosts, spiders, and bats, or creating masks and jewelry.
Halloween Movie Night
Choose age-appropriate Halloween movies to watch with the kids. Classics like "It's the Great Pumpkin, Charlie Brown" or animated films like "Hotel Transylvania" are great options.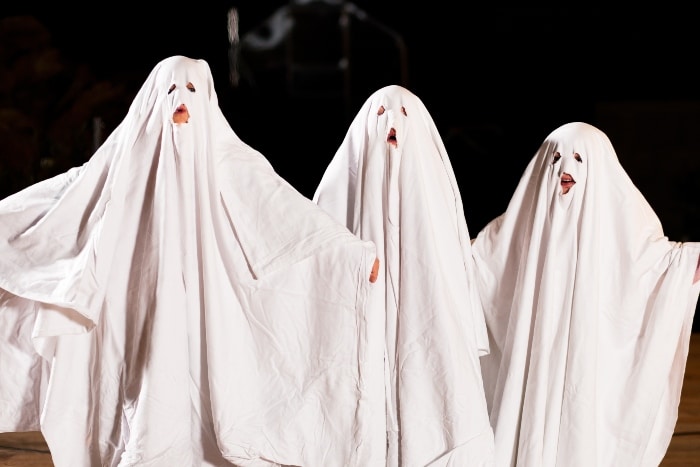 Ghost Storytelling
Gather around a campfire or create a cozy indoor atmosphere for telling spooky ghost stories. Keep the tales light-hearted and suitable for the kids' age group.
Halloween Baking
Bake Halloween-themed treats like cookies, cupcakes, or brownies. Kids can help decorate with orange and black frosting, sprinkles, and candy. Here are some classics from our site:
Halloween Scavenger Hunt
Organize a scavenger hunt with Halloween-themed clues and hidden treats or small toys. This adds an element of adventure to the holiday.
Candy Corn Relay
You can organize relay races using candy corn as game pieces. Kids can compete in teams and complete various challenges.
Glow-in-the-Dark Bowling
Set up a bowling alley with glow-in-the-dark pins and a ball. This is especially fun when played in a dark room.
Bobbing for Apples
Fill a large bucket with water and float apples in it. Kids take turns trying to grab apples with their mouths without using their hands.
Halloween Dance Party
Try to create a spooky playlist and have a Halloween dance party. Decorate the dance area with Halloween decorations and play games like musical chairs or freeze dance.
Costume Swap or Dress-Up Day
Organize a costume swap with friends or have a dress-up day where kids can try on different costumes.
Halloween Science Experiments
Conduct spooky science experiments, like making slime or erupting a pumpkin volcano.
Glow-in-the-Dark Hunt
Hide glow-in-the-dark toys or objects around your home or yard for a nighttime treasure hunt.
Monster Mash-Up
Provide various craft materials and let kids create their own unique monsters. Encourage them to come up with names and backstories for their creations.
Face Painting
Set up a face-painting station with designs like pumpkins, ghosts, or witches. Kids can take turns being the artist and the canvas.
Glow-in-the-Dark Party
Use glow sticks, glow-in-the-dark paint, and other glowing decorations to create a party atmosphere. You can even play glow-in-the-dark games like tag or hide-and-seek.
Visit a Pumpkin Patch or Corn Maze
Many farms offer pumpkin patches and corn mazes during the Halloween season. It's a great opportunity for outdoor family fun.
Halloween Storytelling
Share Halloween-themed books or create a storytelling circle where each child adds to a spooky story.
Halloween Coloring Pages
Provide Halloween-themed coloring pages and crayons for creative fun.
Spooky Bake-Off
Have a baking competition where kids can decorate Halloween-themed cupcakes or cookies, and then judge each other's creations.
Halloween Photo Booth
Set up a photo booth with props and costumes for kids to take fun Halloween pictures.
DIY Trick-or-Treat Bags
Let kids decorate their own trick-or-treat bags with markers, stickers, and other craft supplies.
Witch's Brew Punch
Create a fun and spooky punch using fruit juices and soda, and serve it in a cauldron with dry ice for a smoky effect.
Donate Candy
Encourage kids to share the Halloween spirit by collecting extra candy to donate to troops overseas or local charities.
Remember to prioritize safety during Halloween activities, especially when it comes to costumes, candy, and outdoor activities at night. These activities can be adapted to suit the age and preferences of the kids involved, making Halloween a memorable and enjoyable holiday for them.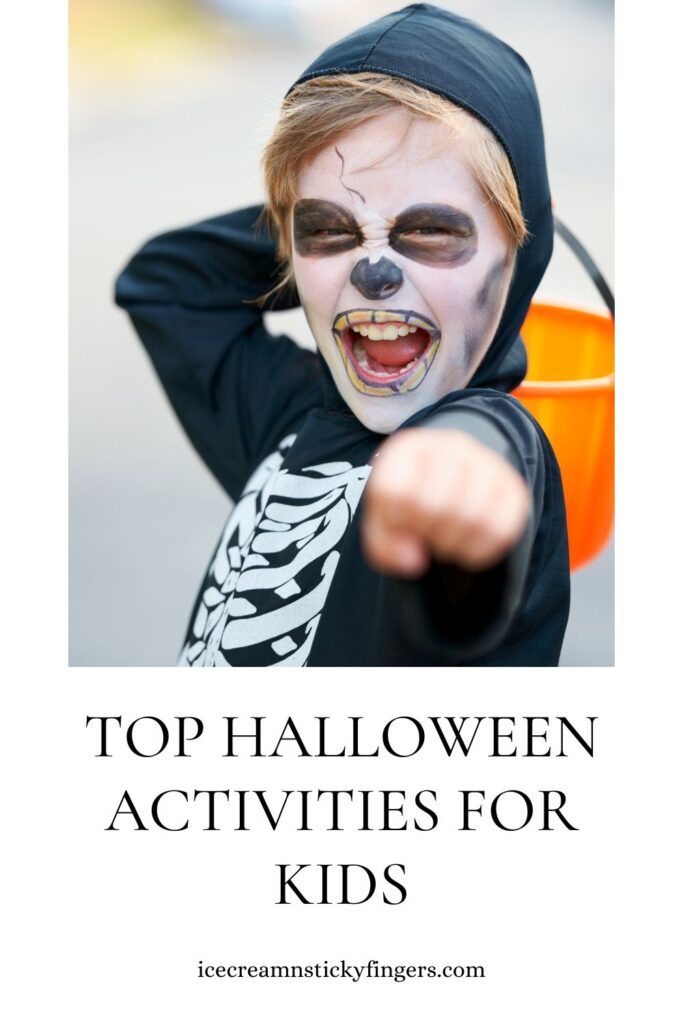 What are some other tops Halloween activities for kids can you add?