With the cost of living rising faster than wages in America, many families are struggling to make ends meet. Even if you were lucky enough to get a raise this year, it is still possible that you are making less money than you did the previous year because of soaring prices. Just in our area alone, we have seen a huge hike in rental prices, cost of food, electricity, and more. Let's take a look at how to stretch your grocery budget.
The soaring prices can cause financial problems for families whose budgets was already stretched to the limit. Now families are having to find even more ways to cut costs, in order to feed their children. It is even necessary for some parents to have to work multiple jobs in order to keep up with the cost of living increases.
How to Stretch Your Grocery Budget
For families who earn too much to receive assistance to purchase groceries, we wanted to share how to stretch to make your food budget go much further. Most of these tips are things that I personally do to help stretch our food budget.
Shop Aldi
About three years ago, after Aldi opened near us, I started shopping there because they offered affordable options on produce and other products that we regularly eat. Aldi prices are very competitive and the quality of the products are the same as most of the name brands that you find at the grocery store.
Aldi stores are smaller than traditional grocery stores but don't let the size of the store be a turn-off. A smaller store has its advantages and it is one feature that I love. No more wandering around a huge grocery store filled with impulse buys for me to throw in my grocery cart.
Even though a majority of the products are Aldi's exclusive brands, they do have some name brand selections too. But I assure you that even though the prices are significantly lower, the quality and taste is very similar to the popular brand product. We have only found a handful of products that we didn't like.
Order Groceries from Walmart Grocery
Before Aldi, I almost always shopped at Walmart exclusively because the prices were significantly lower than other grocery stores in our area. But going to Walmart can be a zoo depending on the time of day that you stop in there.
Walmart lines end caps, middle isles, and products near the check-out counter intentionally. They put products that you don't necessarily need in your path, hoping that you will toss them into your cart. Impulse buys can easily blow your grocery budget.
Instead of going to Walmart, I either send my teenagers or use Walmart grocery to order the items that Aldi doesn't have. Using Walmart Grocery, limits impulse buys and it is nice that I don't have to go up and down the aisle either. Give it a try now.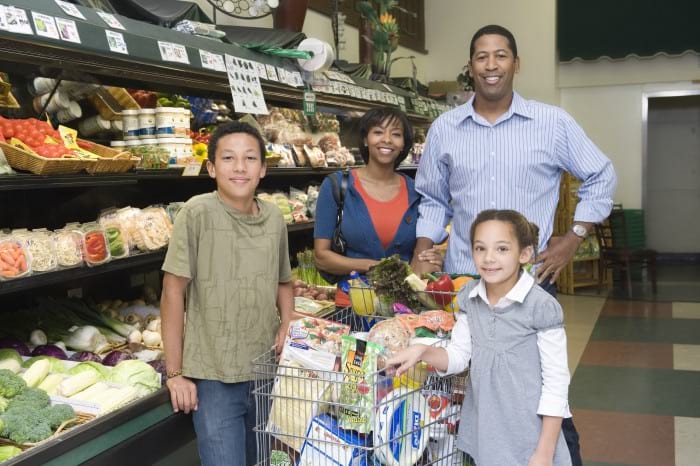 Use Coupons
Cutting coupons can make stretching your budget easier. However, it can be easy to fall into the trap of purchasing items that you weren't going to buy. Buying an item that you wouldn't traditionally purchase just because you have a coupon is essentially a waste of money. Clip and save coupons for products that you plan buying. Instead of purchasing a newspaper from the newstand, check Dollar Tree first.
Ibotta
Download and install the Ibotta app on your smartphone. Each time that you make a purchase at an approved grocery store (Aldi isn't on the list), search the Ibotta app for instant savings. Add offers that you purchased and then redeem your savings by taking a picture of your receipt or scanning the QR code. The items will be matched to your receipt and the amount of your savings will be added to your account. Try Ibotta for free here!
Checkout 51
Checkout 51 is similar to Ibotta. You can earn rewards for purchasing your favorite products and uploading your receipt. Once your purchase has been confirmed, Checkout 51 will credit your account.
There are only a number of offers available for each product so always check to ensure that you can still redeem the offer. You can cash out your account balance once your total exceeds $20.00 or more.
Cellfire Grocery Coupons
Printing coupons online can add up quickly. If you love clipping coupons, download and use the Cellfire Grocery Coupons app. This app allows you to clip digital coupons and load them to your grocery store savings card. You can only use 1 coupon per items per transaction. So if you plan on purchasing multiples, you have to ring up each additional purchase/coupon separately.
Shopkick
Shopkick is another app that I keep on my phone. It is easy to use at your favorite stores. This app allows you to earn points and redeem your points for gift cards to your favorite store. I'll be honest, I haven't earned many gift cards but it is because I don't use it every time. If you use it consistently and use the app to shop online, the points could quickly turn into extra cash. Use this extra cash to help pay for groceries, gas, clothes, birthday presents, or a treat.
Target Coupons and Cartwheel
I'm a bit sad that target no longer has printable coupons available on their website. However, they still offer coupons such as $10 off $40 clothing purchase or $5 off groceries in their Ad. Target allows you to use their coupons, manufacturer coupons including printables from coupons.com, and cartwheel savings.
Cartwheel offers additional discounts on items that you already purchase. The savings change frequently, so check back often.
Don't forget to bring your reusable bags too. Bringing your own bags to use for your purchases and save five cents per bag. But if you pair it with coupons and cartwheel, every little bit adds up.
Ebates
Ebates is a great way to earn additional cash on your everyday purchases. Don't worry it is free. Sign up here before making any purchases.
Before placing an order, sign into your Ebates account and find the retailers on their website. Then click their link to earn cash back. The amount of cash back depends on the retailer.
You can even use Ebates to get in-store cashback too. Simply link your credit card to the Ebates website and link the offer to your card. Then use the selected card at the store to earn your cash back immediately on your Ebates account.
Sign Up For a Credit Card that Earns Cash Back
Sign up for a credit card that allows you to earn cash back for your purchases. Use your credit card throughout the month to purchase things that you normally would pay cash for and at the end of the month pay off the balance at the end of the month. Use the cash back towards groceries, gas, or other bills.
With the cost of living rising rapidly and wages staying stagnant, families are having to find new ways to stretch their budget further. Soaring costs can cause financial stress and we wanted to share our favorite ways to help stretch your grocery budget. We use a combination of these money saving tips to stretch our grocery budget as far as we can.
Use Grocery Ads to Meal Plan
My grandmother always looked the grocery store ads every Wednesday in order to plan meals for the next week. She would make purchases based on things that were on sale each week. Don't forget to pair your coupons with those purchases and use Ebates if you are shopping at a participating retailer.
Plant a Garden
Produce prices are constantly changing based on supply and demand, weather conditions, and the season. Planting a garden is a great way to stretch your budget and still enjoy eating fresh produce. You can even freeze or can your produce so that you can use it year round too.
How are you stretching your grocery budget to accommodate soaring prices? Has the cost of living increased drastically over the last several years?