Is your teenager currently looking for employment opportunities or a side hustle that will allow them to work at home or remotely? Work-at-home opportunities are on the rise and it is expected to continue to grow as employees are demanding jobs that are flexible. Whether your teenager finds the perfect work-from-home opportunity or creates their own side hustle, the opportunities are endless in the virtual world. Don't be fooled by jobs that are too good to be true and only apply to legit virtual jobs.
Teenagers are no longer forced to work in fast food, retail, or other dead-end jobs. In the beginning, most of the work-from-home job that were available usually was a scam; however, employers are starting to see the benefits to offering alternative working environments to their employees. Remote jobs improve productivity and lowers operating costs so it is a win-win situation for employers.
If your teenager has access to a computer with a strong internet connection, landline, mobile phone, and a dedicated space to work, it is possible for them to find legit job opportunities. Teenagers can do a wide variety of jobs online but we came up with the top virtual work-from-home jobs that are best suited for them.
Legit Virtual Jobs for Teenagers
Before applying for any virtual work-from-home job, you need to discuss it with your parents. You will need their support and assistance setting up your "home office".
Before you get started, especially with freelance positions, you have to protect yourself legally. You should always draft a consulting agreement or contract to outline the scope of work that you are going to do.
Employers and small business owners should also require that you sign a contract and non-compete agreement. The agreement should include details about the position, company rules, and compensation.
Virtual Assistant
A virtual assistant does a variety of tasks to help small business owners or bloggers manage their business. Activities include responding to email, data entry, transcribing video content, finding stock images for content, scheduling meetings, following up on projects, answering phone calls, manage the boss's calendar, set appointments, or other duties as needed.
Depending on the employer's need, this is an excellent opportunity for a teenager who doesn't want to work in fast food or in a dead-end job. As virtual assistant, they can learn new transferable skills that can be added to their resume. The pay varies depending on your location, employers budget, and your skill set.
Social Media Manager
Bloggers and other business owners often need help managing their social media accounts. The tasks can include posting new content to social accounts, running ads, responding to messages left on social media accounts, assisting with growth and engagement, or completing chore threads using Facebook groups.
Teenagers already enjoy spending hours on social media. It is ideal for students and parents who are looking for an opportunity to earn money working at home. The pay varies depending on your location, budget, and your skills.
Managing social media properties for a business is a bit different from managing your own personal accounts. Any information posted on needs to remain on a professional level.
Web Content Writer
Do you enjoy writing and sharing stories around topics that you are interested in? Writing content while managing a business can be difficult. Your teenager can apply to help assist bloggers or small business owners by drafting content to post on their website.
All written content is required to be proficient in English, use proper grammar, and use white hat SEO techniques. There are courses available for you to learn SEO techniques and how to find keywords for the articles that you are writing. SEO is required in order to rank in the search engines, especially, Google.
Graphic Design
Do you have an eye for creating compelling graphics? Graphic designers are in high demand. Whether you already posse the skills or are willing to take a course on graphic design, with a bit of practice you can start earning a paycheck working at home creating graphics for businesses.
In order to be successful, you will need to invest in photo editing software such as Photoshop, GIMP, Illustrator. Create some examples and some promotional materials to provide to potential clients. You can also use sites such as Fiverr, Craigslist, Freelancer, or Upwork to find freelance projects until you develop a customer base.
Always send watermarked mockups to your clients during the approval process. Once they pay for the graphic, you can send them the graphic without the watermark. If an opportunity sounds too good to be true, it might be. Apply to legit virtual jobs only. So use caution when dealing with potential clients. We suggest starting with several smaller projects until you build trust with a client.
Paypal allows you to invoice your clients without fancy accounting software. You will need to keep a spreadsheet of all of your projects, expenses, and how much you earned so when it comes to tax season you are already prepared to report your expenses and income. Also, don't forget to withhold taxes. Set aside a portion of your income so that you are prepared to pay taxes when you file your federal income taxes.
Start a Youtube Channel
Do you enjoy creating engaging video content? Start developing an audience and create content for your own Youtube Channel. According to Make Use Of, you need to answer the following questions and come up with a plan for your channel.
What Topic Will Your Videos Be About?
Determine Who Your Target Audience Is?
Why Does Your Audience Want to Watch Your Videos?
How Will You Make Your Channel Stand Out For Your Competition?
YouTube is one of the fastest growing video platform and the income opportunities are endless. Coming up with new content is challenging and this is why we suggest that you have a specific plan in place before starting. In order to keep your audience engaged, you need to post content on a consistent schedule and create headlines to capture the attention of potential viewers.
Customer Service Representative
With technology and high speed internet connections, more companies are hiring remote employees to fill customer service positions. You may need a quite spot in your home and need a landline in order to participate. Teenagers are more than capable of answering phone calls and assisting customers with their requests.
Technical Support Representative
Are you tech savvy? Businesses and individuals depend on technology to operate their business and households. Without fail, there will always be a need for technical support representatives to help people who are experiencing technical difficulties.
Most technical support representatives are available 24 hours a day, 7 days a week, including holidays, which gives your teenager ample hours to make a decent income while going to school.
Over the last decade, the number of work from home jobs has steadily increased to accommodate the growing number of employees who are demanding flexible work schedule. Even though we shared the most popular virtual jobs for teenagers, there is always the possibility of finding an employer willing to allow you to work at home even if it isn't listed in the job description.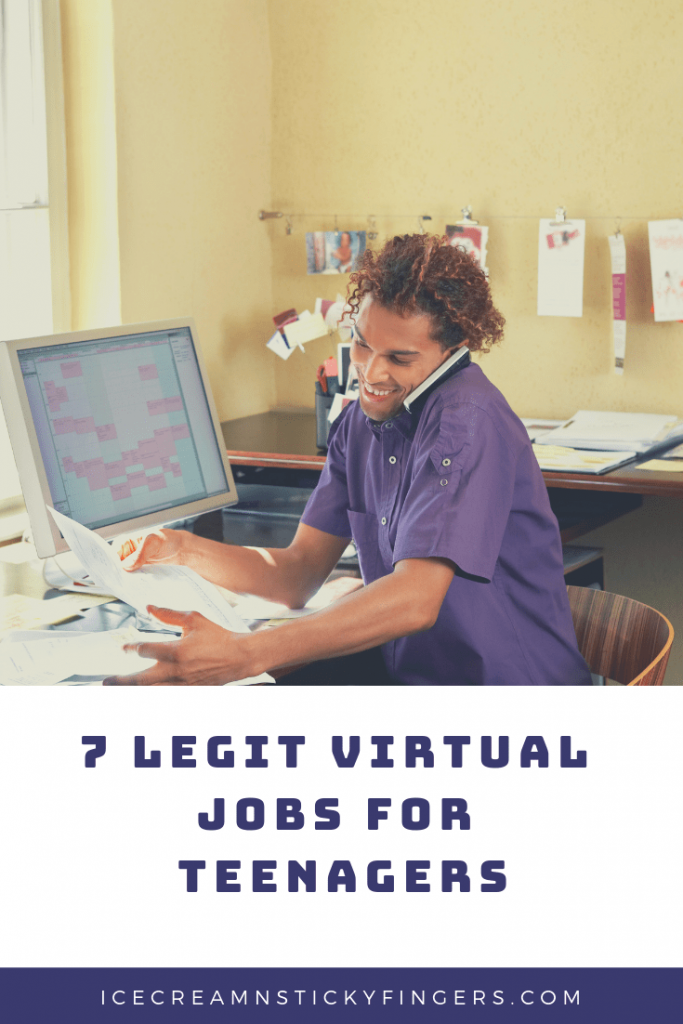 Are there any legit virtual jobs for teenagers available? Do you think your teen would enjoy working from home?