Are you ready for Thanksgiving? From now until the end of the year is a busy time for most families and it is easy to overextend ourselves without even thinking twice about what you are agreeing too. Instead of shooing your kids out of the kitchen on Thanksgiving, why not get them involved and let them help you. Kids naturally want to help, even if it is a small task.
I'm guilty when I am in a hurry, I will hand my son my Iphone or his tablet so that he will let me get the cooking done. But believe it or not, my son actually enjoys helping me with small tasks in the kitchen. A few weeks ago, when I was making cupcakes for Halloween, he grabbed the step stool and started helping me make the icing for the Witch & Cauldron cupcakes.
Growing up, some of my fondest memories were created in the kitchen with my mom during the holidays. She started this when I was younger and would grab a step stool or set me up on the kitchen cabinet so that I could watch what she was doing. I've done the same things with my kids.
How to Get Your Kids to Help Plan Thanksgiving
Let's take a look at some ways that your kids can help plan Thanksgiving.
Planning
Do involve them in the early planning phase even if you already have everything already planned out in your head. You can still get your kids involved in planning, maybe let them pick out their favorite dessert, write out the shopping list for you, or have them double-check to make sure that you have all of your ingredients. If you have a picky eater, it is a great way to get their input and maybe they will get excited to try something new this year.
Make DIY Thanksgiving Placemats
Gather the supplies and have your kids make DIY Thanksgiving placemats for everyone in the family. They will love making them for each family member. If they are struggling to come up with ideas, there are plenty of ideas on Pinterest to help them, including printables. After they complete the project you can take them to an office supply store and laminate them as a keepsake.
Let Them Set the Table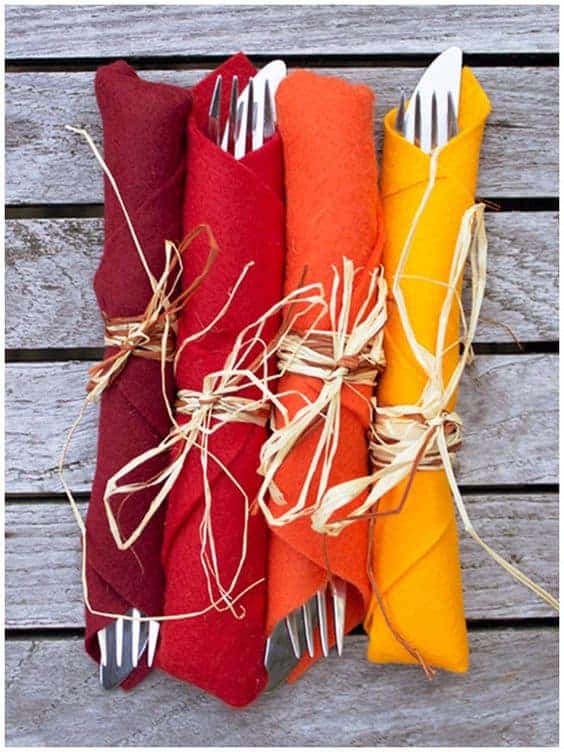 Photo Credit: Feltstore
Growing up I always enjoyed helping my mom by setting the table. Allow your children to roll the silverware in fall colored napkins and tie it with natural jute twine (affiliate link). I get it doing the dishes after prepping a large meal can be daunting, so if you are for paper plates and plastic silverware. Go for it. The rolled silverware will add a special touch too.
Give Them Other Tasks as You Go
As you start preparing the meal, you can assign small tasks for your kids to complete. Let them grab ingredients, chop veggies, butter the top of the rolls, check the bathroom for toilet paper, take coats and purses as guests arrive, etc. It not only keeps them busy but it's also a win for mom too. If they are busy helping, they aren't destroying the house if you know what I mean.
There is no reason to take on all of the tasks while planning this year's Thanksgiving festivities. As moms, we naturally take on too many tasks and overload our schedules. Why not allow your kids to help plan the family Thanksgiving celebration. Kids usually enjoy helping with tasks and it is a great way to share special memories with them.
Photo by Hannah Busing on Unsplash
Have you ever allowed your kids to help plan Thanksgiving?