Do you enjoy making festive food, desserts, or fun treats for your kids? These fun Patriotic Mickey Mouse Cinnamon Rolls would be a hit for Memorial Day, 4th of July, and Labor Day. I'm a fan of Disney and so are my kids so I knew these would be a hit. I'll warn you now that you will likely need to make more than one batch because they go quickly.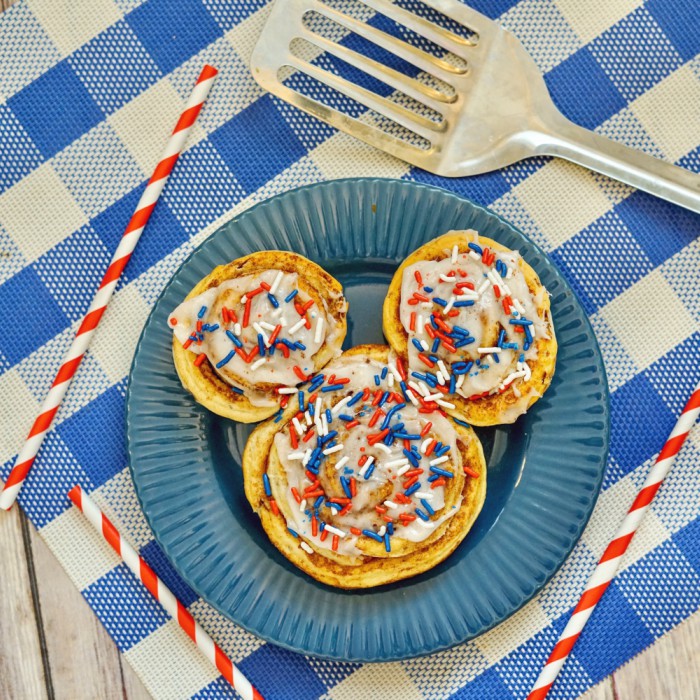 How to Make Patriotic Mickey Mouse Cinnamon Rolls
Don't worry you won't need to pull out your fancy mixer or baking gear to make these fun treats. So next time you are at the grocery store grab a minimum of 2 regular packages of cinnamon rolls. The two packages will make two of these Cinnamon Rolls, so you will have to adjust the recipe accordingly.
Shopping List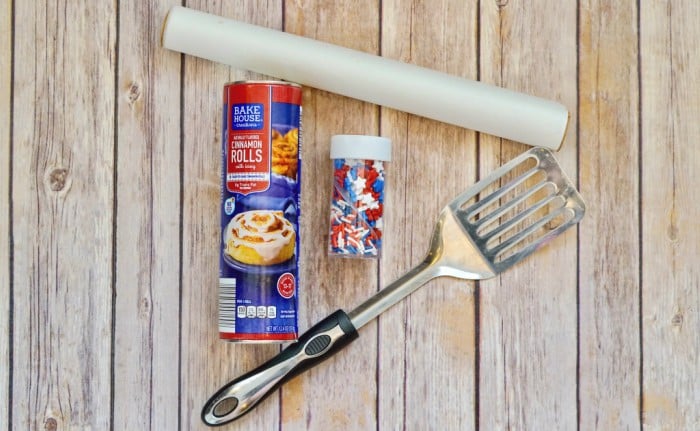 1 or more Regular sized package of cinnamon rolls. As I mentioned earlier, one container will make two patriotic Mickey Mouse Cinnamon Rolls.
Use icing package from cinnamon rolls
Patriotic Sprinkles (afflink)
Parchment Paper (for easy clean up)
Directions
Open the container of cinnamon rolls and separate them so that you can begin making these Patriotic Cinnamon Rolls for the kids.
Preheat over to 350 degrees.
Start with two cinnamon rolls. Leave one rolled up and then unroll the second one. Find the end spot on the unrolled cinnamon roll. You will want to use this spot to start rolling it around the cinnamon roll. This will form a large circle for Mickey's head.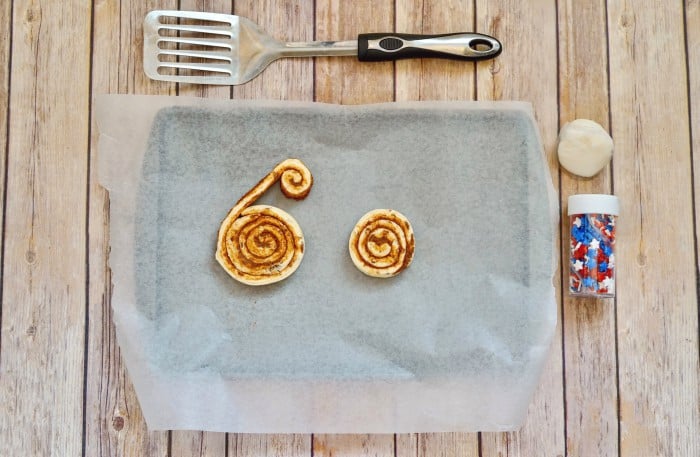 Take the other two cinnamon rolls and pinch them onto the large cinnamon roll. Keep in mind that these will be Mickey's ears so you want to place them accordingly.
Bake for 15 minutes or until golden brown. Be careful not to burn them.
Use the icing that came with the cinnamon rolls. Adding the icing to hot cinnamon rolls often causes the icing to run so allow them to cool or use our pro tip. Pro tip: If it is too warm, stick it in the freezer for 1 minute so that it is spreadable. Spread the icing over the cinnamon rolls using a knife.
Add your patriotic or other festive sprinkles to your Cinnamon Roll.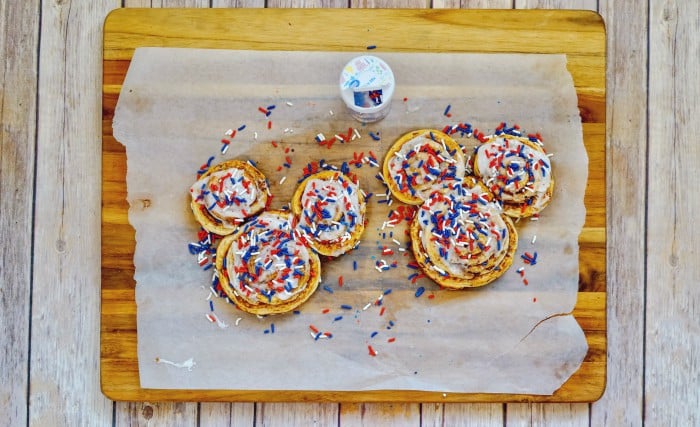 Serve and Enjoy these fun Patriotic Mickey Mouse Cinnamon Rolls.
My kids always enjoy it when I make them festive treats around the holidays or just because. They loved it when I woke them up on Saturday and served them these Patriotic Mickey Mouse Cinnamon Rolls. There are several patriotic holidays during the summer months too. Between Memorial Day, 4th of July, and Labor Day, you have several options on serving your kids these Red, White, and Blue Cinnamon Rolls.
Check out our Patriotic Chocolate Covered Strawberries too!
Have you ever tried making Patriotic Mickey Mouse Cinnamon Rolls? Do you think your kids would love them?