After Thanksgiving, many families climb up the attic stairwell and find the Christmas decorations that were carefully packed away from the previous year. As you are coming down the attic stairs, the last thing that you are thinking about is slipping and falling down the attic stairs. The holidays are filled with family gatherings and no one thinks about the dangers that can crop up without warning. As we get busy, safety is probably the last thing on many people's minds. What Christmas hidden dangers can you think of to add to our list?
Top 5 Christmas Hidden Dangers To Avoid This Year
Today, we wanted to take the time to point out the forgotten hidden dangers during the holidays to help keep you and your family safe this holiday season.
Fires
During the holidays, the risk of having a house fire increases significantly. Following a few safety procedures can help reduce the risk of having a fire and keep your family safe.
Keep matches and lighters away from children.
Never leave candles unattended. Always keep candles a foot or more away from anything that can catch fire.
A live Christmas tree can become fully engulfed in 30 seconds according to the Building and Fire Research Laboratory of the National Institute for Standards and Technology. If you have a live Christmas tree, it is very important that you take the time to make sure it has water at all times. After 4 weeks, a live Christmas tree should be discarded.
Artificial Christmas trees pose less of a fire risk. Do confirm that your tree has been certified as being flame-retardant.
Always inspect Christmas lights prior to stringing them on Christmas tree or putting them on your roof. You want to look for cracks, frayed wires, or broken plugs. Toss any strand of lights that are damaged. Outdoor Christmas lights can be damaged if you use nails or staples. It may seem convenient to leave your Christmas lights up year-round but that is a terrible idea. Christmas lights left up year-round can be damaged by squirrels or by the weather.
Every year you should have your fireplace inspected and cleaned by a professional chimney sweep to remove creosote build-up. The build-up of creosote inside of the chimney can catch fire and burn inside of the chimney. We recommend adding a fireplace screen or glass doors to prevent embers from popping out and catching the flooring in front of your fireplace on fire. Skip starting a fire with flammable liquids such as lighter fluid or gasoline. Using flammable liquids can cause an explosion or cause the fire to burn too hot for your fireplace. Never allow your child near the fireplace even if it isn't in use so that they know it is dangerous.
Pay attention when you are cooking. Don't leave anything unattended on the stovetop.
Falls
From climbing on ladders to guests coming over during the holidays, the risk of slips and falls happening on your property increases especially if there is snow or ice on the ground. Slips and falls can result in injury and in some cases, death has been reported.
When working on a ladder, you should always make sure that you are using it on level ground. Level ground prevents the ladder from moving while you are on it. Never use the ladder when it is wet outside. Moisture on the ladder or the bottom of your shoes can cause your foot to slip inadvertently. Once your foot slips, you are likely to fall off of the ladder. Also, you want to avoid using a ladder around power lines. Do ask for a spotter. A spotter can call for help if you were to fall.
Keep porches and walkways clean and free of objects that could cause someone to trip and fall. It is best to keep your porch, sidewalks, and driveways free of snow and ice to prevent slips and falls, especially if you know that you have company coming over to your house.
Clean up spills immediately.
With kids, we understand how difficult it is to keep their toys contained. Toys strewn throughout your house can easily become a tripping hazard. During the holidays, it is best to keep all of the toys confined to one room or area so that your child can be seen.
Rugs can be tripping hazards for guests who have mobility issues. It might be worth moving area rugs temporarily if you have a guest with mobility issues.
Slip and falls can be tricky when it comes to determining who is liable for any injuries. You need an experienced personal injury attorney, such as Tampa personal injury attorney, who is experienced to help you sort through a slip and fall injury on your property. They can help you determine who is responsible for medical expenses. Most homeowner and renter insurance plans, have provisions to protect you.
Cuts
Do you know someone who reaches into their pocket and pulls out a pocket knife the moment someone runs into problems opening a gift? Using a pocket knife to open tricky packages can send you to the emergency room for stitches. Instead of opening the package, you might manage to slice your fingers, palm of your hand, or even your leg. We suggest opening those tricky plastic clamshell packages with scissors or you can use a knife. The best way to get into the clamshell is to cut the top off and down both sides. Or you can use a knife to cut around the edge of the object. Be careful when placing the clamshell into the trash. The edges are super sharp and can poke someone while they are trying to push the trash down to make room for more.
Don't forget to use safety in the kitchen when carving the turkey or ham. It is best to keep your knives sharp. A sharp knife is easier to use than a dull one. A dull knife requires additional force in order to cut through turkey, ham, or chopping vegetables or fruit.
Also, use caution when cleaning up broken ornaments or glass. There is nothing worse than stepping on a piece of broken glass or a piece jabbing into your hand as you are cleaning it up. We suggest wearing shoes to avoid cuts to your feet.
Chocking
It is important to keep a close eye on children and pets. Children and pets can be curious and end up swallowing objects that they aren't supposed to put in their mouths.
As your kids are opening their gifts, do make sure that it doesn't contain small parts that they could put in their mouth.
Don't forget to put away hearing aid batteries and medication out of reach from little hands.
During the holidays, more people are on the road. People are simply in a hurry and aren't paying attention. Give yourself plenty of time to get all of your holiday shopping done.
If you plan on going out of town to visit relatives, it is very important to monitor road conditions. Winter weather can make travel very dangerous. We suggest postponing a holiday gathering until a later date if the roads are treacherous. There is no reason to endanger your family when the holiday gathering can wait until the roads improve.
Also, use caution if you are on the roadway at night. From company holiday parties to family gatherings, there are more people who shouldn't be on the road because they have consumed too much liquor. Planning on drinking at your next holiday gathering? Find a designated driver to make sure you get home safely or call an Uber.
Christmas is supposed to be a joyous time of the year. However, this time of year comes with hidden dangers that can derail your Christmas plans. We wanted to reiterate what the top 5 Christmas hidden dangers.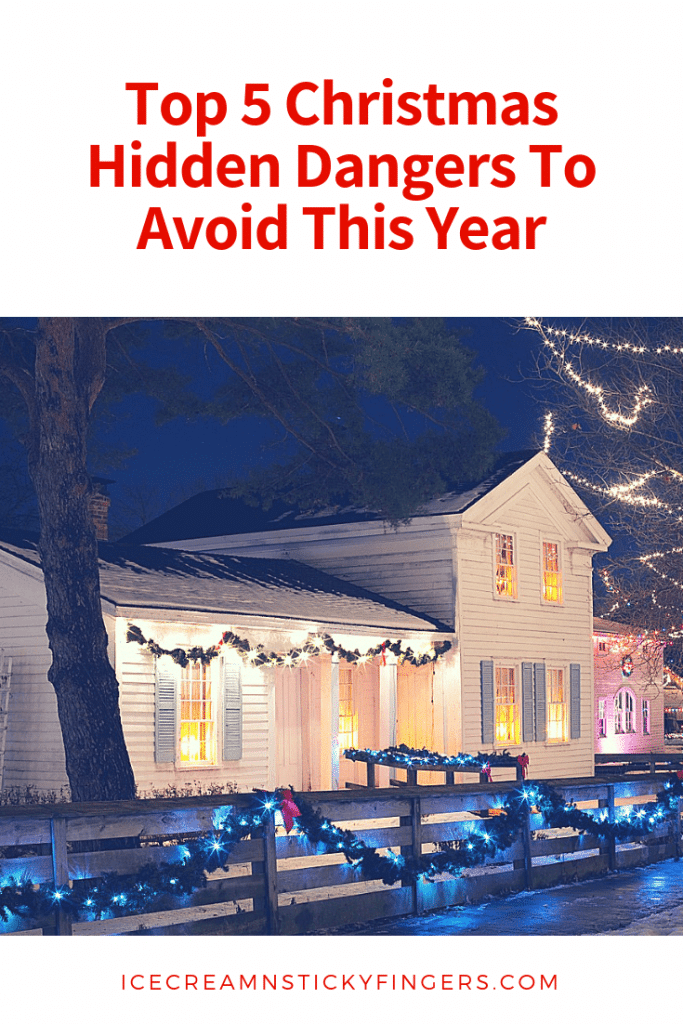 Did you know that there were so many hidden dangers at Christmas? Has any of these Christmas hidden dangers ever derail your family's plans?