How can you help a new mom who has a baby in the neonatal intensive care unit (NICU), especially around the holidays? Nothing has prepared her to leave the maternity ward empty-handed. She is likely feeling pretty crummy as she watches other new moms being rolled out of the hospital with a brand new baby while hers is struggling in the NICU. Those feelings are normal but they can be overwhelming. Do you know a NICU family? Did you help them?
Parents with babies in the NICU are usually very stressed out. They are having to figure out how to deal with managing life running back and forth to the hospital while juggling other responsibilities. New parents are busy making plans to figure out new challenges while their baby remains in the hospital. Trips back and forth to the hospital come with added financial woes, loss of sleep, depression, anxiety, strained relationships due to the stress, and more.
How to Help a Nicu Family
Here are some ways that you can truly help new parents who have a baby in the NICU.
Donate Gift Cards or Cash
With mounting medical bills and added expenses from running back and forth to the hospital, can quickly overwhelm stressed out NICU parents. The best thing that you can do to meet their immediate needs, is to donate gift cards to fast food restaurants, gas stations, Amazon (aff link), or give them cash to pay for meals while they are at the hospital.
Offer to Help with Household Chores
When parents are busy going back and forth to the hospital, household chores are ignored and left for another day. Offering to help with laundry, dishes, light cleaning, and tidying up the house would be a huge burden lifted off their shoulders. Don't just offer to do this one or two weeks, they will likely need help until their NICU baby comes home from the hospital.
Be a Listening Ear
New parents with a baby that is born prematurely is often overwhelmed and stressed out, even though they know what their baby is in great hands at the hospital. Be willing to be a listening ear when they need someone to talk to.
This is a stressful time for them and they need to know that they are loved. They also need to know that the emotions that they are feeling is normal. Assure them that there was likely nothing that they could have done to change the situation.
Skip Sharing Other NICU Stories
It is best to keep other NICU stories to yourself so that the new parents don't feel like you aren't sympathetic to their particular situation. You want to show the new parents that you care about them and that you are there for them. Other NICU stories can be encouraging but now isn't the time.
Go for a Visit
There is nothing better in this world than cuddling with a tiny baby. Offer to go to the hospital with your friend or even take a shift when the parents are unable to be there. Do get permission from the baby's parents first in case the hospital has a specific policy for visitation in the NICU.
Encourage Them to Find a NICU Support Group Before Going Home
Many parents fear taking their premature baby home because they lose the support of doctors and nurses. A support group is an excellent way for them to find other parents who have been in their situation. The groups can also help them find and put them in touch with local caregivers. Neonatal support groups are a safe place for parents to share stories and learn how to cope with the stresses that come with bringing home a premature baby.
Don't Stop Offering Help
The excitement and concern for a new baby can slowly fade as the weeks go by. Parents of premature babies need continual support, even if it is just a listening ear. Make it a point to check in on the new mom every few days to see if she needs any help.
Do Offer to Help Once the Baby Comes Home
Once the baby comes home, often times the baby has a weakened immune system is being shuttled to various doctors appointments or needs special care. More than likely, mom is often stuck in the house for weeks on in except for doctors appointments or the occasional car ride. Offer to help with running errands, chores, or going shopping. Or offer to watch the baby, while mom gets a shower, runs errands, takes a nap, etc.
Set Up a Meal Train
More than likely, the baby's parents are dealing with the new stresses that comes with caring for a premature baby at home. Bringing the family food for several weeks is a great way to lighten the load and help the family. Do ask them if they have any preferences or have any allergies before bringing them food. If you can't take them a meal, give them a gift card so that they can order take out one evening.
Trips back and forth to the hospital come with added financial woes, loss of sleep, depression, anxiety, strained relationships due to the stress, and more. Helping new parents who have a baby in the NICU is one of the best things that you can do to help reduce the additional burdens that come with the territory. The ideas listed above just a few of the best ideas on how to help a NICU family but there are always countless more ways to help.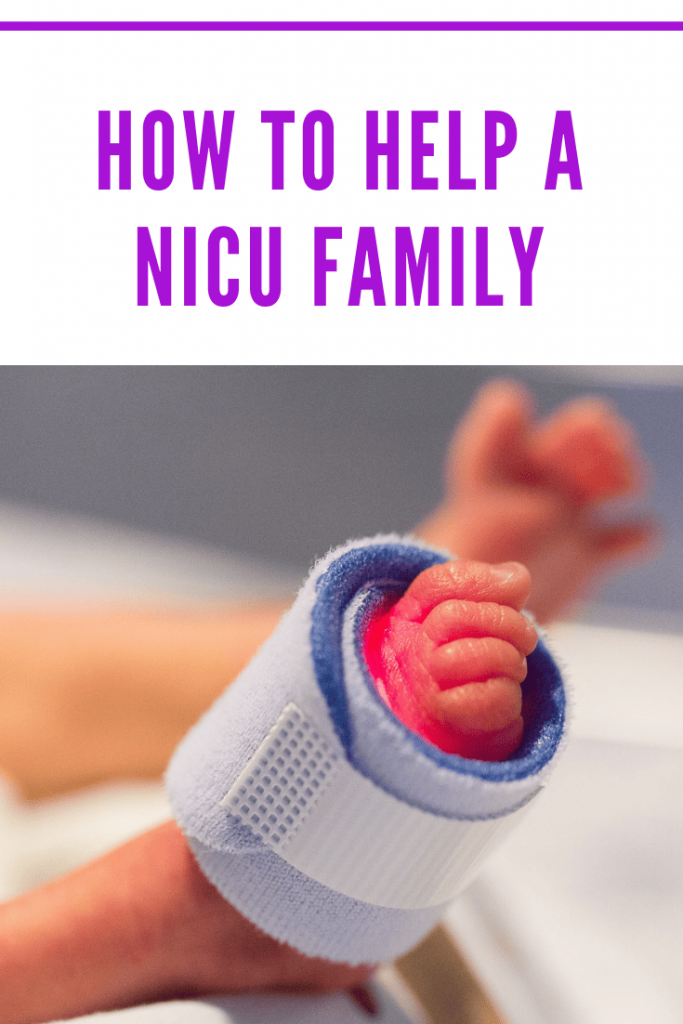 Have you ever had to help a NICU family? Do you agree with our suggestions on how to help a NICU family?