Having a tender-headed child can make caring for their hair uncomfortable for everyone involved. Growing up my mom used to comb the tangles out of my hair. She always used this a pink wide tooth comb that had a handle and had a bottle of detangling spray in hand to help minimize the pain. It was awful because I was a tender-headed child.
However, even with the detangling spray, combing tangles out of my hair was a painful experience and it got better once I was able to start fixing my own hair. But even today, I'm still tender-headed. Somehow, it doesn't seem to hurt as much when I brush the tangles out of my own hair. But when other people attempt to comb or brush my hair now, the anxiety that I got as a child comes back to haunt me because I am still tender-headed.
When my daughter was little, she was also tender-headed child and based upon my own experience I knew to use extreme care when I would tackle her tangled hair. If you have a tender-headed child, caring for your daughter's hair doesn't have to be a huge struggle. It was tough watching my child wince, scream, or throw a fit the moment they see a brush or comb. But being a tender-headed child is a real struggle and it can continue into adulthood.
How to Help a Tender-Headed Child
As a mom, who is still tender-headed, I wanted to share how to care for a tender-headed child's hair without the tears ( or as few as possible).
Opt to Use a Salon Brand Conditioner
Skip the cheap bargain conditioners even though the price is tempting. Bargain conditioners may contain ingredients that mimic expensive salon brands. However, the cheap versions often use ingredients that don't match the quality found in salon brands. Or bargain brands use less of the ingredients needed to properly condition your hair. Plus, you have to use more product to achieve the results that you are wanting. Skip these products if you have a tender-headed child.
Just like your child's skin, their hair needs to be moisturized. Next time you take your child in for a hair cut, you can ask the stylist to recommend the best brand of conditioner to use on your child's hair type. If your child is old enough to forego the tear-free version of shampoo, it is switch shampoos too.
Apply conditioner on the ends of your child's hair. You can start near the back of your neck if your child has long hair. Slowly work the conditioner into the hair by combing the hair with your fingers. You can also use a wide tooth comb to evenly distribute the conditioner if necessary. Do this carefully so that you don't pull your child's hair.
Leave the conditioner on their hair for several minutes and then rinse with warm water. It is important that you rinse all of the conditioner out unless you are using a leave-in conditioner. I do suggest using a leave-in conditioner frequently on your tender-headed child.
Buy a Microfiber Towel to Use on Your Child's Hair
The course fibers on a bath towel can cause serious damage to your hair. When you vigorously rub a bath towel through wet hair, can lead to tangles or hair breakage leaving your tender-headed child at risk. Hair is most vulnerable to damage when it is wet. If you must use a bath towel on your child's hair, carefully divide the hair into sections and gently blot the hair to remove excessive moisture from the hair.
It is better to use a microfiber towel on your tender-headed child's hair. A microfiber towel has finer threads and your typical bath towel and is gentler on your child's hair, your's too mom. Plus, it removes the right amount of moisture to reduce frizz.
Carefully Blow Dry A Tender-Headed Childs Hair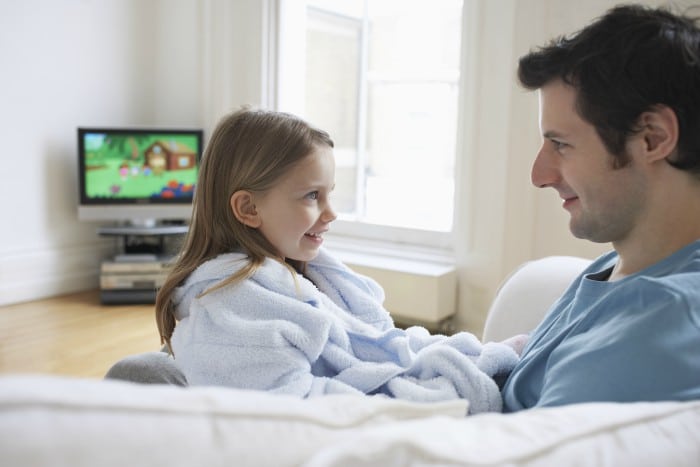 It is better to dry your child's hair with a low-heat hair dryer than to let it air dry. Wet hair can easily be damaged and with a tender-headed child, you want to do everything that you can do to minimize potential damage. We suggest using a heat protector spray, such as Dessert Essence Coconut Hair Defrizzer and Heat Protector, before blow drying. Spray your child's hair generously. You can use the heat protector spray on wet or dry hair.
When my tender-headed child was little, I would divide her hair into multiple sections before drying her hair. This allowed me to focus on one specific area especially if the hair was tangled. Use a comb to make sure that all of the tangles are out before using the hair dryer. I would take a small section of the divided section and hold that section of hair in my hand.
Then I would carefully start combing each smaller section starting at the bottom and working my way up. If I came across tangles, I would spray detangling spray on the knot. I found holding her hair in my hand near her scalp and carefully combing out the knot worked best for my tender-headed child. Holding her hair in my hand close to the scalp allowed me the ability to carefully pull my comb through it without pulling her hair. My daughter had shoulder-length hair when she was little so it was easier to maintain.
After all of the tangles were out of a section of her hair, I would use the hair dryer on a medium heat. Make sure that you hold the hair dryer at least 6 inches away from hair. You can use a brush to help make drying it easier.
Practice the Distraction Method
Styling your tender-headed child can be difficult but we have found the distraction method to be successful. When styling your child's hair, move to their favorite room in the house, turn on cartoons, let them play on their tablet or gaming system, or try a snack. Once they are distracted, you can start working on their hair. Do use a detangling spray, we suggest using SoCozy Cinch Detangler + Leave in Conditioner, to help make getting through the tangles easier.
Switch to a Detangling Brush
Stop using a regular hairbrush on your tender-headed child's hair. We suggest taking your child to the store and picking out a new brush to use on their hair. Find a brush that specifies that it is a detangling brush. A detangling brush has special patented teeth that bend and flexes so that the bristles don't get caught up in tangles. The brush is safe to use in the bath or shower so that you can brush through conditioning treatments. It is also safe to use on dry hair too.
Get Frequent Trims
Both mine and my daughter's hair tend to get tangles more frequently when the split ends get out of control. Stylists always recommended getting a trim every 6 to 8 weeks to trim off the dead ends, especially if you have a tender-headed child. After getting a fresh haircut, we have noticed that it is easier to brush and style our hair.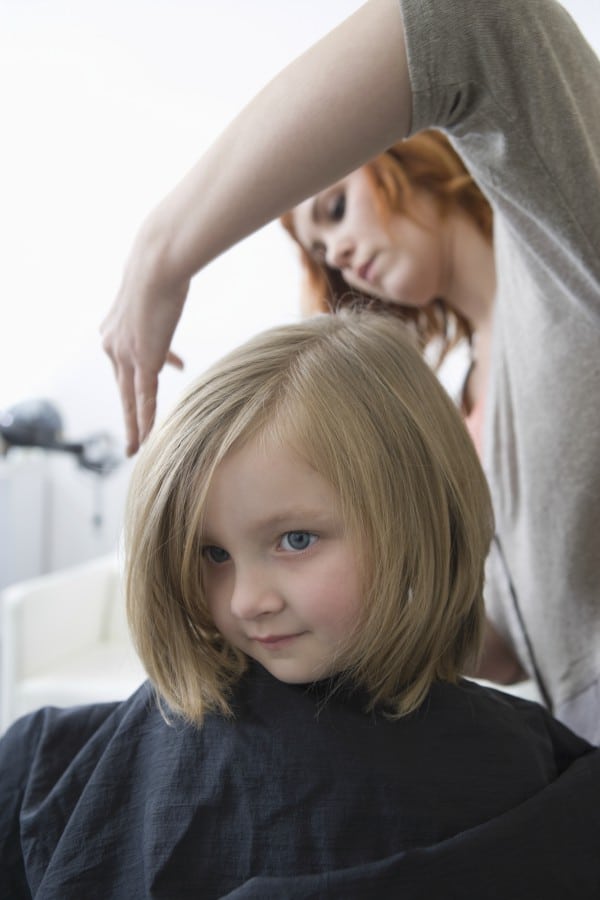 Use Simple Hairstyles
We recommend skipping out on the complicated hairstyle and stick to the basics with your tender-headed child. You don't want to cause additional stress or traumatize them. Stick to ponytails, braids, twisted halo, bun, half up and half down, pigtails, and other hairstyles that don't require excessive tugging or pulling on the hair. Also, skip teasing your child's hair.
Avoid Using The Wrong Type of Ponytail Holders.
Never use rubber bands or elastic hair ties that contain metal on a child with a tender head. Using the wrong type of ponytail holders can inadvertently pull your child's hair during the removal process, so this made styling my tender-headed child panic frequently. Stick to scrunchies or ouch-less elastic ponytail holders. Use extreme caution to avoid damaging your hair.
Invest in a Silk or Satin Pillowcase
Swap your child's pillowcase even if it is their favorite. Using a cotton pillowcase increases the amount of friction on your child's hair. Increased friction causes split ends and damage. Using a silk or satin pillowcase will reduce the amount of damage to their hair. Plus, it is beneficial for your skin too. Your tender-headed child will thank you later.
See a Dermatologist
If these tips don't help stop your child from complaining that you are hurting them every time that you touch their hair, we suggest seeing a dermatologist to rule out potential problems that are causing your child to be tender-headed. It is possible that they have a medical issue causing them to have tender spots on their scalp.
Caring for your child's hair shouldn't be a huge struggle. But having a child with a tender scalp, can make caring for their hair difficult. It is always best to style their hair gently but special care is needed if they are tender-headed. We came up with an extensive list to help you care for your child's hair while minimizing the tears.
Do you have a tender-headed child? How do you cope with taking care of their hair?