After Thanksgiving, we always pull out all of the Christmas decorations, get a visit from our Elf on the Shelf, and we curl up on the couch to watch our favorite Christmas movies together. Of course Home Alone, Polar Express, and How the Grinch Stole Christmas is on the top of the list of must-see Christmas movies. The Grinch is one of my personal favorites.
How can you not love watching The Grinch with the kids? It is a heartwarming story with the perfect ending. The Grinch who is mean-spirited and grumpy does his best to sneak into Whoville and steal everyone's joy by stealing everything related to Christmas. Then he runs into Cindy Lou and her family. Cindy Lou goes out of her way and shows The Grinch kindness even though he probably doesn't deserve any at all.
Anyhow without further ado and giving away any more details about the movie, in case someone hasn't seen it yet. The kids always love munching on Grinch-themed treats while watching the movie.
The Best Grinch-Themed Desserts
This year I wanted the kids to help me make some fun Grinch-themed treats and invite their cousins or friends over to watch the movie with us this year. Getting the kids in the kitchen to help me make the Grinch-themed treats was a great way to spend quality time with them and pull them away from their screens during their holiday break.
Grinch Popcorn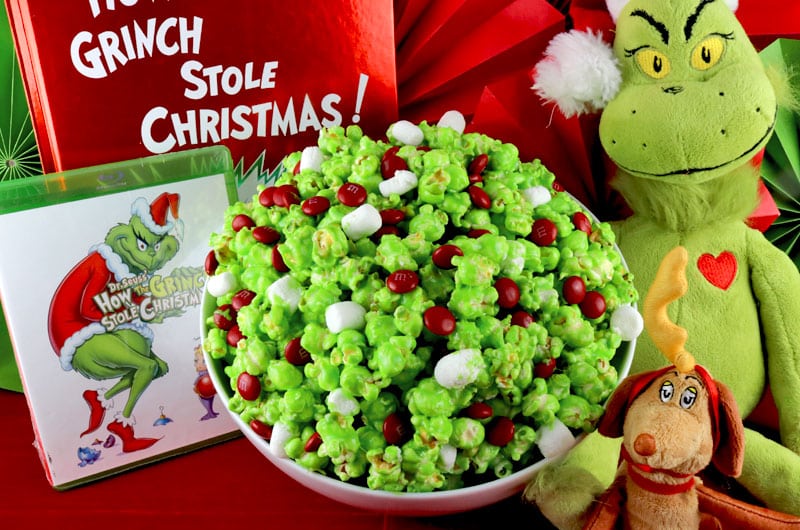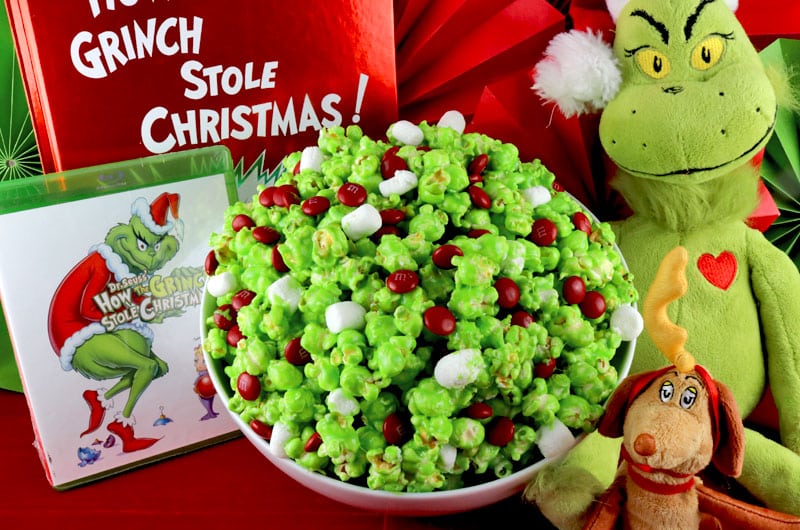 Popcorn is always a welcomed treat on family movie night. The Grinch popcorn takes traditional popcorn and turns it into the perfect magical Grinch-themed treat to eat while watching your favorite Christmas movie. Even if you don't care for a sticky marshmallow mess, you could easily swap the marshmallows for white chocolate. Find the tutorial and recipe on Two Sister's here.
Grinch Cookies
Get the kids in the kitchen to help you whip up a batch of these delicious Grinch cookies. These cookies are super easy to make and they aren't overly sweet making the perfect treat to snack on during the movie. Find the directions and recipe here.
Grinch Fruit Cups
Making homemade treats for the classroom is a thing of the past. Now we are forced to be creative with pre-packaged treats or commercially baked snacks. Finding commercially made Grinch-themed desserts can be quite the challenge so we found these festive Grinch fruit cups to make for your child's class party. Find the tutorial here.
The Grinch Pretzel Bites
Chocolate-covered pretzels are one of my favorite snacks. These cute Grinch pretzel bites are the perfect sweet n salty snack to munch on while watching your movie. Grab the kids, this is a great snack that they can help make too. The kids can arrange the pretzels on a paper plate and top with a piece of chocolate. Follow the rest of the Two Sisters crafting directions here. Pro tip: chocolate burns very easily so it is important to follow her melting directions carefully.
Grinch Kebobs
Are you looking for a healthy snack to serve on movie night or to take to your child's classroom party? These healthy Grinch Kebobs are a great option and it is something that the kids can put together too. When serving kebobs in the classroom, it is best to peel the banana and slice it just before using it so that the bananas don't turn brown. Find the tutorial here.
Grinch Suckers
These Grinch suckers are super easy to make and the kids will love them too. They are made by melting the green jolly ranchers in the oven for 5 to 6 minutes. Then add a stick and heart and you are finished. You can go wrong with these easy-peasy Grinch-themed desserts. Click here for directions.
Grinch Bark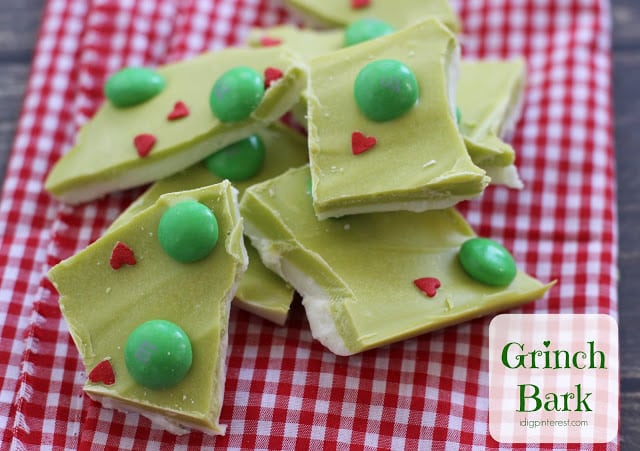 Grinch bark is super easy to make and the kids will love getting a sweet treat to indulge in on movie night. Follow the directions here. Pro tip: Instead of using green food coloring, try using several drops of yellow and adding in a drop or two of blue food coloring to get the desired shade of green for The Grinch.
The Grinch Muddy Buddies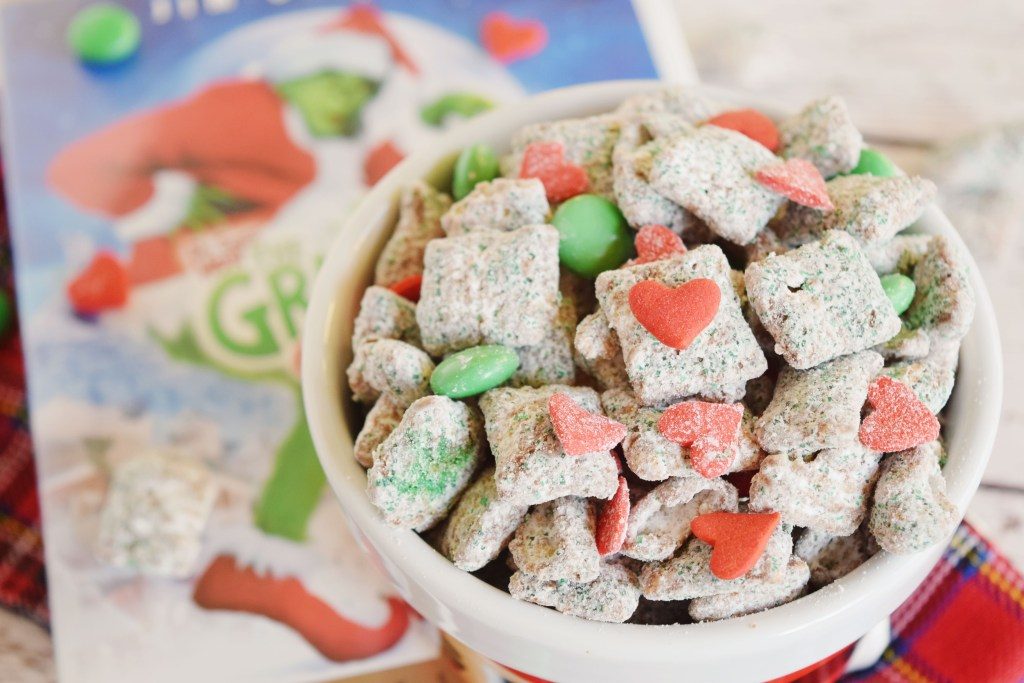 My kids love eating muddy buddy check mix and this is a fun way to pull in a Grinch-themed dessert that kids love. The green sanding sugar, large, confetti hearts, and snowy powdered sugar along with the chocolaty peanut butter mixture make this the perfect snack for Christmas. Follow the recipe and directions here.
The Grinch Cake
Have you ever seen the pound cakes that have cute shapes hiding inside? I've seen a few over the years that I have spent blogging but I have never mustered up the courage to try making one myself. It looks super simple, I would love to try this festive Grinch-themed dessert. Find the directions here.
The Grinch Cake Balls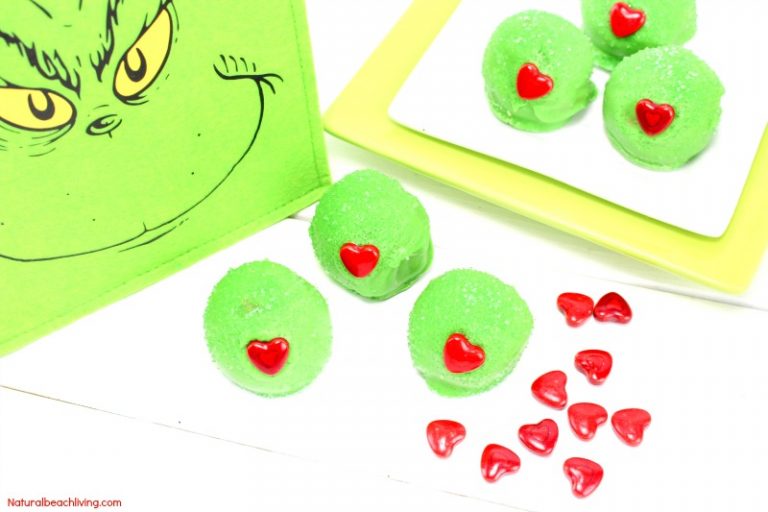 My kids love eating festive cake balls and turn these Grinch cake balls into a fun Grinch-themed dessert that will make them happy. I love that they are super easy to make and don't require a ton of effort. Cake balls are crumbled cake mixed with icing and rolled into small-sized balls.
Then dip them in green-colored chocolate, sprinkle with dusting sugar, and add large heart-shaped confetti on the cake ball before the chocolate dries. If for some reason the chocolate dries, you can use a small dot of melted chocolate to the back of the heart and stick it on. For the full directions visit here.
The Grinch Brownies
Turn an ordinary pan of brownies into The Grinch brownies for a fun, festive treat for the kids on Christmas movie night. My kids have always enjoyed helping bake a pan of brownies, so grab your kids and ask them to help you whip up this Grinch-themed dessert. You can find the recipe and directions for these mint-flavored brownies here.
The Grinch's Heart Oreo Pops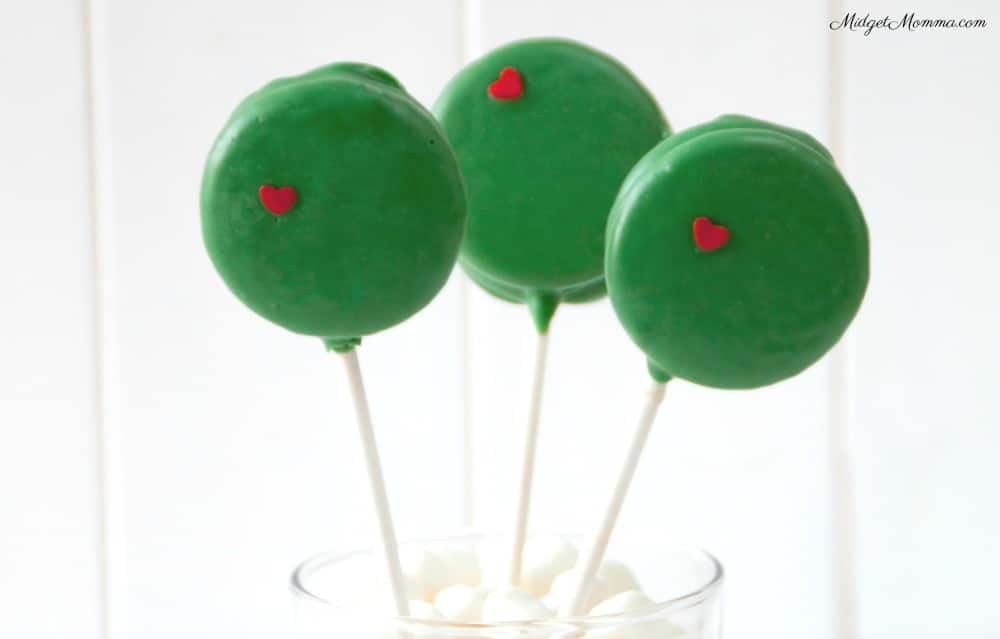 Oreo cookies are one of our favorite cookies in our house. I knew that I had to include these fun Oreo pops in honor of The Grinch. Find the directions on how to make The Grinch's Heart Oreo Pops here.
Grinch Heart Pretzels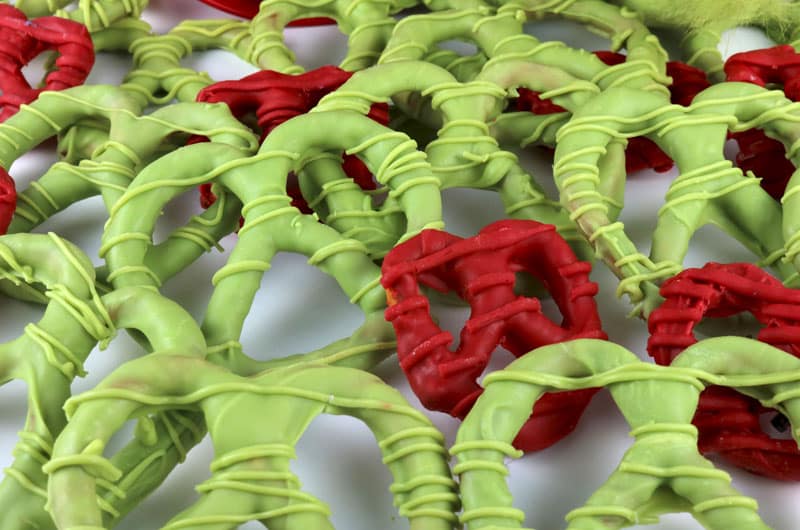 These simple Grinch heart-shaped pretzels are a super easy Grinch-themed dessert that the kids will love. Kids generally love the sweet n salty combination. Find the directions to make these treats for your kids here.
Grinch Marshmallows
Do you have snow on the ground yet? We haven't gotten snow yet but it has been cold enough to warrant drinking hot cocoa. These Grinch marshmallows would go nicely with a cup of hot cocoa while watching How the Grinch Stole Christmas. Find the tutorial here.
How the Grinch Stole Christmas is a heartwarming story that will make your heart melt. Every year, we always watch this movie one evening after Thanksgiving. Some years, we sometimes watch it more than once.
The kids always look forward to family movie night because it always includes popcorn or other Grinch-themed desserts. This Christmas, start a new Christmas tradition to include these Grinch-themed desserts to go with The Grinch movie.
Do you love watching How the Grinch Stole Christmas with your kids? Have you ever incorporated themed treats with your family movie night?