What are some comfort foods you should try on a winter night? Winter is just around the corner, which means it's time to add some comforting, warm dishes to your meal plan. This is the perfect season to indulge in a culinary journey of cozy delights. In this guide, we'll talk about 15 warm foods that can be your passport to comfort on a cold winter night.
From silky, rich hot chocolate to heart chicken pot pie, these deals are not just warm but incredibly nostalgic. They foster a satisfying culinary experience to warm your heart as much as your body. Whether you're curling up by the fireplace or hosting a comfy gathering, these comfort foods are perfect for the upcoming winter season.
Keep reading to find our list of the tastiest foods to try on a cold night.
Hot Chocolate
Of course, you can never go wrong with a classic mug of hot chocolate. Its timeless, warm, and sweet flavor profile will wrap you in comfort and nostalgia on a chilly winter day. Use your favorite chocolate and milk to create a frothy mixture, topped off with chocolate chips and marshmallows for even more comfort. This velvety goodness is all you need for an antidote to winter's chill. You can even make these Hot Cocoa bombs too.
Homemade Soup
A warm bowl of homemade soup is as simple as it gets when you're looking for some comfort. Whether you're craving the soothing embrace of chicken noodles or the robust flavors of tomato and butternut squash, homemade soup delivers both warmth and nutrition. Plus, most of these recipes are basically effortless to make. 
Chili
A heart bowl of chili can be your go-to choice when looking for a flavorful and fulfilling dinner on a cold night. Although it's traditionally a labor of love, an instant pot Texas style chili can be quicker to whip up. The perfect combo of beans, meat, and spices, this dish is as comforting as it gets!
Mac and Cheese
A creamy masterpiece, mac and cheese takes no time to make. It's the perfect go-to recipe when you warm something cheesy and hearty on a cold night. You won't have to make any effort, especially if you go for a boxed mac and cheese mix. It's the quintessential comfort dish, the epitome of indulgence and satisfaction. 
Chicken Pot Pie
A comforting masterpiece, chicken pot pie is the ideal winter dish. It consists of tender chicken, hearty vegetables, and a flaky crust, enveloping your senses in warmth and nourishment. It's pretty simple to make and best eaten fresh out of the oven. Once you feel its flaky crust melt into your mouth, you'll appreciate the flavor profile of chicken pot pie.
Lasagna
Lasagna is an Italian classic that transcends borders. It features delicious layers of pasta, rich tomato sauce, creamy bechamel, savory ground meat, and melted cheese. Each bite unveils a symphony of flavors and textures, making it a hearty, satisfying choice for wintery nights.
Pho
If you're looking for comfort in a bowl, look no further than Vietnamese Pho. This aromatic and flavorful soup has found a special place in winter meal plans. Its base is a clear, fragrant broth infused with herbs and spices. Pho also contains thin slices of beef or chicken and rice noodles. Garnish includes fresh herbs, bean sprouts, lime wedges, and chili peppers. If you've never tried it before, you're in for a flavor-packed and delicious ride. 
Mashed Potatoes
Of course, you can never go wrong with creamy mashed potatoes. This dish is a timeless classic and super easy to make. You'll boil the potatoes to perfection, then mash and whip them with butter and cream. Their most indulgent characteristic is their luscious and velvety texture.
Grilled Cheese Sandwich
A grilled cheese sandwich is a truly classic lunch when you've got nothing else in your pantry. Here's how to make one. On a buttered slice of bread, add your cheese of choice before topping it with another buttered slice of bread. Toast the cheese sandwich in a skillet until golden brown. Finally, enjoy it with marinara sauce on a cold winter day!
Pumpkin Bread Pudding
Try out pumpkin bread pudding with all the ingredients you already have at home. First, preheat your oven to 350°F. Create a mixture of pumpkin puree, almond milk, honey, pumpkin pie spice, and vanilla extract. Then, cut bread slices into cubes and add to a baking dish. Lastly, pour the mixture over the bread and bake for half an hour.
Risotto
Risotto is a luxurious Italian rice dish that captivates your tastebuds with its creamy texture and depth of flavor. It's made by slow-cooking Arborio rice with broth until it's rich and velvety. Customizable with ingredients like mushrooms or seafood, risotto is a culinary journey into pure comfort and sophistication.
Casseroles
Everybody loves to kick off their winter with a classic chicken pot pie casserole. First, preheat your oven and cook chopped onion in butter. Add flour, thyme, mustard, garlic powder, onion powder, salt, and pepper. Add milk, broth, chicken, and vegetables to create a mixture. Finally, pour this mixture into a baking dish and top with dough sheets. Bake for half an hour.
Pasta Carbonara
Pasta carbonara is a Roman classic that combines spaghetti with a luscious sauce made from eggs, Pecorino Romano cheese, guanciale (or pancetta), and black pepper. The result is a creamy, indulgent, and satisfying dish that's perfect for winter. The best part? It comes together quickly for a convenient weeknight dinner.
Baked Ziti
Baked ziti is a comforting Italian-American classic. It combines ziti pasta with rich marinara sauce, creamy ricotta cheese, and layers of melted mozzarella. It's baked to golden perfection, creating a satisfying and cheesy masterpiece that's perfect for cold winter evenings.
Baked Potato
A baked potato recipe is as good as it gets when you want a hearty meal at the end of the day with no effort. Here's how to make it. First, boil a sweet potato until tender. Once boiled, cut a slit down the middle of the potato and mash the insides with a fork. Top it off with shredded cheese, along with your favorite topping, and bake until golden brown.
The winter season is the perfect time to embrace the comforts of home and hearth. What better way is there to do that than through various comfort foods? Now that you know these winter foods that can warm your heart, you can enjoy a sense of contentment and solace during the coldest months of the year.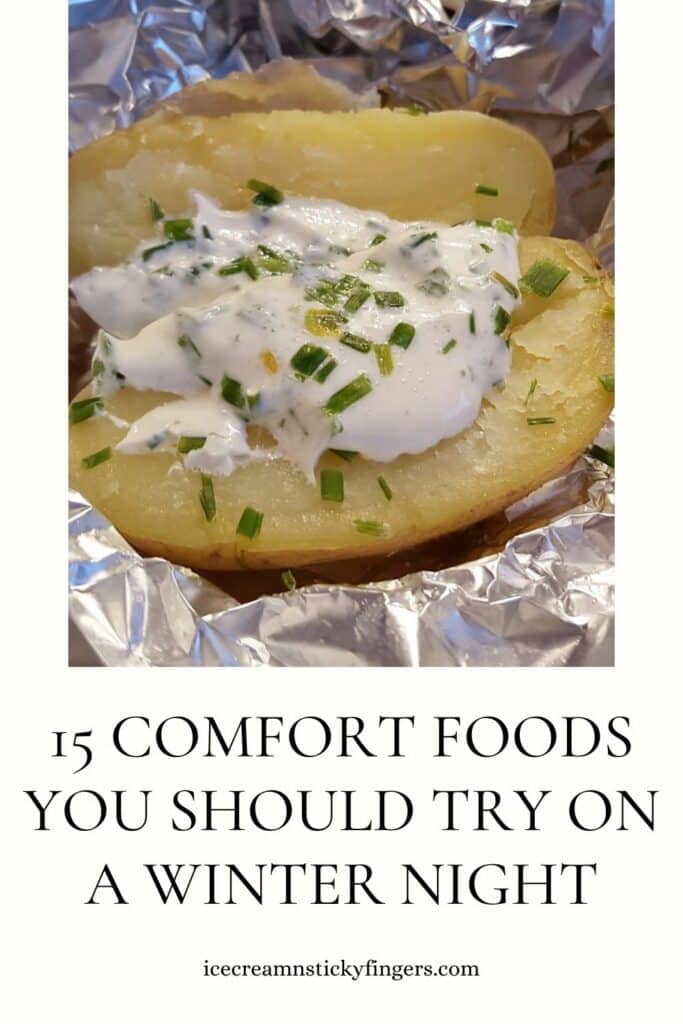 What are some other comfort foods you should try on a winter night?