What do you have planned for spring break? Spring break is a great time to get outdoors and enjoy it. Here are our favorite outdoor spring break activities.
As a mom, my kids would be happy spending the entire week playing video games or watching movies. In Texas, the weather forecast is looking good to spend some time outdoors with the kids. Little do the kids know but I have already been busy planning out their spring break and get them away from the screen. Check out our ideas on how to get the kids outside for spring break.
Plan a Lunch at the Park
Now is the perfect time to plan a picnic at the park before it gets too hot and the kids don't want to spend time outside. Pack a sack lunch and spend the afternoon playing at the park. With kids, plan to take them to the local park that has bathrooms so that you don't have to pack up the kids when they have to use the restroom.
Visit the Zoo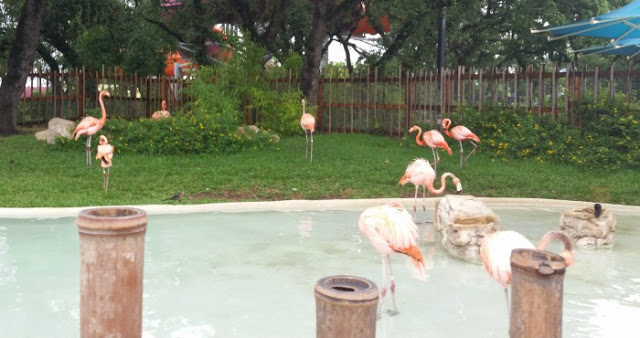 It has been several years since my kids have been to the zoo. Since the weather is going to be perfect, now is the best time to take the kids to the zoo. Our zoo even has a day during the week that is half price. Depending on the zoo, it is possible that you might be able to bring lunch inside of the park. Do check with the zoo prior to packing a lunch and find out what their requirements are first. Also, ask if they have in and out privileges if they don't allow outside food or drinks into the zoo.
Go for a Bike Ride
Dust off the bicycles and enjoy a bike ride with the kids. Riding bikes is a great way to get them outdoors to get some sunshine and fresh air. Plus, biking allows them to burn off some energy and get some exercise. It is one of our family's favorite outdoor spring break activities.
Search for Seashells at the Beach
Do you live near the beach? Being in central Texas, we are a few hours from the beach and it is something that I wish was a bit closer. Our youngest hasn't had the opportunity to go to the beach yet and was asking me when we could take him. If we were a bit closer to the beach, he would have his wish even though it is still a bit cool to go swimming. It would still be fun to walk along the beach and search for seashells.
Shoot Some Hoops
Grab a basketball and head outside to shoot some hoops. Not only is your child getting away from the screen, they are improving their hand-eye coordination and balance. Plus, they are burning calories while having fun.
Throw the Football
My boys always love grabbing a football and heading outside. They will toss the football back and forth to each other until their arms tire out. Tossing the football back n forth is a great game for the backyard. Mom this gives you the perfect opportunity to catch up on chores or sit down and relax for a bit while they are playing. Of course, you can join in if you like.
Go for a Family Hike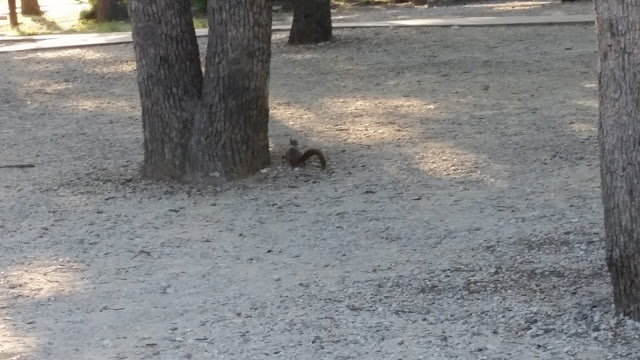 Hiking is a great family activity and it is something that is more enjoyable when it isn't 100 degrees outside. During spring break, you can plan a trip to a fun hiking trail and go for a family hike. You can even make it interesting and make a list of things you can look for on your hike. Once you find the items on your list, snap a photo. We captured the photo of the squirrel one day when we were hiking on a trail at the park. Going to the park to hike or play is another one of our fun outdoor spring break activities.
Play Your Favorite Backyard Games
We always loved playing games in the backyard when I was growing up. Depending on the game, sometimes we would have to invite friends and neighbors over to join in. Some of our favorite games include:
freeze tag
red rover
duck duck goose
capture the flag
hopscotch
parachute
red light green light
Get the Kids to Help Plant New Flowers
Do your flower beds need a makeover? Enlist the kids to help you clean out the flower bed and help you plant new flowers. It is important to teach your kids about gardening and flowers. If you are planting seeds, you can even use this as an educational opportunity too. After you plant the seeds, then your kids can help watch them grow and learn how to care for the flowers too.
Feed the Ducks
When my kids were younger, one of our favorite spring activities was to grab the loaf of bread sitting on the kitchen counter or head to the bread outlet stores to purchase day-old bread (most of them have closed in our area). Then we would go to the nearest park with a pond and feed the ducks. They loved watching the ducks devour the bread. Depending on the rest of the day's activities, we would take a picnic to the park or I would let them play for a bit.
Stomp Through the Spring Puddles
Is it raining where you live? Why not get the kids to put on their raincoat and rainboots so that they can go outside to stomp through the rain puddles. Your kids will enjoy it. Mom's don't stress over the mud, have the kids leave the boots on the front porch and rinse them off later.
Have Snow on the Ground Don't Let It Spoil the Spring Break Fun
Bundle up the kids and let them play outside in the snow. You can even pull out the beach gear and let them build snowcastles. 🙂
Host a Bubble Contest
My kids love blowing bubbles outside and spring break is the perfect time to pull out the bubbles. Let the kids warm up and enjoy blowing bubbles. Then, have your kids have a bubble contest and see who can blow the biggest bubble. Or the littlest bubble?
Geocaching
I have always wanted to do this with my boys and plan on trying it when we have some free time. Geocaching is gaining popularity and anyone can do it. It is a real outdoor treasure hunting game using a GPS-enabled device. You have to navigate to specific GPS coordinates and then attempt to find the geocache (container) that has been hidden in this specific location.
In order to play you do need to register for a free account at Geocoaching.com. Then visit the hide and seek page to find a location near you. Once you find the item, make sure that you sign the logbook and return the item to the original location so that others can find the geocache too.
Never take a geocache from its original location unless you intend on replacing it with a new item of equal or greater value. Beginners should attempt to locate items that are rated with a difficulty of 1.
Download the Pokemon Go App and Play with Your Kids
The Pokemon Go App is a great way to encourage your child to get up and get moving. If your child doesn't have a smartphone with data, download the app for free from Google play or the Apple store. It was super easy to set up my character and find a screen name to use. Do make sure that you choose a handle that doesn't identify you or your child for their safety. It is best to go to local business or establishments to find Pokemon (I read that you probably won't find Pokemon in residential areas but we have found some near our neighborhood).
Be on the Lookout for Kindness Rocks
Rocking hunting? We promise that we haven't lost our marbles. Rock hunting is a new popular craze that has been showing up in our timeline on Facebook. It is very similar to geocaching and Pokemon Go. As parents, during the spring break, it is hard to get the kids unglued from the television, tablets, or smartphones for extended periods of time. Rock hunting took off in this area last summer and we are hoping that this project picks back up during spring break.
Fly a Kite
It has been years since I have flown a kite with my kids. When I was growing up, I remember flying my kite every spring. It is something that I wish that I would have passed on to my kids because kite flying is nostaglic. If you don't have a kite, you can pick one up from Walmart or even Dollar Tree. Do keep in mind that you need a wide open area to fly a kite. We recommend a park, school play ground, or another area close to your house that isn't surrounded by power lines or trees.
Are you ready for spring break? My kids always look forward to spring break from school and waking up early. It is also a reminder that summer break will also be here before they know it. As a mom, I don't want my kids to spend their entire spring break looking at a screen. Plus, it is necessary to get my kids outside before it is way too hot to enjoy our favorite springtime activities.
What do you have planned for spring break? Do you look for outdoor spring break activities for the entire family to enjoy?