Are you looking for some more fun, kid-friendly desserts? The Easter bunny butt desserts were a huge hit and with Easter, just around the corner, we think the Peeps are another cute dessert that your kids will enjoy. Peeps have always been a fun treat that has filled Easter baskets for many years.
The fun, sugary marshmallow, Peeps Easter Chicks have been around since the 50's and were created by hand. In 1953, the process was automated so that the popular Easter treat could be mass produced. The bunnies were added in the 60's and they have now expanded the Peeps to include other popular holidays.
Top 13 Easter Bunny Peeps Desserts
Pick up a few packages of the popular Peeps, even try the new flavors too, and make these fun, kid-friendly Easter desserts with your kids. We promise that your kids and guest will love these Easter Peeps dessert ideas.
Peeps Cupcakes
Cupcakes are a popular treat that every kid is sure to enjoy, even if they only eat the icing on top. 🙂 Homemade cupcakes are super easy to make along with homemade buttercream icing. Top it with colored sugar dust and a cute Peep. Mix and match with your favorite Peep marshmallow treats. Find the recipe here.
Toasted Marshmallow Peeps Milkshake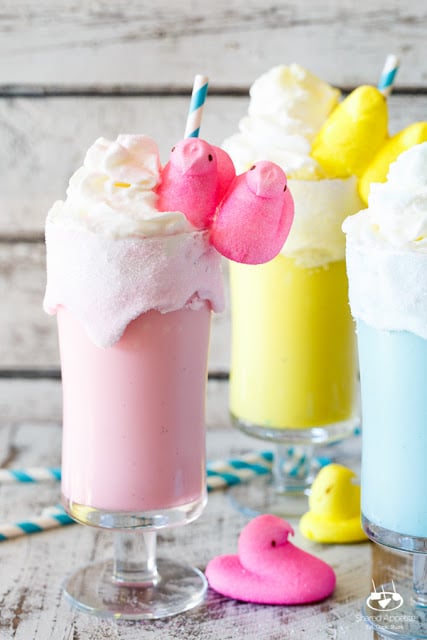 Oh, my goodness, these toasted marshmallow Peeps milkshakes look amazing and they are sure to be a hit with all of the kids. I will warn you now that you probably should buy plenty of ice cream because even the adults won't be able to resist this Easter Peeps milkshake. Find the recipe here.
Peeps Easter Bunny Dirt Cups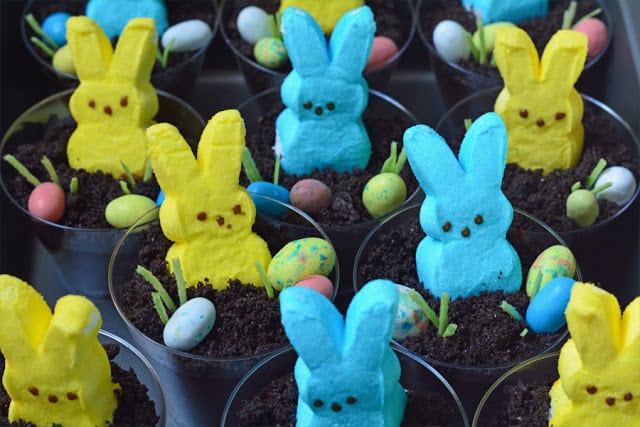 Dirt cups anyone? My kids always loved it when I made them dirt cups when they were little. Too bad that I didn't think of this fun Easter version of a popular kid-friendly dessert. Don't forget to grab extra supplies because even the kid at heart will love them too. For the recipe and tutorial visit, Mom's Fabulous Finds, here.
Easter Peeps S'mores Dip
Do you love making S'mores while you are out camping? S'mores are the perfect blend of warm chocolate and marshmallow between two graham crackers. Making S'mores is super easy with a cast iron skillet. Now you can take a twist on the popular recipe and create this Easter Peeps S'mores dip. Find the recipe here.
Peeps Graham Crackers
These Peeps graham crackers are a fun treat that the kids at your Easter celebration can help make. Don't be surprised if the kids and young at heart want to make several of these fun Easter treats. For the tutorial please visit the Two Sister's blog here.
Peeps Easter Garden Poke Cake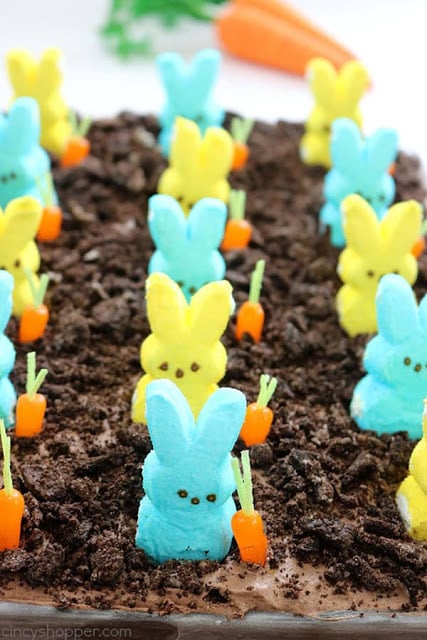 Wow, your guests with this fun Peeps Easter Garden Poke cake. You can't go wrong with this gooey chocolate cake with pudding and cool whip topped with Oreos, Peeps, and edible carrots. For the full recipe and directions to make this fun Peeps dessert here.
Peek-a-Boo Peeps Easter Cupcakes
Raise your hand if you love buttercream icing. *raises hand* These fun cupcakes are the perfect treat to serve for your Easter festivities. Find the recipe and the tutorial here.
Easter Peeps Fruit Kabobs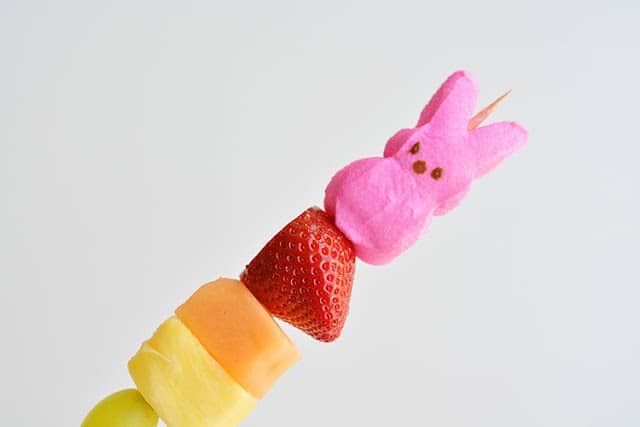 Who says Easter dessert can't be healthy and still contain Peeps. We love these Easter Peeps Fruit kabobs that Debbie at One Little Project completed. Most kids enjoy fruit and these are easily customizable so that everyone will enjoy the fruit choices you are serving. Top with a Peeps bunny and you're a genius with the kids.
Easter Peeps Rice Krispy Treats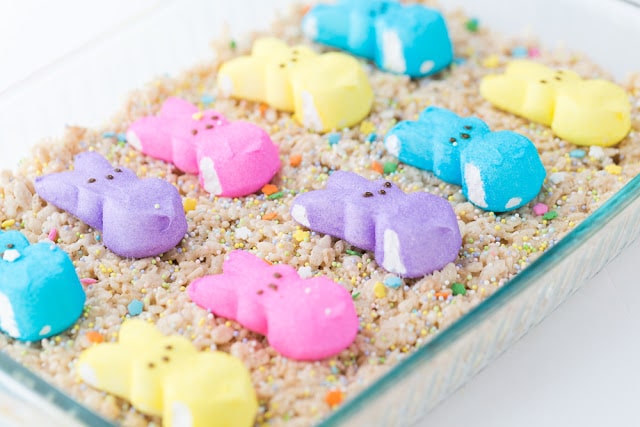 Rice Krispy treats are one of my favorite snacks growing up and I don't know a child who doesn't love them too. Take your Rice Krispy treats and add this fun twist on a family favorite for your Easter celebration. You can even dip them in green chocolate on one end for "grass" and blue on the other end to represent the "sky" if you are ambitious before adding sprinkles and Peeps. Visit Made to Be a Momma for this recipe and other ideas.
Easter Peeps Pretzel Rods
These Peeps pretzel rods are the perfect combination of sweet n salt mix. I have to admit I love them and these are on my list to make on Sunday because they are super easy. Find the tutorial here.
Easy Bunny Peeps Pops
Are you looking for an easy Peeps dessert that the kids will enjoy? Look no further. Robin created these beauties and if you have young kids, you can even skip the stick too. Visit Robin's blog for the full tutorial.
Easter Peep Mobiles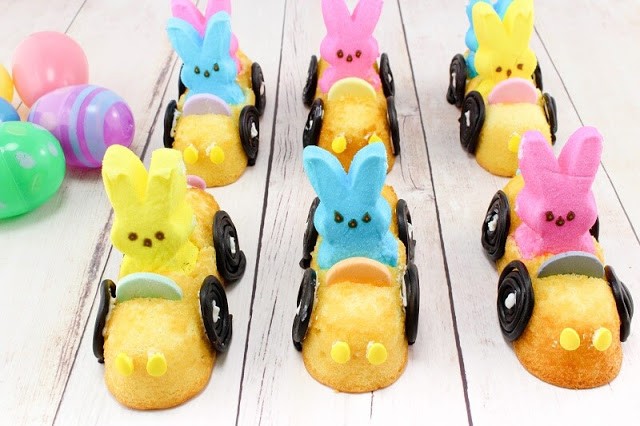 Vroom Vroom. Aren't these peep mobiles adorable? Your kids will love it if you surprise them with a tray of these fun goodies. Black licorice isn't my favorite and I am not sure how many kids enjoy it but it is something that you can easily swap out. You could use marshmallows or red lace licorice. For the step by step tutorial visit Jaclyn Ann's blog, Crayons and Cravings, here.
Easter Bunny Peeps Pudding Cups
Pudding cups are a kid-friendly dessert. These dirt cups are super easy to make since the pudding is already made for you. Simply crush the oreo cookies, add your bunny peeps, and a few carrots. For the full tutorial, including directions on how to make the carrots, here.
With Easter a few days away, we know that you are probably busy looking for last minute meal plans and dessert ideas for Easter. These Easter Bunny Peeps desserts will impress the kids and the young at heart alike.
Are you still searching for the best kid approved Easter desserts? Will these cute and fun Easter Bunny Peeps Desserts work? Which one is your favorite?