I remember as a kid thinking that wooden pallets were about the weirdest thing I have ever seen. I didn't understand why someone would build a storage platform with holes in it. But it is possible to turn a storage platform into some crafty DIY projects with pallets.
In reality, pallets are extremely useful and effective for storage and very cheap to manufacture. They are great if you have large stacks of material or product or objects you don't want on the floor.
You may have ended up with pallets if you have ever ordered large quantities of a product like sod, water bottles, etc. Whether you have unused pallets or are just looking for a way a creative and cheap way to find solutions to household needs, pallets can be very versatile in solving your problems. Turn those ugly pallets into something useful by making your favorite DIY projects with pallets.
Decor
It sounds kind of funny, but have you ever seen a pallet that has been sanded, painted, and cut down and used to hold pictures or wine bottles? Depending on the color and style it gives a different feel, but regardless of the desire to look fancy or rustic it looks classy anyway you do it.
Pallets are a great way to be able to add to the style and feel of your home. Many businesses just trash pallets after they get in shipments, so you may be able to get the pallets for super cheap, or free. With a little work and creativity, they will elevate your home decor level by a ton.
I've even seen old pallets used for shiplap, the possibilities are endless when you think about it. Why not create your own DIY projects with pallets and decorate your home with them. What other types of decor could you make out of old pallets?
Furniture
While not all types of furniture can be designed by pallet, there are many that can be and look very good once completed. Coffee tables, porch swings, platform beds and even chairs can be made from pallets if you have some handyman skills.
It is super cheap to acquire the pallets, and then all that is really needed for most projects is the necessary tools (hammer and nails, saw, drill, depending on the job), glass top for a table, cushions for a chair, and cushions and hanging materials for swings. Try making furniture using own DIY projects with pallets.
The effort could potentially save you a ton of money and provide a really nice looking piece of furniture that you take pride in knowing you made yourself.
Organization
Most of us can use a little more organization in our lives and homes. Pallets can be a great way to provide that. If you remove some of the planks, you can easily put things indies. If you then mount the pallet on the wall, you have a bookshelf, a front door hanger for keys, hats, and coat hooks.
Shoe racks are common use and can be done with a single pallet by standing it up and putting the toes of the shoes in the gaps, or by taking apart multiple pallets and customizing your own look and designs. What other organizational DIY projects with pallets could you come up with?
Pets
Pallets are a great way to give your pets a place to sleep. More customization is required to make the right shape and size for the needs of your pet. But when done well, it can provide a spacious and cheap living space for your pet.
If you are going to use a pallet in this way, make sure that you sand it well and ensure that no nails are exposed. Splitters of wood or nails will cause any harm to your pet.
Pallets are a great way to add a little something different to your home. It provides a cool look for a great price. If you are handy, you can easily pull this off, or look for a do it yourself tutorial online if you need a little more help. Instructional materials can be confusing and hard to understand. Please don't be afraid to visit, challengerpallet.com to look up any terminology that you don't understand. This website contains a thorough set of definitions that can help you out. Happy building!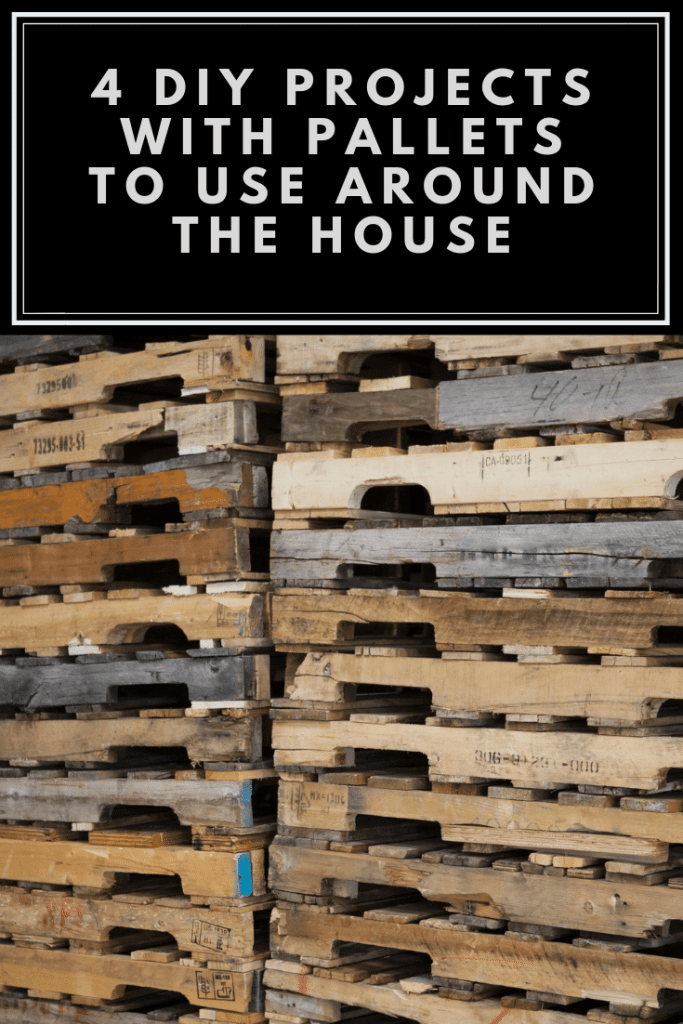 Have you made your own DIY projects with pallets? What did you make with pallets?