Growing up it was unusual to find a box of fried chicken sitting on the dinner table or the main dish served at family gatherings. The fried chicken usually came from KFC, Churches Chicken, Grandy's depending on the specials they were offering. Even as a child, I always noticed the grease stains on the box and how greasy your hands got while indulging in the family meal. But fried chicken is out and these best healthy baked chicken tenders are in.
When my grandpa had a heart attack and had to have a quadruple bypass surgery to unclog his arteries, the first thing they told him was to change his diet. My grandmother did extensive research, without the luxury of having the Internet as a reference, to find new recipes to fix. She met with nutritionists and doctors to figure out what types of foods that my grandpa was allowed to eat.
She knew that the fried chicken recipe had to go except for special occasions. However, times have changed fried chicken isn't seen on the kitchen table very often. People have turned to healthier options. Instead of frying chicken, many families opt for baked chicken tenders or grilled chicken.
We wanted to share with you some healthy chicken tenders to satisfy the entire family. As a mom, I totally get it when your kids only want to eat chicken nuggets and macaroni and cheese. It doesn't take a nutritionist to realize that eating too much chicken nuggets and macaroni isn't healthy.
Crispy Baked Chicken Tenders
Wajeeha at I Knead to Eat was always a fan of crispy fried chicken. After searching Pinterest, she was skeptical before making these crispy baked chicken tenders and thought that there was no way that baked chicken tenders could come out crispy without using a drop of oil. Now she is a fan of these chicken tenders and has made the switch to team healthy when it comes to making chicken for her family. Find the recipe here.
Garlic Parmesan Chicken Tenders
Chelsea back from chelseasmessyapron.com shared this recipe on The Recipe Critic. This is her families favorite baked chicken tenders. Her recipe uses a "special ingredient" called Panko. Panko, not to be confused with Panko breadcrumbs, is so much better than using breadcrumbs or flour. You can find Panko by Kikkoman in the Asian aisle in most grocery stores. The Panko is lighter and more delicate than breadcrumbs but it gives the chicken a crispy, crunch that you are looking forward to with these baked garlic parmesan chicken tenders. Find the full recipe here.
Cheddar Bacon Ranch Chicken Tender
Are you looking for a healthy baked chicken tender recipe that even the pickiest eater will enjoy? Look no further and give this one a try. You can't go wrong with cheese, bacon, and ranch. Find the full recipe here.
Baked Crispy, Crunchy Buffalo Chicken Tenders
At first, I was skeptical about sharing this recipe with you, I know that most kids usually turn up their nose to spicy foods. However, the buffalo sauce is on the side so you can easily serve them something a bit more kid-friendly. This recipe is paleo friendly too. Find the full recipe here.
Honey Mustard Chicken Tenders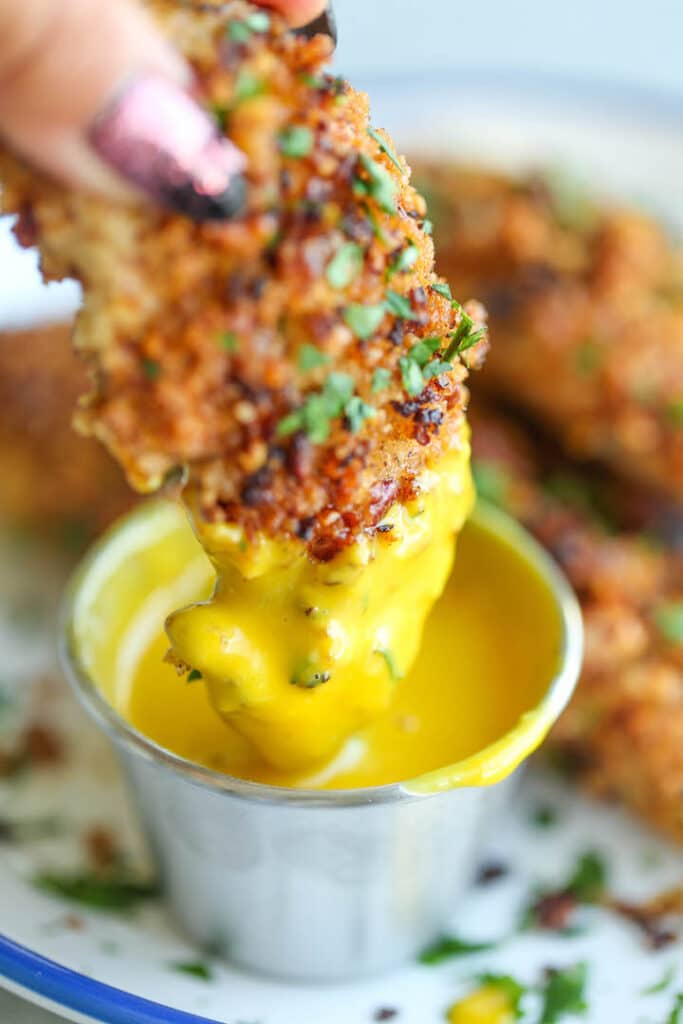 Heart-healthy chicken tenders? Yes, we found these baked chicken tenders that support a heart-healthy diet. We love that they are healthy and they don't lack flavor. Give these pecan-crusted honey mustard chicken tenders a try, I promise they won't disappoint. Find the full recipe here.
Baked Parmesan Crusted Chicken Tenders
Over the last several weeks, we have been trying to cut out eating foods that are overly processed and unhealthy. I came across a recipe for parmesan crusted chicken but I prefer the tenders since they cook faster. I was skeptical that my youngest would like this chicken recipe. He ate all of his chicken and asked for me.
I'm not sure if I followed this particular recipe or not but I opted to use "salad dressing" aka miracle whip. It is lower in calories and fat. Instead of doing the assembly line method like she suggests, I lined a cookie sheet with foil and put the chicken strips close together. Then I poured the parmesan/mayo combo over the top and spread it on each piece of chicken. Next, I sprinkled the breadcrumbs over the top.
I put it in the oven and baked it. When they came out of the oven, I didn't even notice that there wasn't breading on the bottom. Next time, I think that I will let them cook a little bit longer so that the crust is a bit crispier or give this recipe a try. The recipe was delicious though. You can find the full recipe here.
Oven Baked Buttermilk Chicken Tenders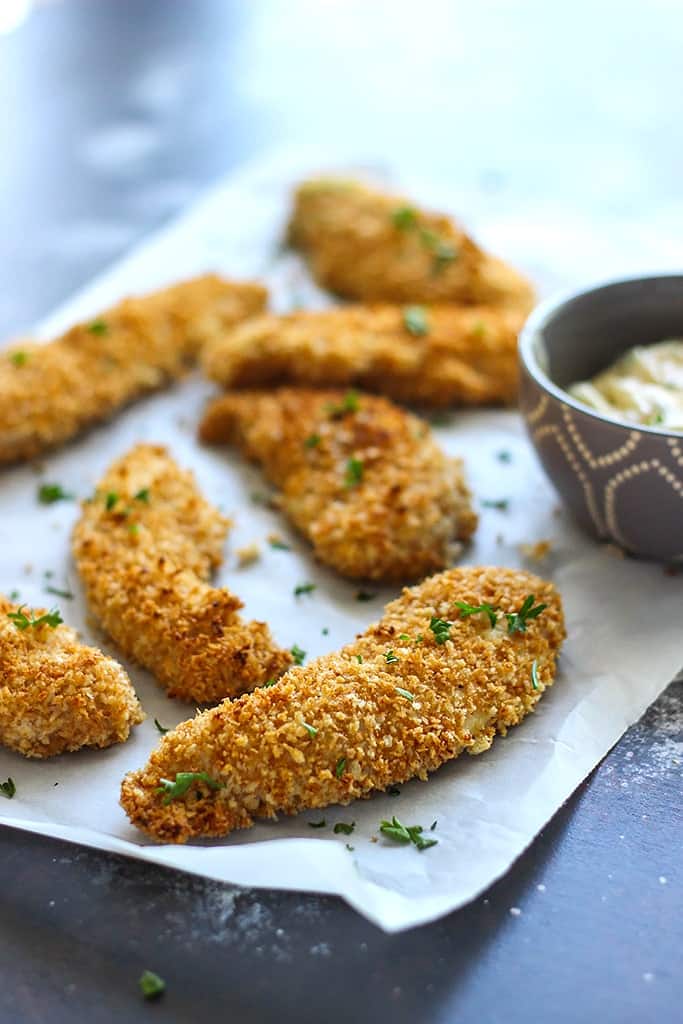 My mom and grandmother always used buttermilk when they made their grease-fried chicken when I was growing up. I wanted to share these baked chicken tenders with you since they bring back a bit of nostalgia with the buttermilk recipe. These chicken tenders will make you forget about grandma's old-fashioned fried chicken recipe. Find the full recipe here.
Baked Chicken Tenders with Honey Sriracha
These baked chicken tenders are a crowd-pleaser with a sweet and spicy flavor. Instead, of using an egg wash and flour, she dips the chicken tenders in the honey sriracha sauce and then coats the chicken in breadcrumbs. Note: if you are having issues with the sauce and breadcrumbs sticking to your chicken try dipping it in flour first or use a paper towel to absorb the moisture on the outside of the chicken first. Find the full recipe here.
Best Paleo Almond Chicken Tenders
Are you looking for a gluten-free baked chicken tender recipe? This almond chicken tenders recipe is gluten-free and paleo-friendly without sacrificing the crunch and flavor of traditional chicken recipes. Find the recipe here.
Whether you are looking for new recipes or doing a complete diet overhaul, these healthy chicken tenders will satisfy your tastes buds and you will quickly forget your grandmas grease fried chicken recipes. Growing up many families served unhealthy choices including fried chicken without thinking twice about the health risks involved. We know that these healthy baked chicken tenders will wow your entire family, even the kids.
Do you currently make healthy baked chicken tenders? Which recipe are you interested in trying first?