Disney has an interesting way of handling news. They make announcements sometimes that go nowhere. Other times they say nothing for an uncomfortable amount of time, leaving fans to speculate what will happen next. Over the years there has been no shortage of rumors. Some were untrue. Others were supposed to be true but never happened. Occasionally though things happen just like we'd expect them to. Here are the latest and best Disney World rumors that may have some credibility to them. Whether or not they actually happen remains to be seen.
Rockin' Roller Coaster
There was a recent attempt to launch a rumor that Aerosmith is being replaced as the featured band at Disney Hollywood Studios park. The latest circulation of this rumor is just a new installment of internet murmurings that have gone on for over a decade now. These rumors are fueled by the Marvel retheme at Walt Disney Studios at Disneyland Paris and the wild changes to the overarching theme of DHS over the last several years.
While it's likely a fake rumor, this update has former Disney star Olivia Rodrigo as the chosen replacement for the iconic rock band. Other Disney World rumors that continue to circulate about this ride are a Marvel-themed replacement like the Iron Man roller coaster in France or A new Pixar ride. There have been rumors of a Monster's Inc coaster literally since the movie debuted back in 2001. This is the location where fans have been speculating such a roller coaster might go. Another favorite rumor regarding this space is that it will be converted into an Incredibles ride.
Tomorrowland Update
This isn't so much a rumor because Bob Iger did make a pretty overt comment about updating the land a couple of years ago. There have been changes, including the removal of Stitches Great Escape, a much-hated retooling of the far better but much too terrifying Extra Terror-estrial Alien Encounter. Of course Tron: Lightcycle Run is under construction as well. The Tomorrowland problem exists in almost every Disney park modeled after the magic kingdom. Therefore it's a prime target for speculation and rumors. The prevailing rumor that seems to be true is that there will be a new Wreck it Ralph dark ride. Based on the news that's been leaking out over the past couple of years, we can probably expect it to be something like the Mario Kart ride at Universal Studios Japan.
There has already been some change to Tomorrowland which suggests Disney World rumors about a complete overhaul might be accurate. The current unifying theme of the land is energy from solar power, to fossil fuels and even the "canned" laughter at Monsters Inc. Laugh Floor. The style is more fantasy/sci-fi related with a retro-future vibe. It's not the best Tomorrowland, but it's not the worst either, which makes us wonder what they are doing at Disneyland in California.
The Jungle Cruise Re-Imagined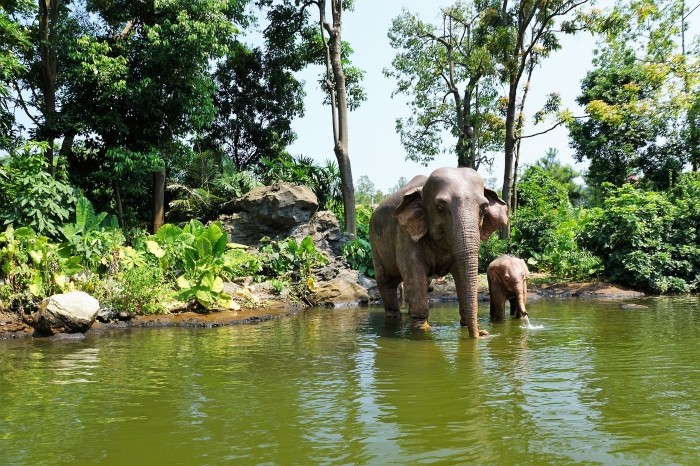 Speaking of Disneyland, the re-imagined Jungle Cruise we've been anticipating seems to be happening there before it reaches Disney World. There has been a lot of news/publicity regarding this ride with dots of truth but questionable details. Most recently we heard that Disney was eliminating "racist scenes" but Dwayne Johnson had already hinted that Imagineering was working on a revamp long before that. With the new movie approaching, Fans speculated a Pirates of the Caribbean style retooling. Even "The Rock" himself seemed to think he'd become part of the attraction. Now it appears that he won't, but here are a few new twists:
● The attraction opens at the same time the movie debuts in July.
● The attraction will feature some intriguing Disney lore involving S.E.A (the Society of explorers and Adventurers). The fictional society has ties to Disney attractions around the world from Mystic Manor to Big Thunder Mountain Railroad.
● The ride remains open as it is updated, so the changes can't be that extensive.
Muppets Take The Hall of Presidents
This rumor goes all the way back to the 90s when Disney bought the Muppets from Jim Henson Productions. They almost took out Great Moments with Mr. Lincoln. Since Muppet Vision 3D premiered at Disney Hollywood Studios, Disney hasn't quite been able to use the IP anywhere else. However, the Great Moments in (American) History outdoor show in Liberty Square seems to be a hit. So, it's possible a new version of the Hall of Presidents with muppets is possible. Some consider the attraction to be too much of a hot-button issue for vacationing guests. However, I'm not sure how turning this one over to the Muppets would avoid any controversy.
Over the last several years, Disney has leaked rumors leaving guests in suspense about their next move. Some of these rumors are in fact true while others are not. We hope that these new Disney Rumors may happen in the near future.
Photo Credit: Image by StockSnap from Pixabay
Which one of these Disney Rumors do you hope comes true?