Are you considering upgrading the flooring in your home? There are so many flooring options on the market and it isn't a decision that you want to make quickly. Not only does your flooring choice need to be partial but you have to pick a flooring that will suit your tastes as well as potential future buyers. The flooring that you choose will be the floors that your kids will sit and play on, a walking path to each room, the dogs running inside the house with muddy paws, or having an accident in the house, and let's not forget that kids accidentally spill things too. Your flooring choice for each room should be carefully determined so that you aren't replacing it if you are unhappy with your decision.
In June of 2019, I moved to a single-wide manufactured house in hopes of purchasing it when the time was right. The dream finally became true and I was able to purchase my home in May. It has been a long work in progress but I knew that I wanted to get rid of the carpet in the house as quickly as possible. The living room, kitchen, and bathrooms had a woodlike linoleum and it looked nice but the thought of trying to match it was out of the question. I would have loved to put in a laminate but instead, I choose a beautiful light grey vinyl plank with the click-n-lock technology. It was the perfect option and the great thing about it is, it meets all of my requirements.
Budget Friendly
Waterproof
Scratch Proof
Pet-Friendly
There Was Enough Flooring in Stock To Do The Entire House
Already Had an Underlayment Attached
I considered other options, including, trying to match the linoleum that was already in my house and even replacing the carpet with a different shade of color. But after comparing the costs, the vinyl plank flooring made the most sense. You can use the vinyl plank flooring in residential or as a commercial flooring option.
Here are a few things that you need to do before purchasing new flooring for your home or commercial flooring options.
Hiring a Contractor
Laying down flooring looks much easier than it actually is, so hiring a professional to put your flooring down is a wise decision. A professional company can come in with an entire crew and have your entire house done in a day or two depending on size.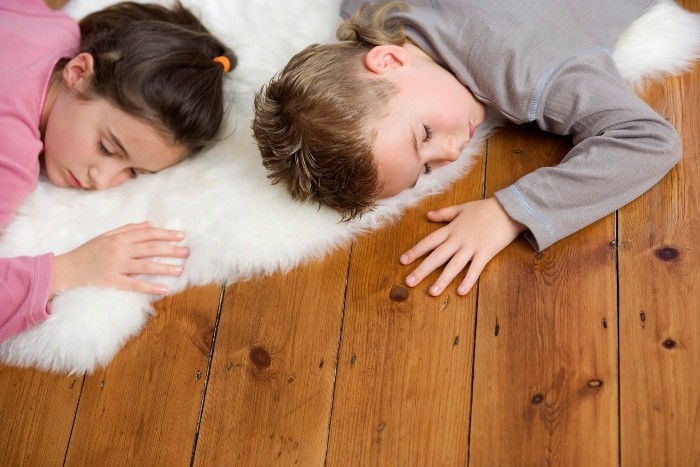 Deep Clean
Now is the perfect time to deep clean your home and purge any items that you aren't using. Swapping flooring is so much easier when there aren't a bunch of things in the contractor's way. We also suggest that you get moving boxes and pack up things that you don't need immediately. This helps declutter and makes the furniture a bit lighter for the contractors to move it around as they are installing the new floors.
Leveling Your Subfloor
Depending on the type of foundation that your home has, you may be required to level the subfloor before laying down your underlayment and flooring. An uneven subfloor can cause your flooring to warp or become damaged after installation.
Baseboards
When we had new flooring put in our home before putting it on the market in 2016, the flooring company asked if we planned on painting the home after we installed the floors. Whether you choose vinyl plank, laminate, or hardwood flooring, your floors will have a small space to allow the floor to expand and contract. Taking off the original baseboards and resetting them can cause slight damage to your walls, which is where the repainting would come into play. If not, you can add a second trim piece to give your flooring a polished-off look while hiding the subfloor that is needed to allow for expanding and contracting of the floor.
Learn Proper Cleaning Techniques
Flooring is expensive and the last thing that you want to do is to ruin your beautiful new flooring. Even though the flooring is waterproof and scratchproof, doesn't mean that you want to use caution while your cleaning. Do ask your contractor who is installing the floors how to best clean them. When we had laminate in the apartment, I used a dust mop to gather up all the dirt and small particles on the ground. Then I used a damp mop with vinegar or floor cleaner that can be used on this particular type of flooring.
Renovating your home and changing the flooring in your home can easily change the look of your home and even add value to it. But it also can be super stressful, if you aren't prepared before you purchase new flooring. There are so many different types of flooring and so many different opinions about them. As always do your research and determine what is the best choice for your family and situation. But do keep in mind, that if you are planning on putting your home on the market soon or in several years that you keep your personal tastes practical.
Have you thought about upgrading the flooring in your home? Which one of the 5 things to consider before updating the flooring in your home surprised you the most?