As a single mom, all of the financial and parenting responsibilities now lie on you. This can be a difficult transition if you are used to a dual income while married. Going from a two-income household to a one-income household can be quite overwhelming but with a bit of budgeting and following these financial moves, every single mom needs to have.
Checking Account
Open your own checking account and have your checks direct deposited into this account. This will give you the power to control your own finances and pay your bills.
Emergency Fund
Create an emergency fund of $1,000 dollars up to 6 months of full living expenses. This will allow you to have the funds to take care of emergencies such as car repair, new appliances, or even help when something unexpected comes up.
Education Plan for Kids
Open your kid's college fund using the 529 Account. This will allow you to set money aside for your child's college education. Even though the contributions aren't tax deductible, the earnings that you pull out for college expenses are tax-free Plus, there is no penalty for withdrawals for educational purposes.
Term Life Insurance
Now that you are a single mom, you will want to invest in a term life insurance policy. This policy will protect your family and ensure that you have the money to pay for burial expenses, pay off your debts, and can give your child money to put into a trust fund that they can touch once they are over the age of 18. You can purchase cheap term life insurance with no medical exam needed.
Retirement
There have always been rumors that Social security is going to go away in the future. So without that, it is important for a single mom to invest wisely in herself and her future retirement. Plus, even if social security does survive, it was never meant to be relied on to pay for all of your retirement costs.
Health Insurance
With the rising cost of health costs, it is important to protect you and the kids with health insurance. Unless it is court-ordered, that your ex-spouse or the child's father must maintain coverage for your kids. Then you won't need to add them to your policy unless you have better insurance. It doesn't hurt to carry dual insurance plans but you have to look into the costs of having each policy, the deductibles, co-pays, and co-insurance.
Car Insurance
If you have a car, you need to insure your car in order to protect your finances in the event of an accident that is your fault, for natural disaster damage like hail, or having an uninsured motorist hit you. Your coverage needs will depend on if your car is paid off or not. All loans require you to carry full coverage insurance. If you have an older car that isn't worth much money, you could consider paying for liability only. This means you will be covered if the accident is your fault. But depending on the damage, if it is totaled you would have to buy a new car without collecting an insurance check.
Property or Renter's Insurance
Always protect your investment whether you own your own home or rent. Property insurance protects your home in case of weather-related incidents, fire, theft, and more. When renting, you want to purchase renter's insurance. This protects your belongings if there was a disaster or fire, or your unit becomes inhabitable.
HSA Account
Put money into an account to pay for medical expenses and help lower your taxed income. Just make sure that you put in an amount of money that you will actually spend on health care expenses. Or you will be purchasing HSA-approved items at the end of the year before you lose those dollars.
DC-FSA
Does your company offer a Dependent Care-FSA account? If so, you can put away money to pay for your daycare costs. Make sure to read the fine print so that you can utilize the saving of putting your money into the account before taxes.
Will
Fidelity states that "A will is a legal document that coordinates the distribution of your assets after death and can appoint guardians for minor children". It is best to use an experienced lawyer to help you draft a will especially if you are a single mom or you can even use a service like LegalZoom.
Being a single mom is not an easy task but with these financial moves, every single mom needs to have in their arsenal to be successful. Going from a two-income house to a one-income can be a tough transition. But with a bit of budgeting, you can do it.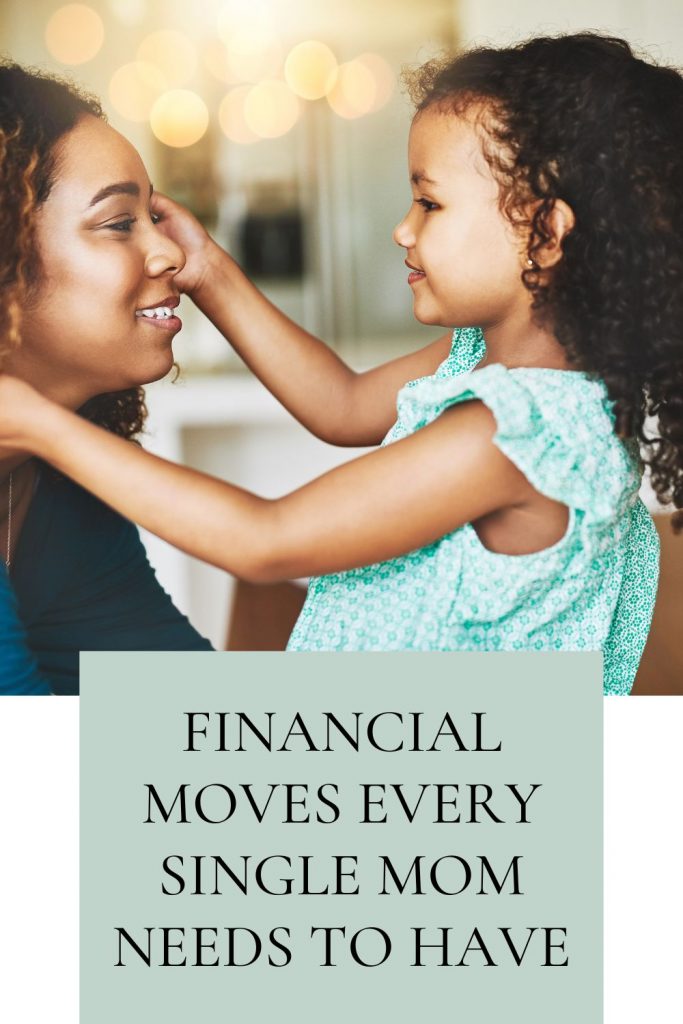 Do you have any other suggestions to make the most out of these financial moves every single mom needs to have to be successful?