As the world goes crazy more and more families are looking at a different holiday this year. If your family is looking to pair down to a minimalist Christmas to help make it easier to make the most of the holiday you may be surprised just how easy it can be. By ensuring a minimalist Christmas with your family you are able to ensure that your kids still get to have a great time while reducing stress so you can focus on happy memories for them rather than your kids seeing you all stressed out.
Limit Gifts
The biggest drain on the Christmas budget also tends to make your home overflow with stuff you eventually have to clear away the gifts. There are many great benefits of limiting the gifts you give your kids for the holidays like being able to put your budget into just a couple of things your child really wants instead of getting them a bunch of junk just to show them that they got more gifts.
Try a minimalist Christmas gift selection for your kids. Something they want, something they need, an article of clothing, and a book (aff link). A simple set of gifts that allow you to put your time and money into quality over quantity.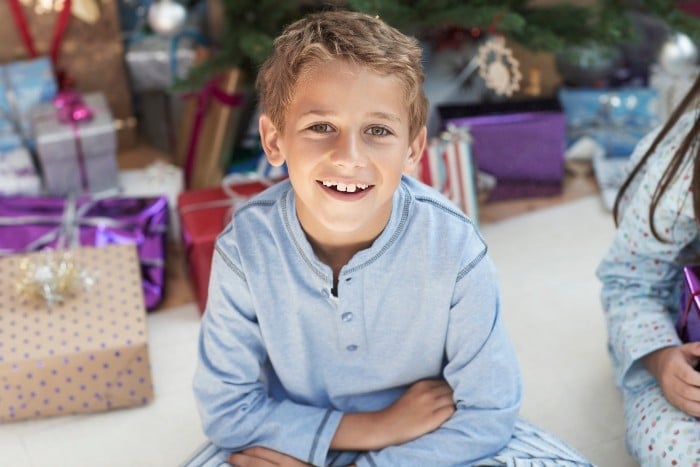 Add a Personal Touch
You can make the most of your minimal gifts by adding a personal touch that tells your child that you know them and their likes and dislikes, that you listen to them when they talk about their day, hobbies, or other interests. by taking the time to choose a gift with a personal touch you are telling your child that they are important to you.
Create a New Tradition
If you are going from a big and elaborate holiday to a minimal one you may see some pushback on the change. To fight this try to work in a fun new tradition that helps to build happy memories for your family that doesn't revolve around stuff like planning a Christmas movie night, baking cookies to give to friends and family, or going for a walk to look at Christmas lights.
You can use a new tradition to help bring some joy back to the holidays and make it special for your family so everyone can enjoy it and see the real meaning behind the season rather than waking up to a room full of wrapped boxes.
Make the Most of Your Holiday Meal
Whether you are putting together a last-minute holiday dinner with a less than a traditional menu or have plenty of time to gather the ingredients you need to put together a traditional feast, remember that the holiday meal is about sharing time with loved ones and making the most of every moment. Set aside differences and make sure to give the kids plenty of attention rather than leaving them to their own devices while the adults spend time chatting. This will help make wonderful memories of the holiday and seeing people they may not get to see every day giving them love and attention.
Families are pressured during the holidays to go big even if that means taking on debt in order to pay for Christmas. But there is no reason that you should go broke trying to keep up with the Jone's. Give these tips a try and do your best to have a minimal Christmas even with kids.
Have you ever tried to have a Minimalist Christmas With Kids? How did that go?