Fall is a fantastic season for engaging in fun activities with kids. Here are some fun fall activities for kids:
Leaf Collecting
Go on a nature walk and collect colorful fall leaves. You can even turn this into an educational activity by identifying and learning about different types of trees.
Leaf Pile Jumping
Rake up a pile of leaves and let kids jump into them. Make it a contest to see who can make the biggest splash!
Scarecrow Making
Create a scarecrow together using old clothes and hay. Let the kids be creative and decorate the scarecrow's face.
Pumpkin Patch Visit
Visit a local pumpkin patch to pick out the perfect pumpkin for carving or decorating. Many pumpkin patches also offer other activities like corn mazes and hayrides.
Pumpkin Decorating
After getting your pumpkins, have a pumpkin decorating party. Kids can paint, use markers, or apply stickers to create their unique designs.
Apple Picking
Visit an apple orchard and let the kids pick their apples. You can use these apples to make apple pies, apple sauce, or just enjoy them as snacks.
Nature Scavenger Hunt
Create a list of fall-related items (acorns, pinecones, colorful leaves, etc.) and have a scavenger hunt in your local park or woods.
Outdoor Crafts
Collect pinecones, acorns, and other natural materials to create fall-themed crafts like pinecone bird feeders, leaf art, or nature mobiles.
Baking and Cooking
Get the kids involved in the kitchen by making fall treats like apple crisp, pumpkin bread, or caramel apples. It's a great way to teach them about cooking and enjoy delicious results.
Scary Story Time
Gather around a campfire (or just in a cozy corner of your home) and take turns telling spooky stories. Use flashlights to add to the ambiance.
Fall-Themed Crafts
Try crafting activities like making handprint turkeys, painting rocks as autumn animals, or creating Halloween decorations.
Fall-Themed Movie Night
Have a cozy movie night with classic fall movies. Make popcorn and watch movies that capture the spirit of the season.
Fall Science Experiments
Engage in fall-themed science experiments, like creating a volcano using a pumpkin or exploring the science behind why leaves change colors.
Corn Maze Adventure
Find a local corn maze and spend an afternoon navigating the twists and turns. Many of them have fun themes and games inside.
Fall Festival or Fair
Many communities host fall festivals with rides, games, and food. It's a great outing for the whole family.
Nature Art
Use fallen leaves, sticks, and pine needles to create beautiful nature art. You can make leaf rubbings, create leaf animals, or construct stick sculptures.
Outdoor Movie Night
Set up a projector in your backyard and have an outdoor movie night. Let the kids choose a fall-themed movie, and don't forget blankets and popcorn.
Costume Planning
Fall is the time to start thinking about Halloween costumes. Involve the kids in the creative process by brainstorming and even making their costumes together.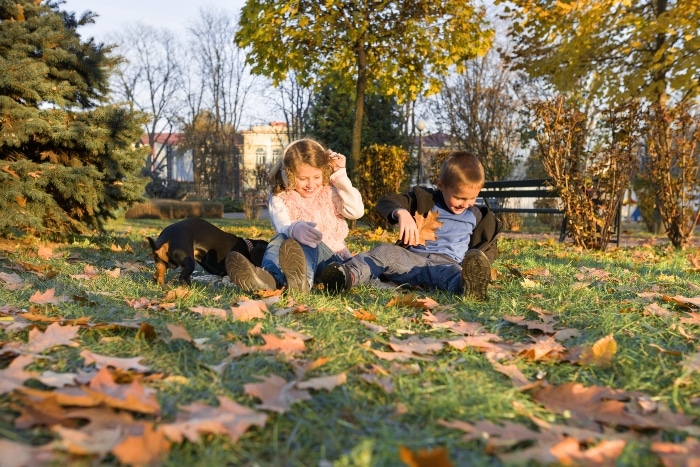 Camping
If you enjoy camping, fall is an ideal time for it. The cooler weather and colorful foliage make for a beautiful camping experience.
Campfire and S'mores
If you have a safe area for a campfire, roast marshmallows and make s'mores. Share stories or sing songs around the fire.
Planting Bulbs
Fall is the time to plant spring bulbs. Teach kids about gardening by planting bulbs together in pots. They can watch them grow over the fall and winter months.
Bird Feeding
Make bird feeders using pinecones, peanut butter, and birdseed. Hang them in your yard and watch the birds enjoy their treats.
Football or Soccer Games
Attend a local high school or college football game or youth soccer match. Tailgating and cheering for the team can be a fun family activity.
Board Games and Puzzles
Have a family game night with board games and puzzles. It's a great way to bond and have fun indoors.
Remember to consider your child's age and interests when choosing activities. Fall provides plenty of opportunities for learning, creativity, and outdoor fun. Enjoy the season!