Do your kids enjoy watching The Polar Express? We have already watched The Polar Express a few times already this month. This year, I thought that it would be cool, to invite a few friends or the cousins, to host The Polar Express movie night and create a new tradition. It is one of our favorite Christmas movies. Before Christmas is pretty low-key in our house, we decorate the Christmas tree, make cookies, attend church on Christmas eve, and watch Christmas movies together.
We try to teach our children that money doesn't grow on trees and that if you want something, then you have to work hard for it. Christmas time is no different. Don't get me wrong, we love surprising the kids with a few of their wants and doing other things like hosting a Polar Express party or making fun treats to give away. Let's give the kids a magical experience and create lifelong memories.
How to Host a Polar Express Movie Night at Home
Hosting a Polar Express movie (aff link) is fairly simple and it is something that you can even pull off with a last-minute grocery run or have family/friends help contribute to the movie night.. 🙂
Wear Pajamas
Let the kids put on their favorite pajamas. Also, have everyone bring a pillow and blanket so that everyone can be comfortable while watching The Polar Express.
Have a Hot Chocolate Bar
During the movie, the children riding the train to go see Santa at the North Pole indulge in a warm cup of hot cocoa. The kids love drinking their own cup of hot chocolate during the movie. Instead, of drinking a plain cup of hot cocoa, set up a hot chocolate bar. The hot chocolate bar should contain a few of your child's favorite things to mix with their hot cocoa. We suggest getting the following items:
candy cane crushed into small pieces
sprinkles
chocolate chips
white chocolate chips
whipped cream
marshmallows
caramels
peppermint syrup
coffee syrups (vanilla, amaretto, caramel)
peppermint mocha creamer
cinnamon sticks
crushed graham crackers
crushed Oreos
Christmas themed Peeps
Andes mint baking chips
Christmas M & M's
Torani Chocolate Sauce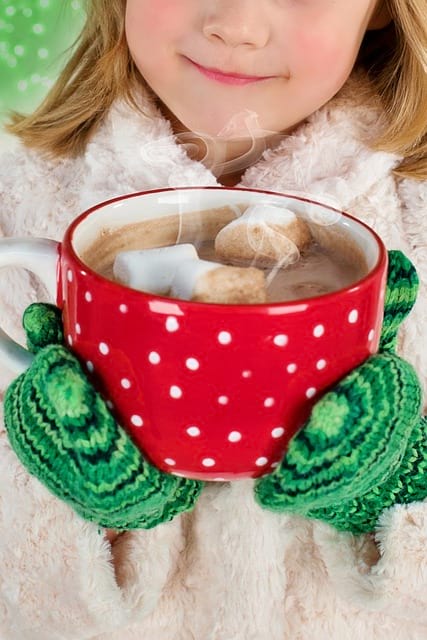 Sugar Cookies
The kids always enjoy eating sugar cookies while watching the movie. You can make homemade sugar cookies or pick some up at the store while you are getting toppings for the hot chocolate bar. My kids love dipping the sugar cookie into the hot chocolate too.
Popcorn
Popcorn is always a hit with the kids. We always pop several bags of microwave popcorn and pour it into a huge bowl. The huge bowl of popcorn goes in the middle of the room so that everyone can reach it. If you have a large group, you can divide it into several smaller bowls. Add white chocolate and Christmas-colored sprinkles for a festive flair.
Drinks
When the kids drink all of their hot chocolate, I usually offer them Hawaiian punch or water. And then I make tea for the adults.
Pass Out Jingle Bell Necklaces
Head to Dollar Tree and buy jingle bell necklaces to give to all of the attendees. If you can't find them at Dollar Tree, you can find bells at Walmart and buy red nylon string and make your own. The kids will enjoy the small token of appreciation.
Set Up a Photo Booth
Taking photos of your fun Polar Express party is a great way to cherish the memory forever. Set up a fun photo booth and use props to create a magical moment. Let the kids take selfies, and photos by themselves, and with friends.
Growing up some of my fondest Christmas memories are those shared with family and friends. Having your friends and family over to enjoy time together watching The Polar Express is a fun way to create lasting Christmas memories. Who says you have to exchange gifts as a family? Why not host a Polar Express movie night with the family instead? Instead of bringing gifts, you can even ask guests to contribute the snacks and goodies. Have fun!
The Polar Express is currently on Netflix for your enjoyment.
Have you ever hosted a Polar Express movie night with family and friends?