Disclosure: Thank you Elitone for allowing me to share this FDA medical device for stress urinary incontinence for women. All opinions are all my own and your results may vary. If you have any questions about stress urinary incontinence, please see your doctor for further discussion and treatment options.
Several weeks ago, I was out running errands one Saturday morning and as I was getting back into the car I bumped the car door. The slight jolt from bumping into the car door caused a small amount of urine to leak into my underwear. While I was thankful that it wasn't enough to be noticeable it was still an embarrassing moment and it happens frequently when I cough, sneeze, or laugh.
I never had major problems with stress urinary incontinence until after the birth of my third child. Even though he was born via c-section, he still put undue pressure on my pelvis and the pain was unbearable during the last trimester. Even though I wasn't officially diagnosed, I am almost certain that I suffered from the symptoms of symphysis pubis dysfunction (SPD). It is a very painful symptom and for the most part, it went away after I gave birth.
Meet Elitone: Stress Urinary Incontinence Device for Women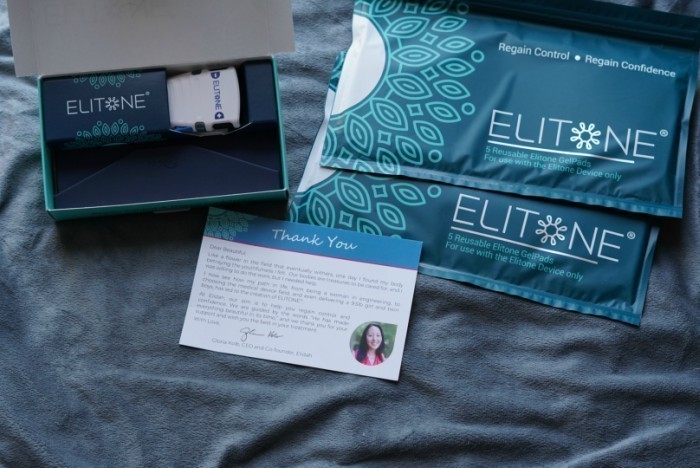 About Stress Urinary Incontinence
However, the stress urinary incontinence has hung around like an old leaky faucet that needs to be replaced. An old leaky faucet can be swapped for a new one but we can't do that with our internal organs or muscles. So what is stress urinary incontinence? According to Mayo Clinic, it occurs when the muscles and other tissues that support the bladder (pelvic floor muscles) and the muscles that regulate the release of urine (urinary sphincter) weaken. This happens during childbirth. Aging has little to do with but it is a treatable condition. Don't let it get to the point where it is debilitating. Once stress urinary incontinence gets to the debilitating stage, at this point it would require surgery and other invasive techniques to improve symptoms. But why do that where there is a new FDA approved medical device that can be used at home?
Stress urinary incontinence isn't a conversation that women like discussing but ladies there is no reason to be shy when it comes to taking care of your body. You can't get help if you don't tell your health care provider. Let's take a look at how often stress urinary incontinence affects women:
About 1 in 3 women suffer from SUI at some point in their lives. 1
According to the 2019 Global Market Insights Inc. report, global shares for the stress incontinence market in 2018 were 9.5 billion, set to rise to 15 billion by 2025. 2
Incontinence is the leading cause of admission to nursing homes. ³(Although women aren't thinking of being old, they are always worried that their incontinence will get worse in the future- and it will if they don't get treated early!)
Strengthening your pelvic floor muscles is almost always the first step.⁴
Ladies, what if I told you that you can now treat stress urinary incontinence in the comfort of your own home. Yes, you heard me correctly. Most of us are embarrassed to seek help for stress urinary incontinence, but why spend more on buying over-the-counter products to help cover up the problem rather than treat it. After giving birth, your OB/GYN probably told you to do kegals but didn't really explain why you SHOULD do it several times daily. Instead, we go on with our busy lives and slowly the urinary incontinence symptoms start appearing more often.
FDA Medical Device for Stress Urinary Incontinence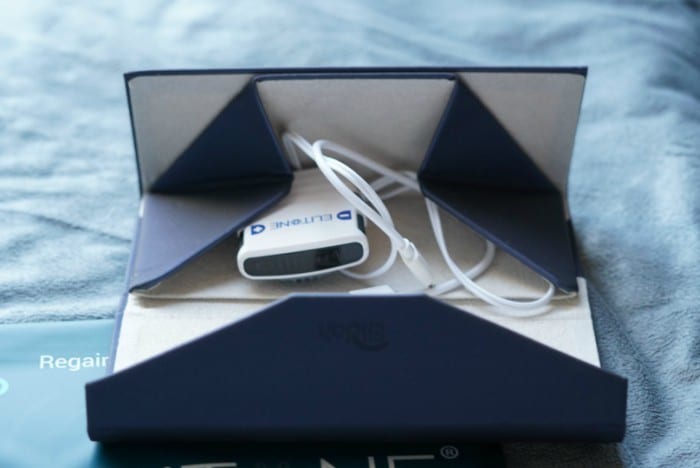 I was thrilled when I learned that there was a comfortable, easy-to-use device that allows you o take control of this sensitive health issue in the comfort of your own home. This device doesn't require a prescription so you don't have to worry about an uncomfortable conversation with your doctor about urinary incontinence. Elitone is the first FDA-cleared medical device to relieve mild to moderate symptoms of urinary incontinence. Left untreated, urinary incontinence can become debilitating.
Before Elitone, most women relied on Kegals or other devices that have to be inserted into the vagina. Elitone was created to be worn under your clothes and placed gently against the skin. Then the device works by applying low-intensity stimulation to your pelvic floor muscles. This device isn't inserted into the vagina and is non-evasive.
Always ensure that the battery on the device is fully charged before using it.
Never use while the device is charging or when the battery is low.
With the controller off, snap the GelPad cable to the GelPad.
Gently peel the liner from the gel surface (save the liner) and place the gel surface on the skin.
It works best if the top portion of the GelPad is placed low on the pubic bone area. You may have to readjust the gel pad to determine what the best placement is for your body type. You want to feel the strongest contractions as possible but don't worry you can easily adjust the intensity.
Connect the GelPad cable to the controller and turn the device on by tapping either button.
Tap the + or – buttons to adjust the intensity level until you feel a strong but tolerable muscle contraction. The device does have 35 intensity levels.
Some women found that they felt stronger contractions when the GelPad was pressed against the body.
Each session lasts 20 minutes and the device will automatically turn off.
Carefully remove the device cables and gel pad.
Place the liner back on the GelPad and place it in the pouch for the next session.
Store the device and cables in the provided storage case.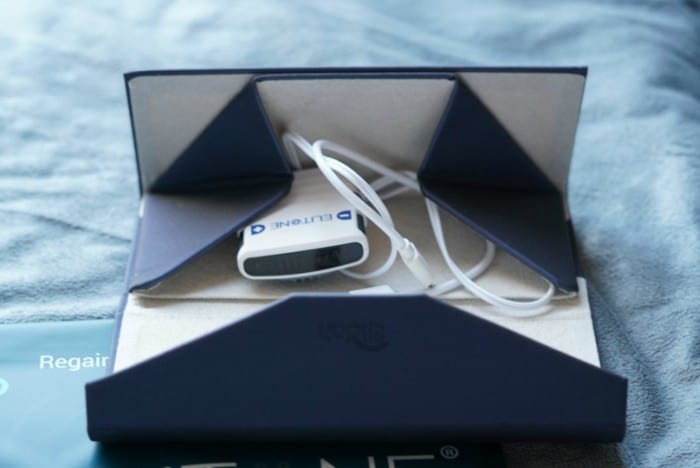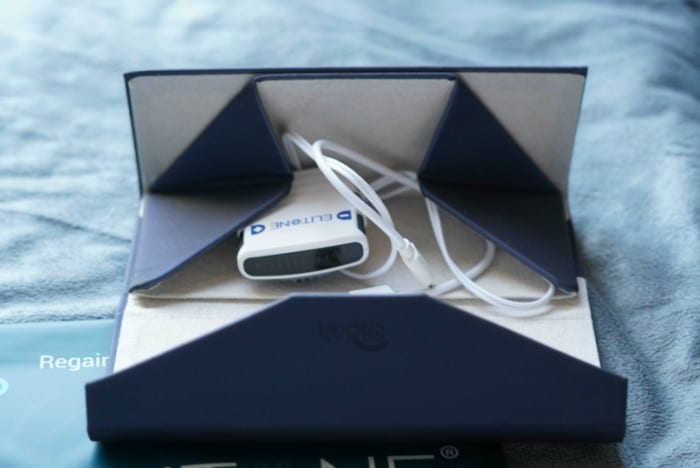 Elitone GelPads can be used 2 to 3 times if they are carefully placed back into the sealable pouch before they need to be replaced. Simply replace the gel pad if you notice that it isn't sticking to the skin properly or you no longer feel the same intensity of contractions during the previous session. About 50% of the women who have used Elitone reported that they had to shave for it to work properly.
Don't let urinary stress incontinence continue to keep you from doing the things you enjoy. Let ELITONE help you take a hold of and improve your symptoms. No sense in letting this treatable condition to become debilitating when this non-invasive treatment for several treatments for 4 to 5 weeks to help improve your pelvic floor muscles.
My Thoughts on Elitone
When I first heard of Elitone, I was a bit skeptical that this would be helpful for women suffering from urinary stress incontinence in the comfort of your home. As I unpacked the box, I was greeted with GelPads and a small device with two cables. This small FDA-cleared medical device may seem scary at first but I promise it isn't anything to be afraid to try. It is super easy to use and I didn't have any issues when I tried it for the very first time.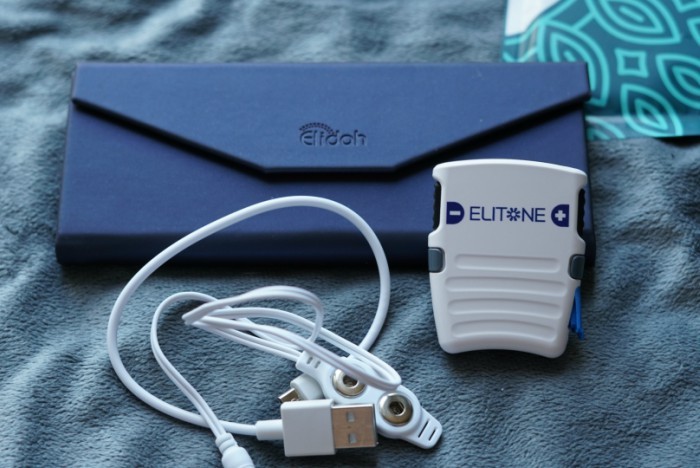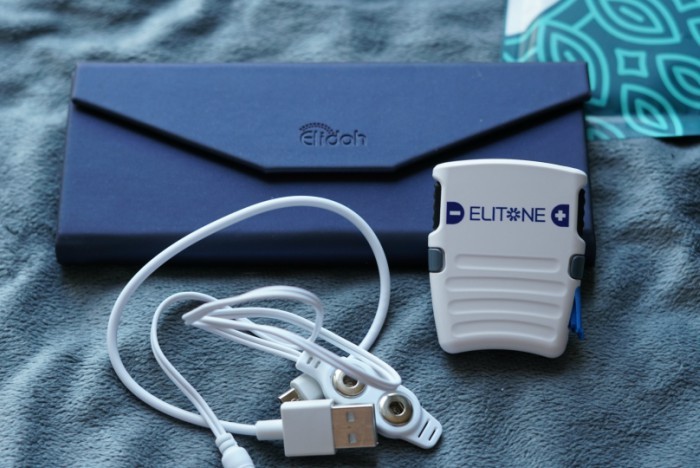 The GelPads easily stuck to my skin and when the device was on, I only felt a slight tingle but I could feel it working its magic. I use the Elitone just before bedtime because I like to lay in bed for a bit before actually falling asleep. So while I was doing my normal nightly routine, I used this device and let it run the full 20 minutes. It automatically shuts off and you simply remove the GelPad when done.
Due to a surgical procedure on my uterus and being on pelvic rest for a few weeks, I've only been able to use this device several times and I already noticed a difference. Since I had a minor surgery, I was afraid it would complicate matters and wanted to be cleared from the doctor prior to using it. I do plan to use it for a few more weeks and come back to give you guys an update.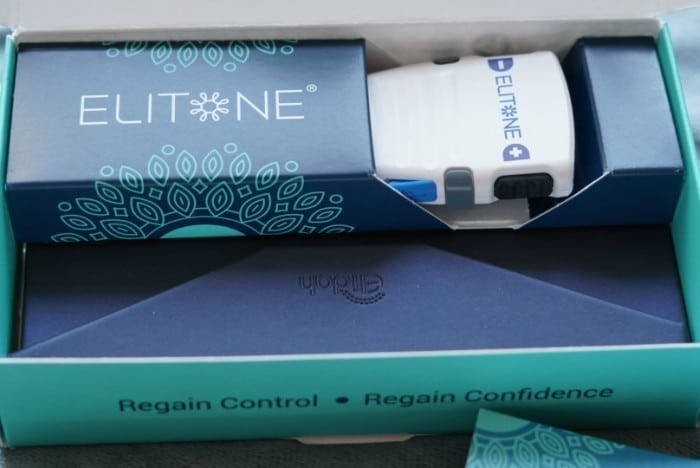 Testimonials from Other Elitone Users
Here are some testimonials from other women who have tried Elitone and seen improvements in their urinary stress incontinence symptoms.
This is brilliant! It is so not invasive, so simple and so comfortable. I've tried so many things over the last 15 years. This was the easiest, yet the most productive. I truly love your product 🙂 Lori – 47
"I love this product it changed my life. It made my issue almost 100% go away. I feel great now and it helped me feel more alive. It did cause me to feel like I was on my period with a bit of cramps or pressure after use, but after a few hours I felt great!" Nichole – 28
"My incontinence was a part of my everyday life, sneezing, coughing, bending and even walking… small drips, big drips frustrating. I tried some products, hoping, nothing worked. Determined, I did a little research and came across the Elitone System, read some reviews and a couple of testimonies, all positive, motivating me. I decided to try it. I would recommend The Elitone System to anyone battling incontinence. The muscle stimulation was the best part to me. You can actually feel it working. Nothing but positive results. Thank you. I am forever grateful." Linda, NY Age 56. "
"It is an AMAZING answer to a difficult, embarrassing problem. It allows you to have more confidence when you are out and about; No leaks, no issues, and no urine left on seats, chairs, or benches." Lynda, Age 64
"The device is very effective. It crazy helped with my incontinence and I definitely recommend this to other people." Liberty – 37
"I'm so glad my gynecologist suggested the ELITONE. The other option would have required taking time off work a few times each week. This was much easier to use, and nice I could get dressed. It definitely helped – I'm dry all day now." Emily – 36
Coupon for Elitone:
For more information or to purchase Elitone: click here. Also, use coupon code Momsrock19 for $100 off.
References:
Do you suffer from stress urinary incontinence? Would you be willing to treat it with Elitone, as FDA device for women?