Do you love patriotic chocolate covered strawberries? Strawberries are one of my son's favorite fruits to snack on during the summer months. Our summer has been super lax because of Covid-19 keeping us at home.
Normally, we typically spend several hours a week at the swimming pool. But my daughter bought a small swimming pool for her dog and poor Bella wants nothing to do with it. Bella prefers going swimming in the lake. So one afternoon she set up the swimming pool for my son, got water balloons, and squirt guns. They had a blast playing some fun water games and I decided to make them chocolate covered strawberries.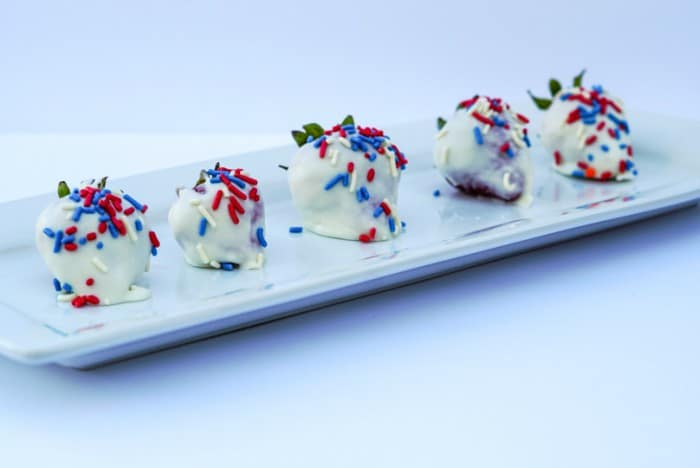 I had been planning on making these before the 4th of July but it didn't happen. Then I remembered that there are several patriotic holidays throughout the year and these Chocolate Covered Strawberries would be a hit for Memorial day, 4th of July, and Labor day.
Shopping List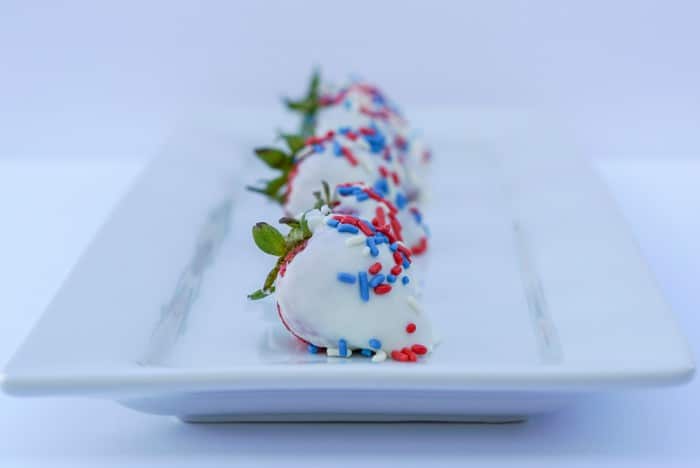 Patriotic Chocolate Covered Strawberries
How to make patritoic chocolate covered strawberries for Memorial day, 4th of July, and Labor day.
Ingredients
1

container

Strawberries

1

package

Candiquik Vanilla Chocolate Coating

1

package

Red, White, and Blue Sprinkles

Patriotic Wilton Gel Food Coloring

optional

Coconut Oil
Instructions
Wash and dry strawberries.

Melt Candiquik according to the directions on the package.

Add a small amount of coconut oil if needed to help thin the chocolate out for easier dipping.

Separate melted Candiquik vanilla chocolate into 3 containers if making the dipped chocolate red, white, and blue. Add patriotic gel food coloring to two of the three containers.

Gently swirl the strawberry into the vanilla Candiquik chocolate until it is fully coated.

Place on parchment paper to dry and add patriotic sprinkles.

Reheat the Candiquik as needed per the instructions and add a small amount of coconut oil.

Place the patriotic chocolate covered strawberries in an air tight container and place in the refrigerator.
The chocolate covered strawberries were a huge hit and disappeared very quickly. My son came inside and helped me decorate them too. The covered strawberries were a fun treat but I was planning on having these made before the 4th of July.
Have you ever made Patriotic chocolate covered strawberries?