Are your kids gearing up to go back to school, either in person or remotely due to Covid 19? Do you have all of the necessary remote learning tools so that your child has a successful year? Our school district is offering both in-person and remote learning to students during the 2020 -2021 school year. Remote classes will require more effort on your part but keeping your child organized is important. Online classes have been around since the early 2000's so it isn't a new concept. However, school districts are having to make adjustments to technology and give teachers access to software that is needed to run an online class successfully.
Disclaimer: Order Out of Chaos Planner was given to me to review. I'd like to thank them for the planner so that I could share with you the tools your child will need for a successful school year via remote learning. All opinions and suggestions are 100% mine.
Remote Learning: Tools For a Successful School Year
At the end of last school year, I wasn't prepared for online learning and the teachers for elementary kids weren't grading any assignments that they do. I'm working on setting up my son with a desk or space for him to do all of his school work so that he can focus without distractions or interruptions. Plus, gather up all of the remote learning tools that he needs to succeed.
Desk or Tabletop Surface
Your child will need a desk or tabletop surface set up so that your child has "space" to do their school work. Last week, I started looking at options for my son. I haven't found a solution yet but I'm still working on it. If I don't have anything by the time school starts, I'll have my son use the dining room table and will get him a pillow to use for comfort. I don't suggest using the dining room table since it isn't a dedicated space for school work only.
Chromebook
Our school district was providing students with Chromebooks for each student who needed one. Chromebooks are rather inexpensive compared to a PC or MAC and most school districts use them. I've been a Chromebook user for 5 years so they are reliable, easy to use, and can perform the basic activities that your student needs to be successful.
Most of the older generation of Chromebooks didn't have the ability to install programs or games onto it. The new models have the ability to add some programs so you don't have to worry about your child using the computer to goof off. They can play online games, watch Youtube videos (if needed for school work), access Google Drive for cloud storage, and use Google documents (similar to Microsoft Office).
School Supplies
The school supply list for my son hasn't come out yet but I planned on purchasing items that they would typically need. Even if you plan on homeschooling your child, they will still need paper, pens, pencils, crayons, map colors, etc. It is possible at some point when in-person learning because safer that your child can return to the class.
They will need these supplies so go ahead and plan on getting these supplies now while prices are low. Don't wait for them to actually return to the classroom as the price of supplies is more expensive. Plus, if you buy them and don't use them, supplies don't go bad and they can be used next year. I've personally kept a school supply box in my house where I keep extra school supplies that my child might need mid-year. It not only saves me money but it saves me a trip to the store too.
Lesson Plans and Staying On Top of Classwork
Your child's teacher will have lesson plans and materials available for your child. But it will be up to your child to stay organized and do their work on a daily basis. I picked up a 2020-2021 planner from Order Out of Chaos. I wanted something for my son to be able to write his weekly assignments on a calendar. This will help keep him on task and prevent him from falling behind. Last year he didn't have homework but since he is in the 4th grade and learning remotely I am not sure what the class structure/plans will look like yet.
A planner is also a great way to help your child keep up with long-term projects too. If your child is like mine, they tend to wait until the last minute to complete a major project or assignment a day or two before it is due. We all know that when we procrastinate on a project, it doesn't always come out the way we anticipated it.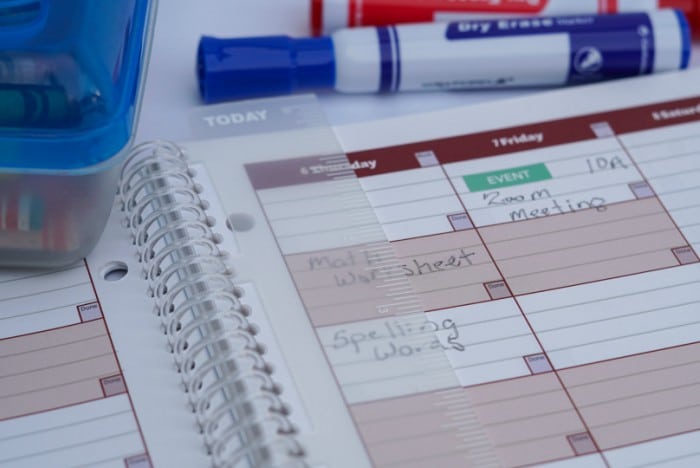 Focus on Building Time Management Skills With Order Out of Chaos Planner
So next time your child is sent home with a project, take the time to teach them how to break it down into smaller tasks or milestones. This will teach them time management and help them factor in a buffer, we all know what can go wrong before a major deadline so that they can complete the project on time. Learning time management skills is a necessary life skill. So if you find your tween or teen dawdling, try using the Order Out of Chaos planner to help them see "time". How can you learn time management if you can't see everything on your schedule? A schedule and how much time it takes to do something is one of the best remote learning tools to have.
Utilize Your Child's Teacher
Don't be afraid to reach out to your child's teacher for additional support. They are there to help your student get through the school year successfully and help you maintain your sanity over concepts that you may not remember how to do. Oftentimes, if your child is struggling, they also can send additional resources to help your child or even give your student a one-on-one small session over zoom after the school day is over.
Use Educational Resources
The Internet is filled with valuable information so use it to your advantage if there is something that your child doesn't understand. Order Out of Chaos is more than just a planner company. They are a global, virtual company for parents looking for products, programs, workshops, webinars, and coaching.
Their mission is to help parents help their students to be successful in school and in life. You can also find resources for children who have ADHD, LD, but they also serve all ABLE LEARNERS. Trying to cater to a child that has ADHD or a learning disability can be quite a challenge for parents. From homework meltdowns to not understanding the material, Order Out of Chaos and other educational resources will help you to find tactics that help your child learn the material.
More About Order Out of Chaos
Originally, I got the 2020-2021 planner from Order Out of Chaos because I was hoping that he would be able to return to the classroom. The planner was going to be used daily not all homework down. I was trying to avoid homework mishaps so that when he got home from school he couldn't say that he forgot.
I love the tough plastic cover, easy-to-read, and use schedules, stickers, and a place to mark the current week you are on with the hand ruler. Lesile Josel also included tips to help your child grasp how to use the planner effectively. She also has free downloadable planner sheets online as well as additional education to help parents.
My son can also add stickers to events, assignments, to-do tasks, chores, test reminders to the calendar. I want to teach my son how to manage his time now and not wait until middle or high school. He is going into the 4th grade and needs to be prepared for the remainder of his education career.
Connect with Order Out of Chaos
Learning in a virtual classroom isn't a new concept for college students. Younger kids are adaptive and they are fully capable of learning virtually. The same curriculum will be administered the same way it is if your child is in the classroom. Last spring, many parents were thrown off guard when schools shut down and started figuring out how to continue to educate children virtually. I came up with a list of remote learning tools that you need in order to have a successful year.
Are you worried about your child's education in a virtual classroom? Check out our remote learning: tools for a successful school year.