Did you know your dog's teeth can say a lot about their overall health? Prevention is the best way to prevent dog dental disease. Just like us, your dog's teeth need attention daily. Keeping their teeth and gums healthy not only to keep their breath smelling fresh but you don't want your furbaby to suffer from dog dental disease.
Prevent Dog Dental Disease
Taking Care of Your Dog's Teeth
As mentioned earlier, prevention and creating a daily habit with your furbaby is the best way to keep their teeth and gums healthy. It is best to start this routine when they are a small puppy so that they are used to you messing with their teeth.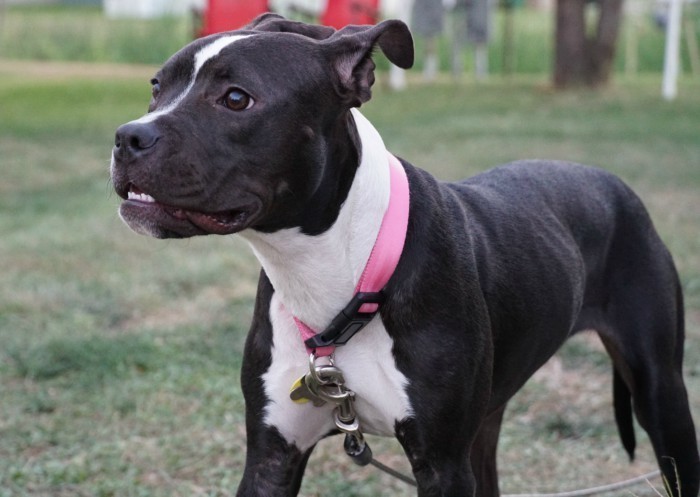 Brush Their Teeth
As a puppy, try introducing them to a wet rag with warm water, similar to the same routine that you use with an infant. Gently use the wet rag to wipe their teeth clean after they eat dinner.
As your dog gets older, then you can graduate to using a toothbrush and toothpaste that is made for dogs. Brush your dog's teeth on a daily basis, preferably after they have eaten their last meal. Again, brushing your dog's teeth is one of the best ways to prevent dog dental disease.
Give Your Pup Dental Treats
Dental treats are a great way to help keep their breath and teeth healthy between brushings. Treats are a great way to help clean your dog's teeth especially if you have a picky dog who refuses to let you brush their teeth. Give the Whimzees Alligators, Merrick Fresh Kisses, Greenies Weight Management (aff links) Dog Dental can help clean your dog's teeth between brushings or on a busy night when you are unable to brush your dog's teeth.
Offer Plenty of Dental Toys for Your Pup to Chew On
Chewing is a natural playtime activity for your dog especially if he or she is a puppy or young dog. Puppies and young dogs typically chew to help relieve teething pain. Offering your dog dental toys will help keep your dog happy and can prevent them from chewing up things they are supposed to. However, a puppy is like a young child, you need to puppy-proof your home if you don't want your pup to destroy your belongings.
As your dog gets older, the destructive chewing typically subsides. But not always. The best way to keep your dog from becoming a destructive chewer is to offer then dental toys that challenge them or keep them busy. Bella, my daughter's Boxer mix, is a heavy chewer and can destroy toys like it is nothing. The only thing she hasn't destroyed in a few days is this huge USA Bones & Chew Beef Femur Dog Treat (aff link). Always supervise your dog when you allow them to chew on toys.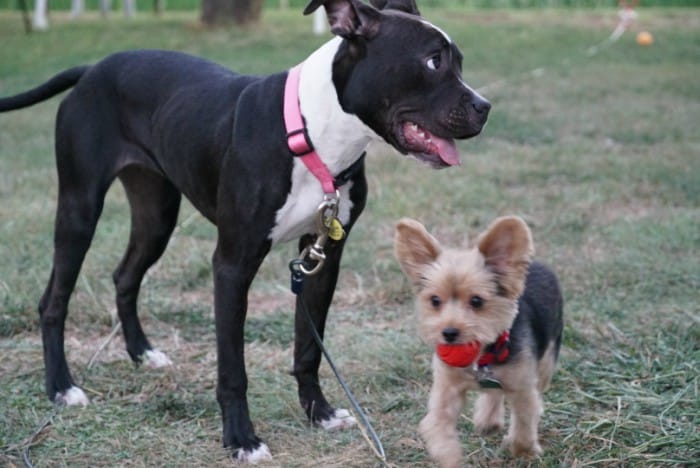 Make DIY Homemade Blueberry Mint Dog Treats
Dogs love getting "goodies" and why not give your furbaby a healthy alternative to dog biscuits or sausages. Dog biscuits and sausages are considered "junk" food if you are comparing it to treats you eat. Most of them are filled with preservatives and don't have any nutritional value. However, these homemade DIY Blueberry Mint Dog treats also offer your dog a healthy treat. These homemade treats are made with wholesome ingredients and best of all they will help freshen your dog's breath. Pet parents, you also can consume these treats with your pup.
Blueberry Mint Dog Treat Recipe
Ingredients:
Makes About 10-12 Dog Treats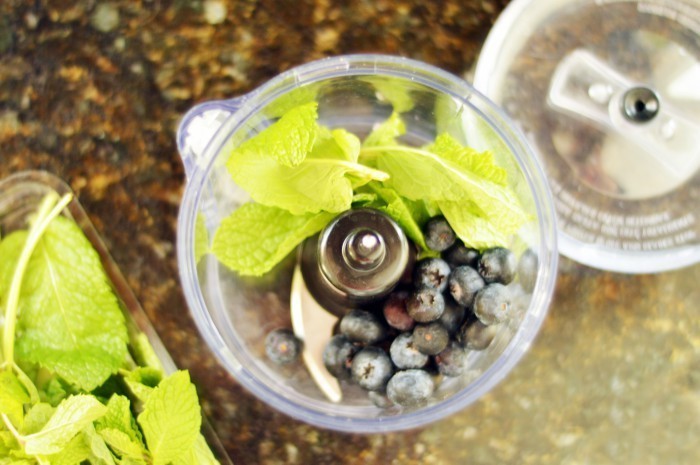 1 Medium Banana
¼ Cup Plain Greek Yogurt
¼ Cup Fresh Blueberries
5 Large Sprigs Mint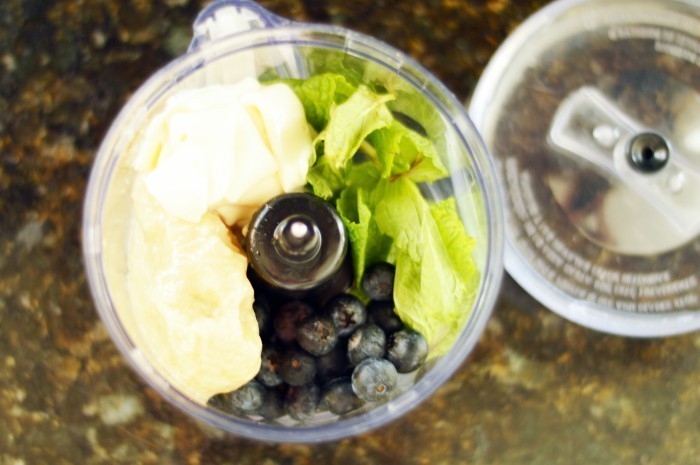 Directions:
Combine all your ingredients in a food processor and blend until smooth.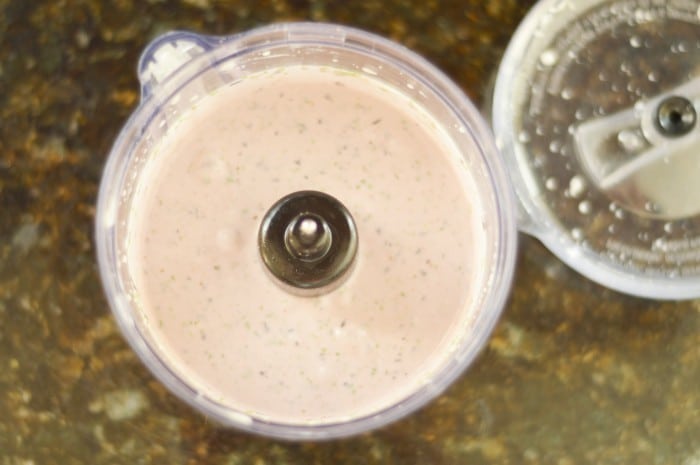 Place your silicone ice tray on a flat surface (I used a Tupperware lid).
Fill your silicone tray. I used this paw-shaped (aff link) one to the brim in each cavity.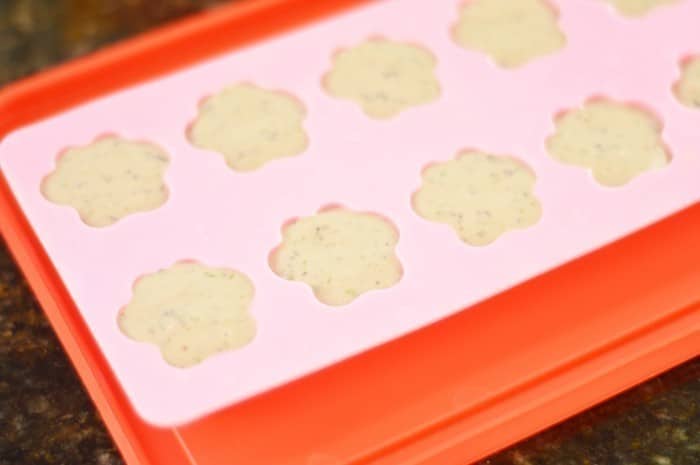 Place in the freezer for a couple of hours or until frozen through.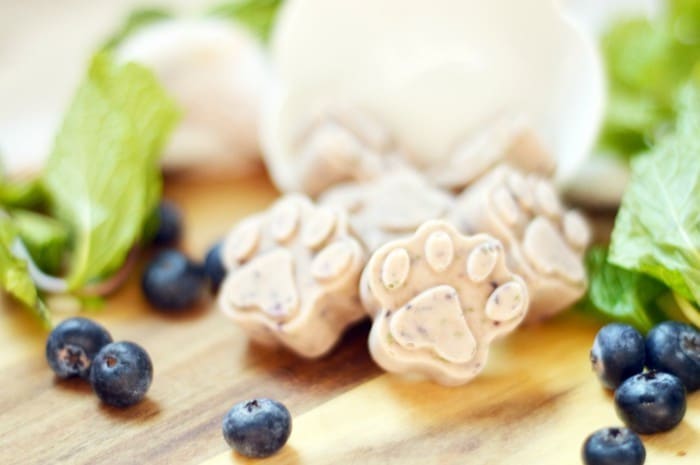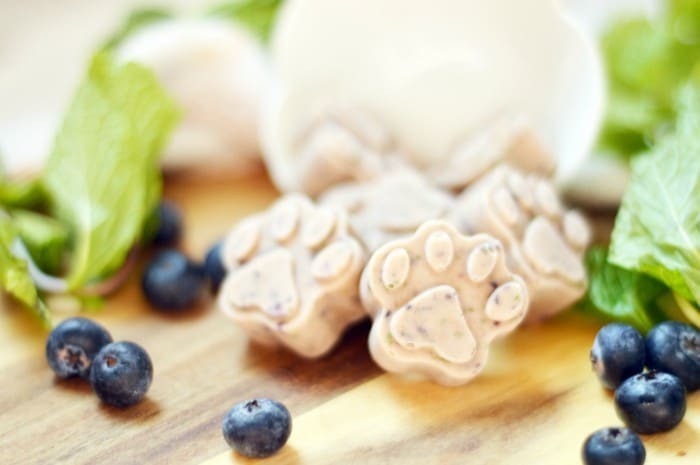 Keep stored in the freezer in a sealed container.
Serve your pup a healthy treat and freshen their breath!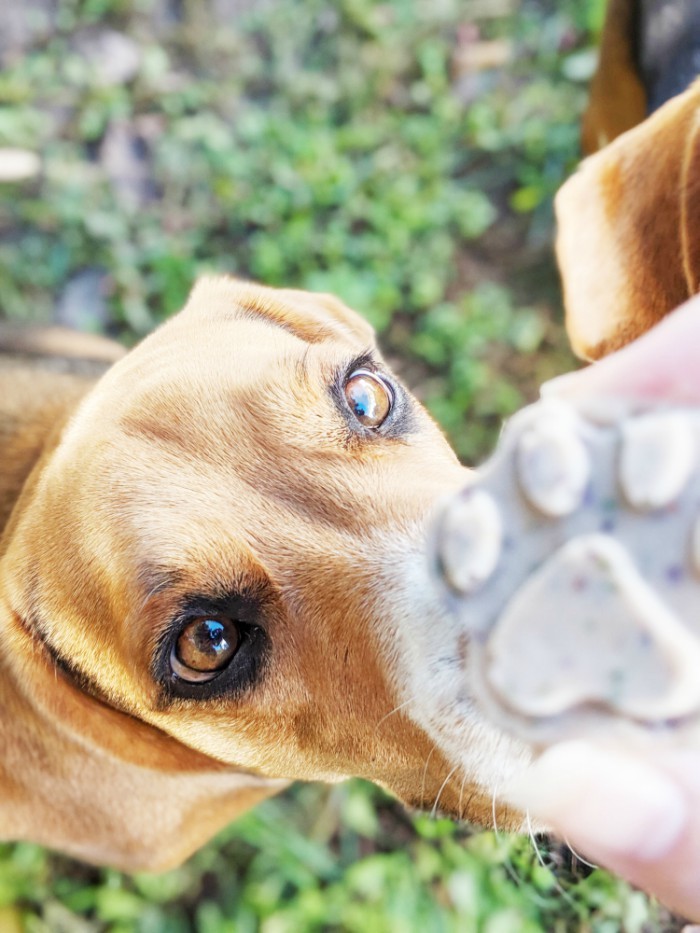 Note:
These treats are good for humans as well and aid in digestive health.
If you are making these for your dog and you don't have yogurt on hand, real mayonnaise works as a substitute and is good for their skin and coat.
If you would like your treats to be a darker, prettier purple, only add half of a banana and double the number of blueberries.
Professional Dental Cleaning
Plaque and tartar can hide below the surface of the gums so even if your pooch's teeth look clean, this isn't always the case. Your dog needs to have their teeth professionally cleaned at the vet's office.
The vet is able to do a deep cleaning similar to a dental assistant does when cleaning your teeth while they are under general anesthesia. Staying on top of dental cleanings can prevent possible tooth loss, infection, or other dangerous health problems.
Taking time to care for your dog's teeth not only keeps their breath smelling fresh but it can also extend the lifespan for your pup. The best way to make sure their teeth and gums stay healthy is to invest a few minutes a day to brush their teeth.
Do you brush your dog's teeth? Did you know dogs are susceptible to dog dental disease?