Arthritic knees have less cartilage lining than normal which can lead to a swollen knee cap and a narrow space for your joints. But you don't have to give up exercising or sports, there are plenty of exercises for arthritic knees.These problems can cause stiffness and pain, limiting your activity. For those accustomed to high-impact sports or exercises, this can seem devastating. How will you achieve physical fulfillment if you can't do what you are used to? While you may have to stop playing football or soccer, it doesn't mean you can't play any sports.
7 Sports and Exercises for those with Arthritic Knees
Doubles Tennis
Tennis can be hard on your joints as you run to hit the ball from every corner of the court, so those with arthritic knees are recommended to play doubles. This lessens the amount of running you need to do, and playing on a sprung or clay court will ease some pressure from your knees.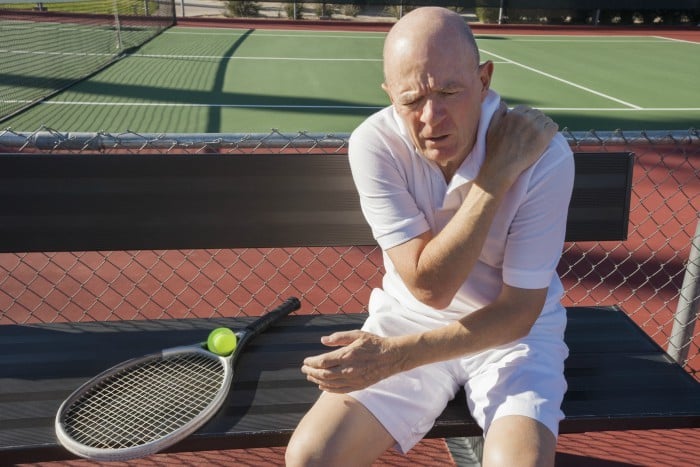 Walking
Walking helps to strengthen the muscles of your knees, and, if you walk outdoors, you can also benefit from fresh air. Walking can lead to running, though you shouldn't plan on training for a full marathon. If you'd still like to compete in some kind of race, try a triathlon. Mixing cycling, running, and swimming would give you a well-rounded workout and would be better for your joints than strictly running.
Swimming
If you have swum for exercise before, you know that it benefits your entire body. It works for each muscle group and helps you to increase your cardiovascular endurance. This endurance can help you in other workouts as well. Choose a stroke that doesn't aggravate your joints and makes you feel comfortable. If you enjoy swimming, try different water exercises or join a water aerobics class.
Cycling
Cycling is a fun workout both indoors and outdoors. It is easy to get into a relaxing rhythm or use a faster pace, all while getting in a nice workout. For those looking for exercises for arthritic knees, you may want to try a recumbent bike as opposed to upright stationary or outdoor bikes because recumbent bikes are less strenuous on your knees.
Yoga & Pilates
Both yoga and Pilates work to strengthen and stretch muscles, strong muscles can help support your joints. Do find classes that are focused on teaching you proper form. Yoga, especially, can increase your flexibility and help you relax and relieve stress.
Golf
While golf can sometimes hurt your elbows and shoulders, those with arthritic knees can still enjoy the game. Golf exercises your arms and back, and if you are walking, it'll work your heart and joints too. However, if your knees hurt after a few holes, tone it down or stop playing. Or use a cart between holes and pace while waiting for your turn.
Cross-Country Skiing
If you want an outdoor workout in the winter, cross-country skiing may be the perfect workout for you. While downhill skiing forces skiers to twist and turn their knees, cross-country keeps your knees fairly straight and still gives you a full-body workout.
Though you may be accustomed to giving each sport or activity your "all," you'll want to discuss a healthy exercise routine with your doctor. Doctors like Dr. Aaron Altenburg can advise you on which exercises will be best for your joints and the level of commitment you can healthily dedicate to your workouts.
Exercising is vital to your health and can help strengthen your bones and the muscles around your joints. Exercising, even for those without arthritis, is beneficial to your sleep, maintaining a healthy weight, and improving your balance. Working out doesn't have to mean a trip to the gym, simply get a group together and go for a walk!
Do you have arthritis in your knees? Are you currently participating in a sports or exercise program for those with arthritic knees?