Are you preparing to make some fun goodies this St. Patrick's day? These St. Patrick's day Mickey Oreos are the perfect treat for this year's celebration. St. Patrick's day is on March 17th and many decorate with green and gold decor. Instead, of the traditional colors of Mickey Mouse, we choose to dress him up in green so that he doesn't have to worry about getting pinched this year.
St.Patrick's Day Mickey Oreos
These St. Patrick's Day Mickey Oreos will be a hit with the kids or at any festivities that you plan on attending. We dressed up Mickey in green just for the occasion too. Grab the following supplies to make your Mickey Oreo treats.
Mini Oreo
Standard Sized Oreo
Green Candy Melts
White Candies
White Icing
Parchment Paper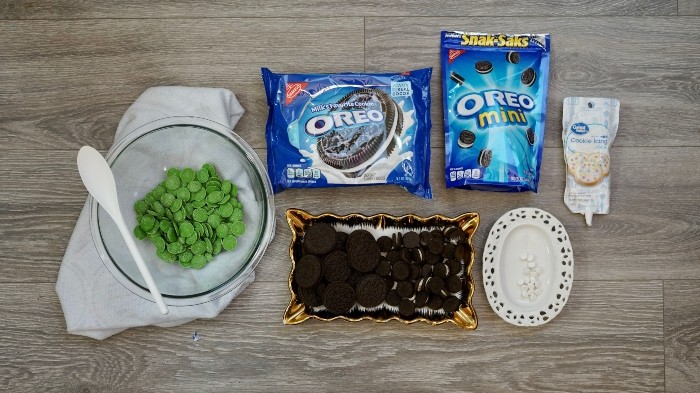 How to Make St. Patrick's Day Mickey Oreos
Step 1: Pour the candy melts into a microwave-safe bowl & heat for 30-60 seconds or until Candy has fully melted.
Step 2: Separate the mini Oreo and a regular-sized Oreo.
Step 3: Stick two mini Oreo to the top of your regular-sized Oreo to make the ears. Then close up the Oreo back.
Step 4: Dunk the bottom half of the Oreo into the melted green chocolate.
Step 5: Carefully place the dunked Oreo onto the parchment paper and quickly add the two white candies to the green candy. The white candies represent Mickey buttons.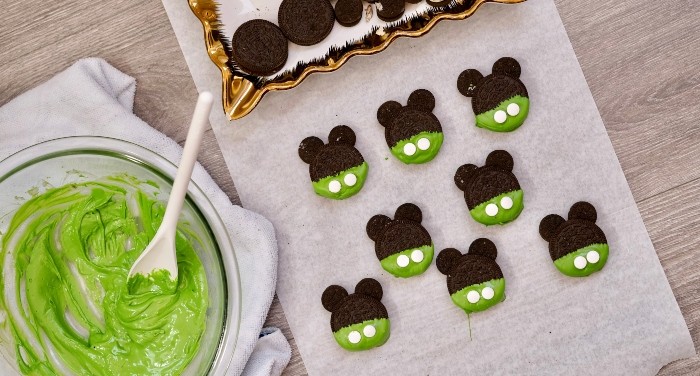 Step 6: Let the candy melts harden.
Step 7: Once the candy melts have completely hardened, use the white frosting to draw a line to outline the top of his green pants.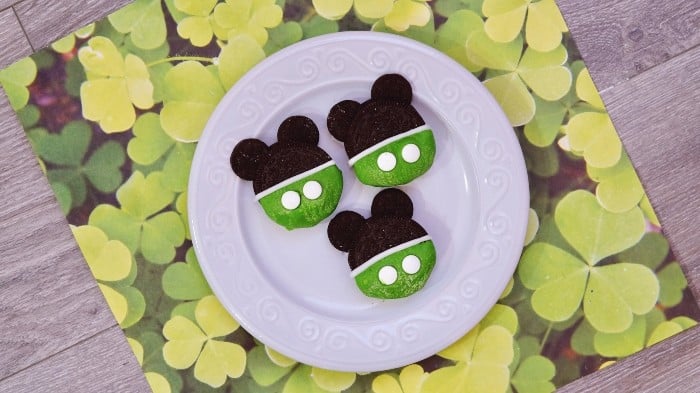 Step 8: Serve and Enjoy!
Growing up St. Patrick's Day wasn't a huge deal in our family. But we always made sure to wear green that day so that we didn't get pinched. My mom would make some fun treats on occasion and I wanted to carry on that tradition. You can check out some of our other St. Patrick's Day recipes too.