Calling all Loud House fans. Season 3, Volume 2 was released back on November 2, 2021, and is available on DVD for viewing pleasure. Before you watch this new DVD, don't forget to print out these Loud House Cooked Activity Sheets.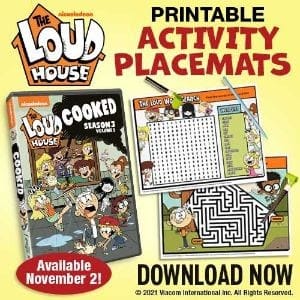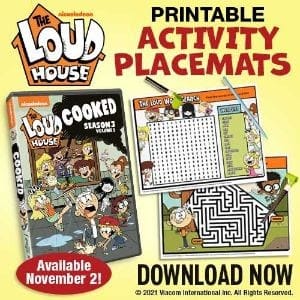 The Loud House Cooked: Free Printable Activity Sheets
The Loud House Printable activity sheets contain a maze and a word search to complete while you are sitting at the dinner table or just want something fun to do.
Download your Loud House Printable Activity Sheets Here!
Loud House STHE LOUD HOUSE: COOKED!
SEASON 3, VOLUME 2
HILARITY AND CHAOS BREWS IN THE HOUSEHOLD
IN THIS LATEST LOUD HOUSE RELEASE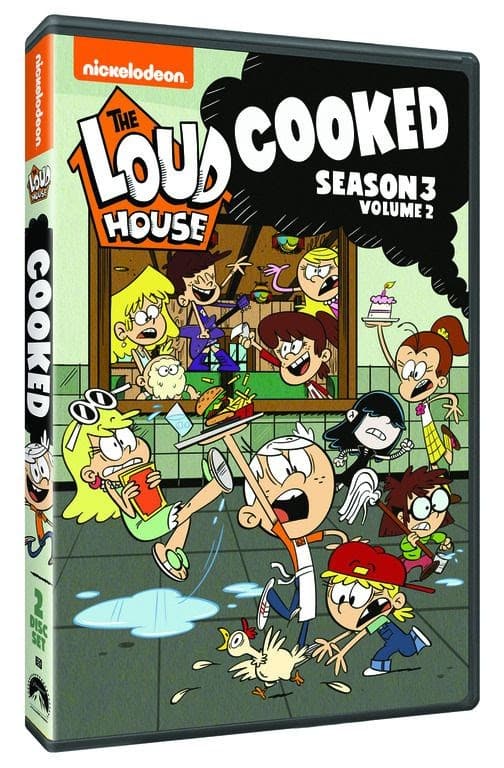 Available on DVD November 2, 2021LOS ANGELES–October 5, 2021–Lincoln Loud and his family return once again in The Loud House: Cooked! – Season 3, Volume 2 DVD! In the Emmy Award-winning Animated Series, the third season of The Loud House sees the Loud kids helping their father with his new restaurant, Luna entering a song-writing contest, Lori and Bobby bringing their crazy families together for the first time on Thanksgiving dinner, and much more! The Loud House: Cooked! – Season 3, Volume 2 will be available on DVD from Paramount Home Entertainment and Nickelodeon Home Entertainment on November 2, 2021. The Loud House: Cooked! Season 3 Volume 2 and several other The Loud House full episodes below.

The Loud House: Cooked! – Season 3, Volume 2 episodes:

Disc One:
Scales of Justice / Crimes of Fashion
Absent Minded / Be Stella My Heart
Sitting Bull / The Spies Who Loved Me
Really Loud Music
House of Lies / Game Boys
Everybody Loves Leni / Middle Men
Jeers for Fears / Tea Tale Heart
Disc Two:
The Loudest Thanksgiving
Predict Ability / Driving Ambition
Home of the Fave / Hero Today, Gone Tomorrow
The Write Stuff / Racing Hearts
Stage Plight / Antiqued Off
Cooked!
The Loud House: Cooked! – Season 3, Volume 2synopsis:The kids promise to help Dad with the grand opening of his new restaurant by coming up with promotions. But their lack of teamwork and ridiculous promos lead to an ultimate nightmare in the kitchen for Dad. Plus, Luna hopes to win a song-writing contest and Lori and Bobby set up a plan to bring their wacky families together for the first time on Thanksgiving!
About The Loud HouseThe Loud House debuted on Nickelodeon in May 2016 and centers on 11-year-old Lincoln Loud and his 10 sisters as he gives an inside look at what it takes to survive the chaos of a huge family. As one of the longest-running animated series on Nickelodeon with 156 episodes, the property has also been translated into: a comic book series, which continues to roll out new stories; chapter books; a digital album; and a podcast, Listen Out Loud. The series is executive produced by Michael Rubiner. Kyle Marshall serves as co-executive producer and Ashley Kliment-Baker is art director.
Have you watched The Loud House Cooked Season 3 Volume 2 yet? Will you print out the free The Loud House activity sheets?