The Smurfs are at it again. Check out the Smurfs Season 1: Volume 1 is now available on DVD and we wanted to share this fun DIY Smurf Village Mushroom with you. Let's make this together.
DIY Smurf Village Mushroom House
Items Needed
You will need to gather the following items:
Disposable Cup or Planter/Seed Started
Disposable Bowl
Glue
Paint Pens, Paint, or Markers
Directions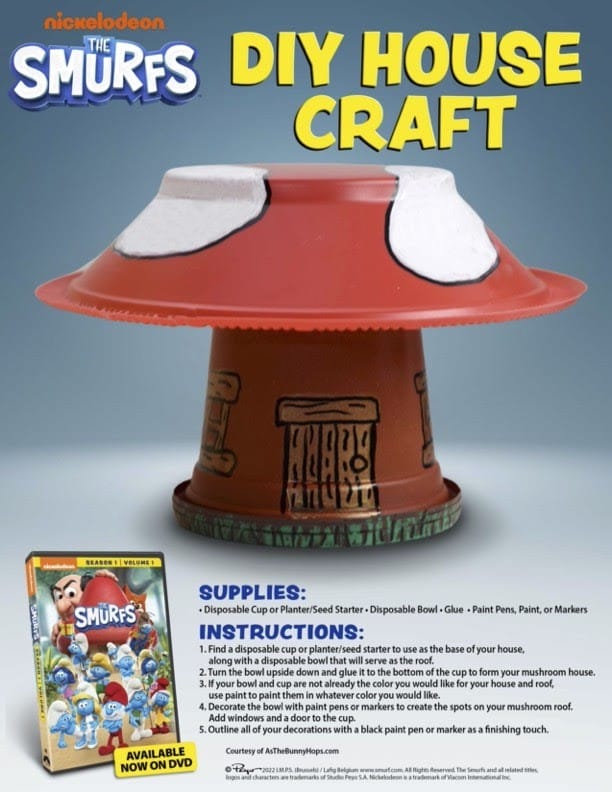 Find a disposable cup or planter/seed starter to use as the base of your house.
Then you will also need a disposable bowl to use as the roof.
Turn the bowl upside down and glue the bottom of your cup or planter/seed starter to the inside of the bowl.
Use the paint to color your house if the cup and bowl aren't the same.
Next, decorate the bowl with paint pens or markers to create the spots on top of the roof.
Then add windows and doors to your Smurf Village Mushroom House.
Lastly, outline all the decorations with a black paint pen or marker as a finishing touch.
Click here to Download the Instructions
JOIN YOUR FAVORITE SMURFS AS THEY TAKE ON ALL NEW ADVENTURES!
THE SMURFS: SEASON 1, VOLUME 1
The blue crew returns to Smurf village in a brand-new series on Nickelodeon, The Smurfs! Get ready to adventure with Smurfette, Papa Smurf, Gargamel, and more in nine fun-filled episodes!
The Smurfs: Season 1, Volume 1 will be available on DVD from Paramount Home Entertainment and Nickelodeon Home Entertainment on June 14, 2022. Purchase it here on Amazon (aff link).
The Smurfs: Season 1, Volume 1 episodes:
Smurf-Fu / Diaper Daddy
Who nose? / Clumsy not Clumsy
Unsmurfable Smile / Mind the cat
Where's Papa Smurf? / Who's Heftier?
Smurfs in disguise / Joke's on you
The Scariest Smurf / DRIIINNGGGGG!
My Smurf the Hero / Alien Smurf
Smurf your seat belts! / Leaf it alone
Bringing up Smurfy / The Makeover
The Smurfs: Season 1, Volume 1 synopsis:
The Smurfs have a new home on Nickelodeon! Join these beloved blue characters as they go on ALL-NEW adventures that will push the charm, absurdity, and humor of the original series to even greater heights! Smurf we go! This volume contains the first 9 episodes of season one in a 1-disc set!
Will you make the DIY Smurf Village Mushroom House with your kids?