Valentine's day is around the corner and are you planning on giving her a promise ring. We all know that Valentine's day is a popular Hallmark holiday day, where couples go above and beyond to express their love for each other. For the singles, this time of year can be difficult so check on your single friends. But for those wanting to take the next level of commitment in their relationship don't be afraid to look at promise rings if an engagement ring seems too scary at the moment.
What is a Promise Ring?
It is a small token that you give to your significant other to symbolize their devotion to the relationship. Most times, many young couples will give their significant other a promise ring, with the intention of getting engaged in the future. However, as we all know, something falls through and couples won't proceed to the next level of commitment.
What Type of Ring Is Right to Give?
For her, typically a traditional gold ring with or without a diamond. Don't worry you can find a ring with a small diamond for under $200 if that is what you want to give her. For example, this Midi Stackable Twist Diamond Ring in gold, white gold, or rose gold, from AURATE is perfect. It is a dainty ring and doesn't scream engagement ring. However, if this isn't your style, you can pick from silicone bands, matching engraved bands, gold diamond rings, or any other ring that she might like besides the traditional promise rings.
How Much Should You Spend?
There is no set rule on how much you should spend on a promise ring. Keep in mind that it is often young couples who often don't have much extra money to spare. It is best to find a promise ring that is within your budget. Depending on where you purchase your ring, you can get one for as little as $50 up to several thousand dollars. Again, find a ring that means something special to you that is within your budget.
When Do You Give one to Your Significant Other?
Typically, you should give your significant other a promise ring after you have known each other for a while. Some people wait 6 months while others wait a bit longer. There is no right answer and you should do it give one when it feels right to you.
The significance of this type of ring is to show your love, commitment, and dedication to your relationship but the token shouldn't be taken lightly. Even though, it doesn't have the same significance as an engagement ring. The best time to give your significant other a promise ring is on their birthday, Valentine's day, dating anniversary, or give it as a surprise one evening at dinner.
Are There Promise Rings for Men Too?
Typically, a promise ring is given to her as a promise for an engagement in the future. You probably won't walk into a jewelry store and see a display dedicated to promise rings for men. But that doesn't mean they don't exist. You have to get creative and decide what is right for your significant other. You can use a small plain silver or gold band, a silicone ring, a personalized engraved band, or a ring that has a symbol or means something to him. The possibilities are endless.
Are you ready to make a promise to your significant other. A promise ring is a small token that you give with a promise to get engaged in the future. This commitment shouldn't be taken lightly and you should do your best to honor your commitment. We wish you the best of luck with your future engagement.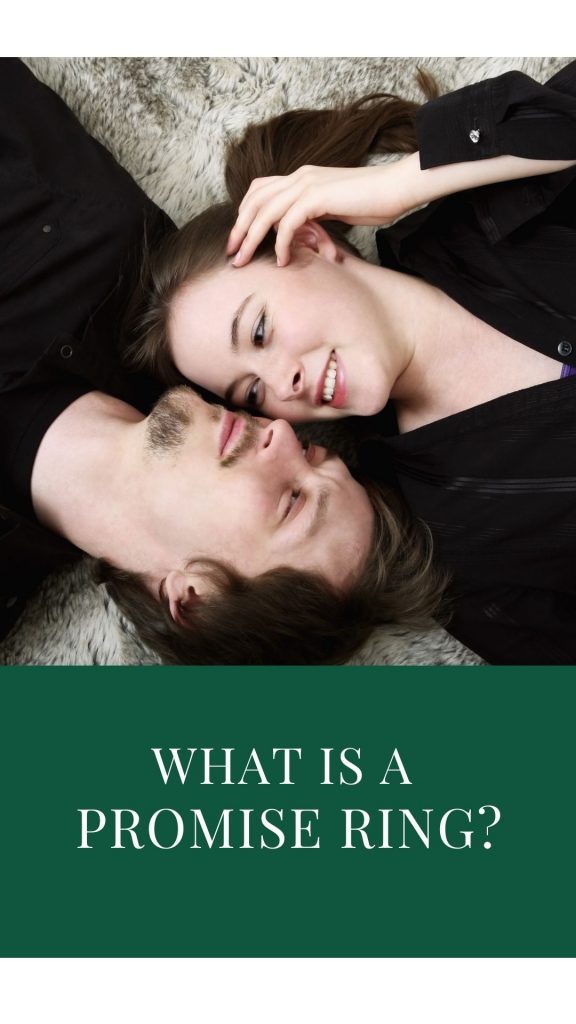 Have you ever received a promise ring?