Growing up Christmas was always my favorite time of year as a child. Now that I have children of my own, seeing Christmas through their eyes is even better and I wanted to continue the magical experience. Over the last decade, things have changed and some of the traditions that were popular are no longer an option now.
It makes me sad that some of my favorite traditions have slowly faded away over the years. As a parent, I have tried to find new memories to create with my children so that they have Christmas traditions and memories to pass to their own children. Here are our favorite Christmas traditions to pass onto your children.
Decorate the Christmas Tree
Decorating the Christmas tree and putting out Christmas decorations is one of my favorite Christmas traditions. Grab your kids and let them help you decorate the tree even if they put all of the ornaments too close together. You can fix the ornaments that are too close together when they aren't around so that you don't hurt their feelings.
Schedule a Race During the Holidays
Find a Christmas themed race to sign up for this year. We suggest finding a fun run, 1 mile, 5k or even 10k race. Do schedule the race in advance so that you are able to find one that suits your families fitness level. With all the treats that your kid's will consume between now and New Year's eve, you will want to find activities to burn off their excessive energy.
Make Homemade Gifts Together
Making homemade gifts to give to loved ones is a great way to spend time together while creating lasting memories with your kids. Each year, I usually get at least one homemade gift for Christmas. Receiving a homemade gift is special to me because I know that who ever made it put a lot of thought and effort into making it for me. You can even make homemade gifts to take to the nursing home and give them to the residents. If you don't have any ideas, we love Pinterest because it is a great place to find the perfect homemade gifts. Check out these ideas here.
Buy Christmas Pajamas for the Entire Family
This is a fun tradition that has been circulating Instagram and Facebook the last several years. It isn't a Christmas tradition that I have started with my kids but it one that I know they would enjoy. Last week when we stopped at Target, we saw a huge selection of Christmas Pajamas for the entire family. You can wrap them and put them under the Christmas tree to open on Christmas eve. Don't forget to take family photos too.
Watch Christmas Movies Together
We love putting on our pjs and place blankets on the floor so that we can watch our favorite Christmas movies. The kids usually want popcorn or candy to munch on during the movie. Here are some of our favorite movies:
Home Alone
Elf
Santa Clause
A Christmas Story
Jack Frost
A Charlie Brown Christmas
Author Christmas
Frosty the Snowman
Miracle on 34th Street
A Christmas Carol
Elf on the Shelf
We love our Elf on the Shelf in our house. It is a fun Christmas tradition that the kids enjoy. Each morning, they love finding our Elf to see what Rascal (our Elf's name) got into during the middle of the night. You can find plenty of Elf on the Shelf ideas on Pinterest if you are struggling to figure out what he/she can do next.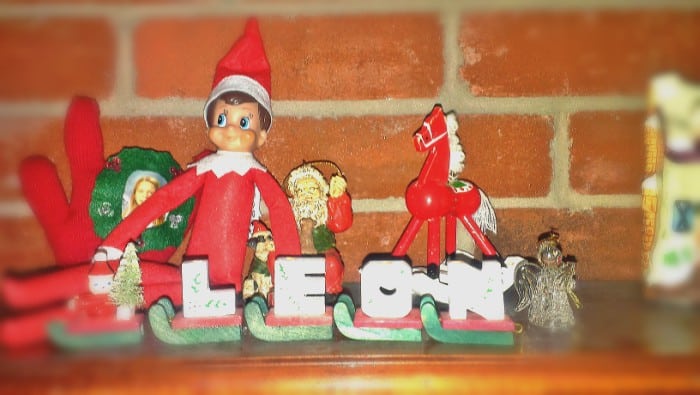 Have a Family Game Night
Pick a evening have a family game night. Game nights are a great way to connect as a family and unplug for a few hours. Set out your family's favorite snacks and drink hot chocolate.
12 Days of Christmas Countdown
One year a friend of my grandmother brought over 12 wrapped gifts for her to open on a daily basis. The gifts weren't over the top and probably came from the Dollar Tree or even Target's discount section at the front of the store. You can buy a calendar for the next year, notepad, holiday plate for leaving Santa cookies, pens, magnets, Christmas ornaments, a coloring book, or even favorite children's books. Wrap each one the gifts and open them with your family every day, you will start opening the gifts 12 days before Christmas so you open last gift on Christmas eve. The last gift could be the Christmas Pjs mentioned above.
Look for Free Christmas Events in Your Community
Last year, our community started displaying Christmas lights around the park. It was neat that they had the walkway lights that danced to the Christmas music playing. The event was free and they even had a family night with other free activities for the kids to do. We plan on going again this year as a family.
Bake Cookies Together
Every year we make cookies on Christmas eve, we have always Santa Claus has fresh chocolate chip cookies. Santa Claus loves them when they are fresh. Baking Christmas cookies and other goodies was one of my favorite moments growing up. Each year I would help my mom make cookies and candy. Getting your kids to help you bake cookies is a great way to get the kids in the kitchen. Try getting them to help make cut-out cookies and they can decorate them once they have cooled off.
Build a Gingerbread House
Pick up one the gingerbread house kits next time you are at the store. It is a great task for spending time with each other without being attached to a screen. They even have different various of gingerbread kits that you can put together too.
Make Reindeer Food
Reindeer food is a fun craft that the kids can make with a few ingredients that you have in your kitchen. If you plan on making a batch before the kids are out of school for Christmas break, you can send everyone in your child's class reindeer food. On Christmas eve, put the reindeer food out on the lawn to attract Santa's reindeer to stop at your house.
Count Down the Days Until Christmas
As Christmas gets closer, they start asking how much longer so we starting a Christmas tradition to count down the days. We recommend using an advent calendar, Christmas countdown calendar, or make a chain using construction paper strips that you can tear off for each day. The kids will enjoy crossing off the day and see how many days are left until Christmas day.
Give Back
Christmas time can be difficult for some families. If you are fortunate, we suggest showing your kids how to give back to those in need.
Go Look for Christmas Lights
Getting in the car and turning on Christmas music was one of my favorite Christmas traditions. Find the perfect neighborhood to take your family to view the twinkling lights and decorations. If you can't find any good places to look for Christmas lights, look for a drive through park with lights and other attractions. The drive through parks usually cost a nominal fee but I've heard it is worth the expense.
Photos With Santa
Make time to take photos with Santa Claus when your kids are little. This is a tradition that I did every year with my kids. It is fun seeing how much they have grown over the year. You can usually find Santa at the mall or places around town. Last year, Santa Claus was at one of the community events that we went too. Snapping a photo with your own camera or cell phone is free so don't let them pressure you into buying their expensive photos if you don't want too.
Take Them to a Christmas Eve Service
Growing up, we would always go to the Christmas Eve service at church. We feel it is important to teach our children that the reason why we really celebrate Christmas. Christmas has turned into a huge commercial holiday and kids feel that they are owed expensive gifts. The gifts seem to get more expensive as they grow. So the service helps us remember that Christmas is about celebrating the birth of Jesus Christ.
Your kids will look back on these Christmas traditions and they will remember the magical moments as they were growing up. As a parent, each year I reflect on the memories of my past Christmas's with family and I want to ensure that I help create lasting memories for my own children.
Do you have have any Christmas traditions that I missed? What are they?