Have you dyed Easter eggs with your kids yet? Dying Easter eggs is one of the most popular Easter family traditions that has been passed down from generation. But what do you do with all the leftover hard-boiled eggs? Do you make egg salad sandwiches, top your salads with egg slices or crumbles, add to your potato salad mixture, make tuna fish salad, or make several batches of deviled eggs for Easter Sunday.
Raise your hand if you choose to make several batches of deviled eggs. I thought you would agree. But let's take those deviled eggs to another level to surprise the kids. How about making these fun Blue's Clues Deviled Eggs instead?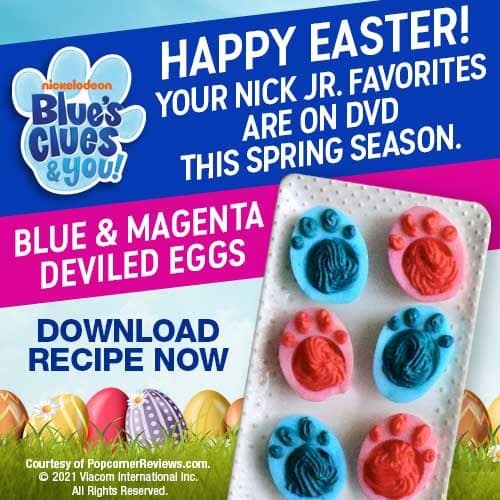 Ingredients Needed for Making The Blue's Clues Inspired Deviled Eggs
This recipe calls for 6 hard-boiled eggs but this recipe can easily be doubled, tripled, or quadrupled if you have lots of deviled egg fans.
6 Hard-Boiled Eggs
1/3 Cup of Mayo
1 Tablespoon of Mustard
Pinch of Salt and Pepper
1 Cup Cold Water
Blue and Pink Food Coloring
2 Icing Piping Bags (aff link)
2 Medium Round Icing Tips
Wax Paper
2 Slotted Spoons
2 Coffee Mugs
Directions for Making Theses Fun Blue's Clues Inspired Deviled Eggs
Step 1: Remove the shells from the hard-boiled eggs and slice the eggs down the middle lengthwise.
Step 2: Scoop out the egg yoke and set it aside in a bowl.
Step 3: Fill 1 coffee mug with 1/2 cup of cold water and add several drops of blue food coloring. Repeat the process and add pink food coloring to the second coffee mug.
Step 4: Using a slotted spoon dunk one egg-white half into the blue water. Hold it for 5 to 10 seconds or until you reach the desired color. Once you reach the desired color, gently place the egg-white on a sheet of wax paper. Repeat this process until you have half blue and half pink egg whites.
Step 5: Mix the mayo, mustard, and a pinch of salt and pepper into the bowl of egg yolks. Continue until the egg yolks are smooth in consistency.
Step 6: Divide the egg yolk mixture into two bowls. Then add blue food coloring to one of the bowls of egg yolk. Repeat using pink food coloring for the second bowl.
Step 7: Fill one piping bag with the blue yolk mixture and the second piping bag with the pink yolk mixture.
Step 8: Add 4 paw markings at the top of the egg to represent paws.
Step 9: Fill the egg with the yolk mixture that corresponds to the correct color.
Step 10: Chill and serve!
Download the printable recipe here!
Happy Easter from All Your New Nick Jr. Friends This Spring!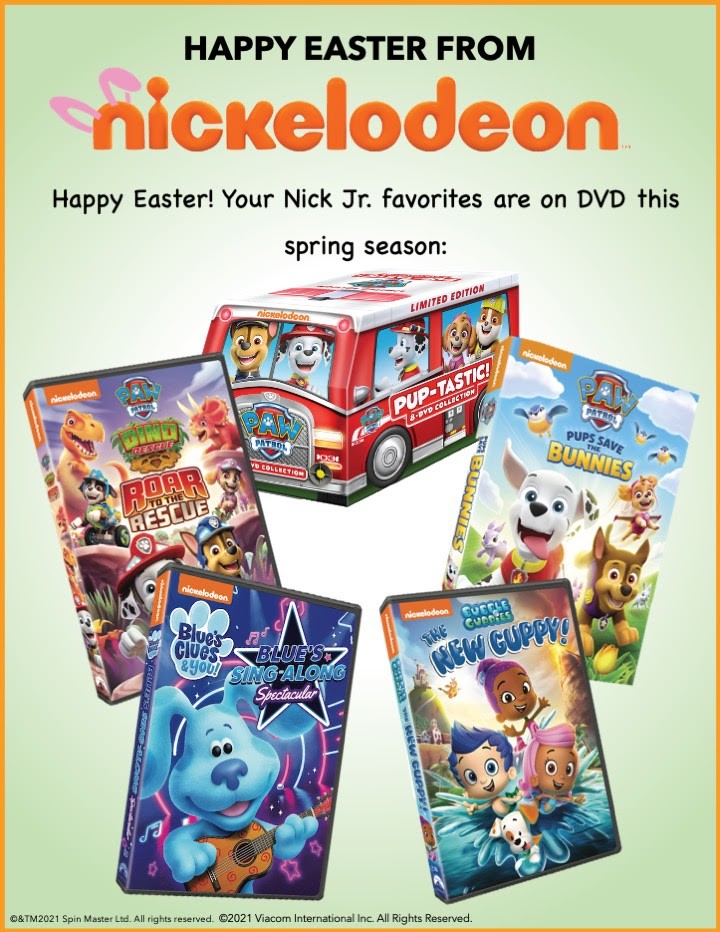 These spring favorites are now available on DVD for purchase below:
Are you ready for Easter yet? Don't forget to check out our Easter Chocolate Covered Popcorn, Easter Pretzel Rods, Bunny Tails, and Easter Bunny Peep Cupcakes too!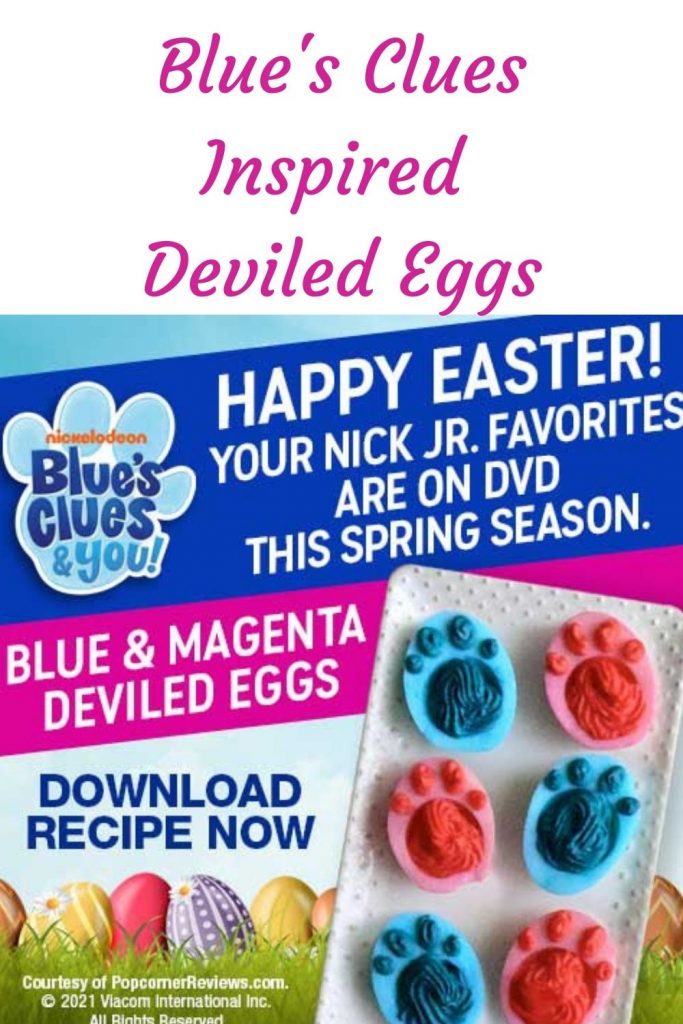 Do you think that your kids would love these Blue's Clues Inspired Deviled Eggs?